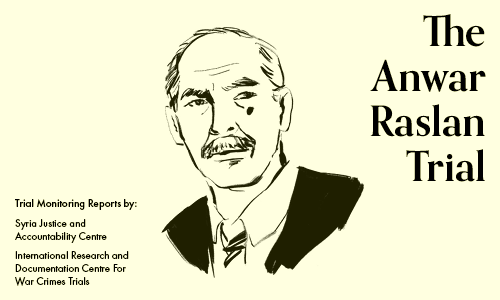 The Trial of Anwar Raslan and Eyad Al-Gharib
In April 2020,  the Higher Regional Court in Koblenz began the first trial of two former Syrian government officials for acts of torture. This is the first criminal trial worldwide on state torture in Syria. The precedent is an important one, as Syrian government officials have largely escaped prosecution to this point.
Since the beginning of the trial proceedings on April 23, 2020, SJAC has monitored the trial via a local, trained court monitor and published regular trial reports, available in both English and Arabic. The lack of official court transcripts and Arabic translations distorts the historical landscape of the conflict, limits the scope of testimony available, and hinders future opportunities for reflection on human rights violations and justice processes. Consequently, SJAC's comprehensive trial monitoring establishes a historical record of the trial and ensures the availability of documentation for victims and families.
On February 24, 2021, the Higher Regional Court in Koblenz found Eyad Al-Gharib guilty of aiding and abetting torture and forced imprisonment as crimes against humanity. He was sentenced to 4.5 years imprisonment. The trial monitoring report detailing the verdict is available here. SJAC's reflections on the verdict — including the role of limited evidence and his status as a low-level warrant officer — are available here. A full English and Arabic translation of the Eyad Al-Gharib judgement provided by the IIIM can also be accessed here.
In January 2022, the final judgement was issued in the case with Anwar Raslan found guilty of being an accomplice to 27 murders, 4,000 cases torture and severe deprivation of liberty, and three cases of sexual violence as crimes against humanity. Based on the amount and seriousness of evidence, Anwar Raslan was sentenced to life imprisonment. For SJAC's interim assessment of the trial proceedings, click here. A final analysis of the trial and practical recommendations for future universal jurisdiction trials can be found here.

The closing statement of the prosecutors, plaintiffs and their counsel, as well as the defense counsel can be found in TR54, TR55, TR56, and TR57.

SJAC has compiled the following list of witnesses in the trial to assist in understanding the ongoing legal proceedings and assisting those interested in following the trial.
A searchable PDF document of every trial report can be downloaded here.
THE TRIAL OF ANWAR RASLAN AND EYAD AL GHARIB