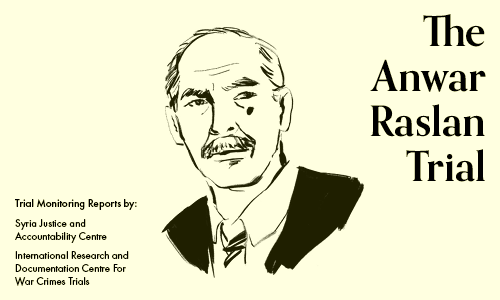 Conclusion of Anwar Raslan Trial Report Translations
Today, we are happy to announce that every trial report from the Anwar Raslan and Eyad Al-Gharib trial is now accessible to our English and Arabic speaking audiences. These reports are available through a dedicated page on our website and collated as a searchable PDF here. In total SJAC's trial reports spanned 1,325 pages, with over one million words translated to Arabic.
SJAC began monitoring the trial of Anwar Raslan and Eyad Al-Gharib in Koblenz, Germany on April 23, 2020. Over the course of the next two years, SJAC published 58 trial reports documenting each trial day until the final verdict was announced in January 2022. SJAC's goal in documenting this trial was to give Syrians access to the justice process and encourage them to engage in justice processes while preserving documentation for survivors of atrocities.
This was a resource-intensive process. At the outset of the trial, SJAC only had funding to translate the first 15 trial reports into Arabic, but by the end of 2021, SJAC had secured necessary resources to resume translating all 44 remaining trial reports into Arabic.
We are proud of the work of our Syrian and German trial monitors, who attended all 110 trial days in person and took painstaking notes to make a complete record of this historic trial.
SJAC's trial monitoring efforts now continue with the trial of Alaa M. where we have documented each trial day. Due to privacy concerns, we are unable to publish the entirety of each hearing and instead release weekly summaries until a final verdict is reached. After which a full account of the trial will be made available on our website.
_________________________
For more information or to provide feedback, please contact SJAC at [email protected] and follow us on Facebook and Twitter. Subscribe to SJAC's newsletter for updates on our work.