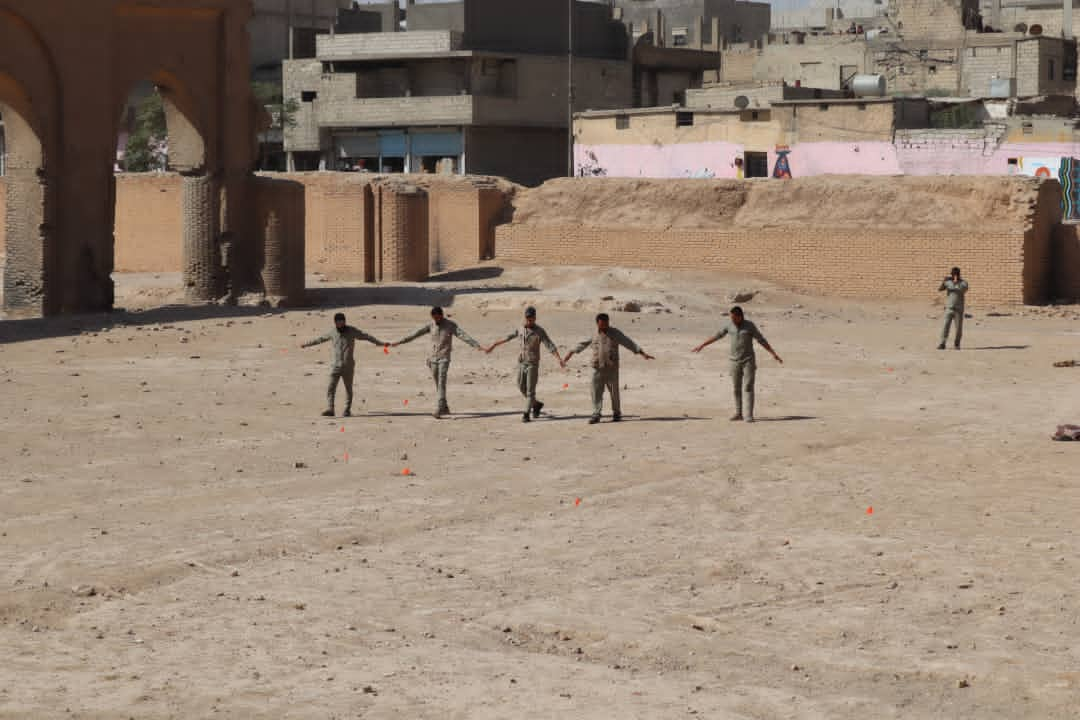 Understanding the Search for the Missing in Formerly ISIS Controlled Syria
Over the last five years, since ISIS started to lose territorial control within Syria, families and local authorities have been searching for those who went missing during ISIS's rule. The history of these varied efforts within what is now SDF-controlled Syria is complex, and has left some families confused about whom to turn to for help. In an effort to ensure families of the missing understand these efforts and what support is available to them, this article summarizes efforts made to date, from the early recovery of human remains, which led to some unintentional damage, to current investigations, which are collaborating with families and local communities to search for the missing. The interactive timeline below provides more detail as to how these efforts fit into the broader context of the region.
The Immediate Aftermath - Recovering Remains
In October 2017, after an extensive campaign by the SDF with Coalition support, the SDF and its allies regained control of Raqqa, giving many families hope that their loved ones would soon return. However, immediate efforts focused on recovering from the final battle with ISIS and accompanying coalition bombing, which had razed many parts of the city. Buildings were left crumbling and human remains were scattered in the streets.
In early 2018, the Raqqa Civil Council's First Responders Team, which was also managing other first response activities, such as firefighting, began to remove human remains from the streets and destroyed buildings, burying them outside of the city. The priority was ensuring the dignified removal of bodies from public spaces, where they were deteriorating quickly in the heat. Considering these circumstances, the fact that the bodies were unidentified was not a primary concern.
As time went on, a segment of the First Responders Team started focusing specifically on the recovery of human remains. At first, locals called the team in order to report bodies in the streets. Soon they were also reporting known grave sites. Some of these graves had been created by ISIS, while others had been created while under coalition bombardment, or even by actors that came before ISIS. Many community members wanted these graves to be opened and removed; they didn't want the legacy of ISIS to be preserved in their city. Likewise, many family members sought to identify their missing loved ones from clothing or other personal items. Unfortunately, identifying remains in this way is both difficult and often inaccurate, and while the team's efforts led to the recovery of thousands of remains, very few were identified.
In this way, the team's work, originally meant to deal with the aftermath of the Coalition bombings, started to intertwine with family's efforts to find their missing loved ones. The team understood that identification would require specialized skills, and a doctor joined the team and started conducting basic forensic analysis of remains and collecting biological samples. However, forensic investigations into missing persons at the scale of what has been experienced in Northeast Syria requires extremely specialized expertise, which the team did not possess.
International Attention and a Call to Preserve Graves
In July 2018, after a visit from Human Rights Watch(HRW), the efforts of the team began to receive international attention, raising concerns about the exhumation of graves. While the team's efforts were driven by a wish to rebuild their city and assist families, they were unintentionally damaging evidence when exhuming graves.
Despite the concerns raised by HRW, the team and local authorities were still receiving mixed messages. Some international actors continued to applaud - and fund - the exhumation of graves. Likewise, families, who were desperate for any news, largely supported the grave openings. Those without a strong understanding of missing persons investigations assumed that this was the first step towards identifications. Meanwhile, similar exhumations started to happen in Deir Ezzor and other areas of formerly ISIS controlled Syria, by first responders and average citizens alike.
SJAC, like many others, became aware of the work of the FRT in the summer of 2018, and immediately sought to provide them with support. SJAC's team identified and started speaking with a variety of international missing persons experts, asking them to enter Syria and provide immediate assistance. They all confirmed that the ongoing exhumations were harmful, but they were unable to provide direct support. Some international organizations were unable to travel into Syria, even to SDF-controlled territory, without the consent of the central government, and others worried about security.
When it became clear that no organization was willing to lead this work, SJAC decided that its own team could take on the task, with the proper support. So, in 2019, SJAC launched its missing persons program, and began working with the Argentine Forensic Anthropology Team (EAAF) in order to offer some basic, remote forensic training to the FRT. While these initial trainings were necessary to provide a baseline of knowledge, EAAF was clear from the start: no one should be opening graves in Syria, and by doing so, they risked damaging evidence vital for both identification and accountability purposes.
Since exhumations were happening across Northeast Syria, and many different stakeholders, from local communities to governing authorities, thought they were beneficial, extensive efforts were necessary to educate stakeholders and stop exhumations. Over the next two years, SJAC worked closely with the FRT and various stakeholders to advocate that the work of the FRT transform. Grave openings needed to stop, and the work of the FRT needed to shift. Northeast Syria did not simply need a team to manage human remains, but rather a team that could apply forensic skills to the investigation of missing persons.
From Exhumations to Investigations
As a result of these efforts, in November 2021, the forensic team of the First Responders Team relaunched as the Syrian Missing Persons and Forensic Team (SMFT), a new organization, independent from local authorities, focused on identifying those missing throughout formerly ISIS-controlled territory. The team stopped the proactive exhumation of new graves, instead shifting to a focus on broader missing persons investigations.
In the year since the creation of the team, SJAC has continued to educate stakeholders throughout Northeast Syria about the importance of grave preservation. While it is impossible to guarantee the safety of all graves, as a result of these efforts, local governing authorities are no longer opening graves and are instead assisting the SMFT in guarding and protecting grave sites.
Meanwhile, the SMFT still serves an important role in ensuring the dignified management of human remains. In cases where remains are found on the surface, or if a grave is unintentionally opened, such as during construction, the team can responsibly exhume, analyze, and rebury the remains. Such cases are extremely rare, and only performed when SJAC, the SMFT, and local authorities ascertain that there is no way to responsibly preserve the site.
Moving Forward
While the legacy of unnecessary exhumations in Northeast Syria is unfortunate, and will make future investigations more difficult, it does not make identifications impossible. Currently, the SMFT is investigating the creation and use of graves that the FRT previously exhumed. In the future, when the SMFT has gathered extensive evidence to understand which victims may have been buried in each particular grave and have gained the necessary forensic skills, they will be able to work, with external forensic experts as needed, to re-exhume bodies from their secondary grave sites and conduct a full forensic analysis. Early exhumations complicate, but need not ultimately prevent, identification. With the ongoing work of the SMFT, early efforts to recover remains have transformed into the first Syrian-led forensic missing persons investigation, with the potential to bring closure to thousands of families.
This article is just one part of SJAC's 'Tamnona' (Please Inform Us) campaign, a month during which we are focusing on sharing information on our missing persons program. To find other articles, videos, and events, follow us on Facebook or Twitter.
_________________________
For more information or to provide feedback, please contact SJAC at [email protected] and follow us on Facebook and Twitter. Subscribe to SJAC's newsletter for updates on our work.