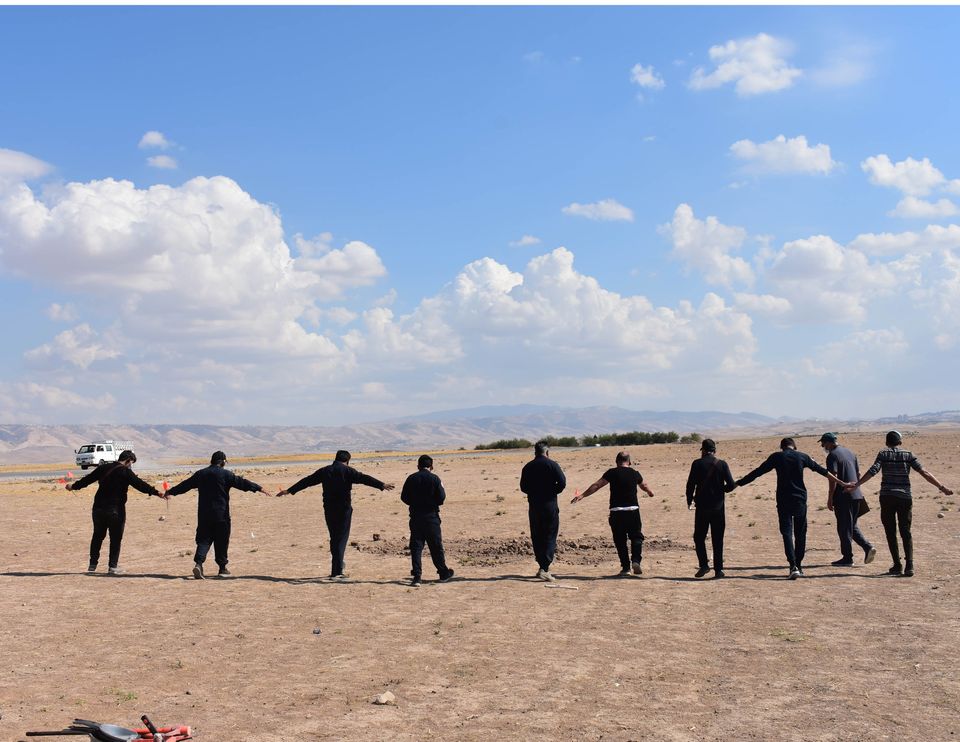 PRESS RELEASE: First Forensic Training for Syrian Missing Persons and Forensic Team
This week, the Raqqa-based First Responders Team re-launched as the Syrian Missing Persons and Forensic Team (SMFT), following a week-long training in Erbil with the Argentine Forensic Anthropology Team (EAAF). The training, which was coordinated by the Syria Justice and Accountability Centre (SJAC), marks a turning point in the search for missing persons in Northeast Syria.
SJAC's Executive Director, Mohammad Al Abdallah explained, "For the first time, the SMFT, which has been recovering remains in and around Raqqa since 2018, received in-person technical instruction in forensic archeology and anthropology. These skills are essential to the team's ability to preserve, document, and exhume mass graves in support of the search for the missing as well as accountability for ISIS crimes."
Almost three years since the territorial defeat of ISIS, more than 8,000 people remain missing in Northeast Syria. Many were last known to be in ISIS detention, while others disappeared during the military operations of the Global Coalition to Defeat ISIS. Families, media activists, and local civil society organizations have worked tirelessly to document the circumstances in which missing persons disappeared, investigate their current whereabouts, and advocate for justice. The SMFT has been central to those efforts.
Since its creation as an emergency relief body under the auspices of the Raqqa Civilian Council in 2018, it has opened more than 28 graves in Northeast Syria and identified many more, in the process recovering almost 6,000 bodies. However, inadequate training, insufficient psychosocial support, and inconsistent funding prevented the team from identifying the vast majority of recovered bodies or collecting the evidence required for accountability processes.
In 2019, SJAC launched its missing persons program in Northeast Syria and partnered with the EAAF to address these needs. Since then, the Syrian Missing Persons and Forensic Team has separated from the Raqqa Civil Council in order to ensure independence and impartiality, received remote training in forensics as well as psychosocial support, and halted the opening of new graves to prioritize preservation, technical trainings, and contextual investigations.
In mid-October, forty team members travelled from Raqqa to Erbil for six days of intensive training with three experts from the EAAF, including two forensic archeologists and a forensic anthropologist, as well as an independent explosives safety expert. The training included two days of classroom instruction focused on basic principles of archeology and osteology, as well as two days in the field, where the team practiced their skills on mock graves. The team, which has been facing dangerous booby traps left by ISIS, also received training in explosives safety. The training ended with a day devoted to a grave in Raqqa that is in urgent need of exhumation, in order to clear the way for construction. The team shared photos of the grave and discussed specific strategies with the EAAF on how to effectively exhume and document it.
Claudia Bisso, a forensic archeologist who has worked with the EAAF for over twenty-five years said, "We were impressed by the team's passion, attention to detail, and expertise. They have already acquired extensive experience over the last three years, and are well placed to conduct this work. We are looking forward to continuing to support them as they move forward with their investigations."
In the coming months, the team will be working closely with SJAC and the EAAF to undergo an internal restructuring and refocus its efforts on the contextual investigations necessary before further exhumations take place. By combining the documentation and exhumation of graves with contextual documentation on crimes committed by ISIS, the team will seek to identify individual victims, bringing closure to thousands of families who are living in uncertainty.
SFMT's Team Lead, Yasser Al-Khamis shared, "Despite the difficult circumstances surrounding the team's creation and the lack of scientific and technical support at the beginning, the team has worked on the missing persons file with the modest means available. Today, after receiving scientific and technical support in-person, the team is looking to expand its work in documentation, evidence-gathering, and preparation for the identification of missing persons. The team hopes to continue and strengthen support for its work."
###
The Syria Justice and Accountability Centre (SJAC) is a Syrian civil society organization working towards a Syrian state defined by justice, respect for human rights, and rule of law, where citizens from all components of Syrian society live in peace without fear. Its mission is to promote justice and accountability in Syria by ensuring that human rights violations are comprehensively documented, and that documentation data is securely preserved, catalogued, and analyzed to advance transitional justice and peacebuilding.
For media inquiries, please contact:
English and Arabic: Mohammad Al Abdallah
Executive Director, Syria Justice and Accountability Centre
+1-202-704-3215
______________________________________________________
For more information or to provide feedback, please contact SJAC at [email protected] and follow us on Facebook and Twitter. Subscribe to SJAC's newsletter for updates on our work.