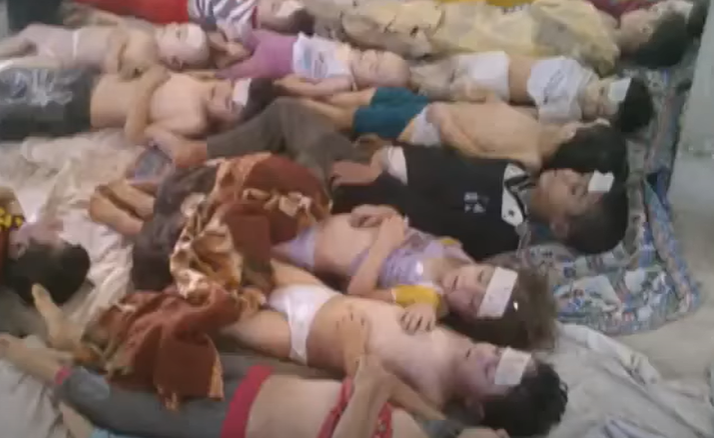 Will Accountability Itself be a Casualty of Ghouta?
Hundreds of people were killed in last week's chemical attack in the Ghouta region of eastern Damascus. Haunting, tragic, and horrifying photos and videos have emerged as a result of the invaluable efforts of groups and individuals who are documenting what could emerge as one of the worst chemical attacks in decades. But documentation to what end? Will accountability be realized in Ghouta?
Despite coming under sniper fire en route, UN inspectors finally obtained access to the site where chemical weapons are thought to have been used, arriving in the Damascus suburb of Moadimiyah yesterday, where they began taking samples. And the sooner the better, because verification of chemical weapon use becomes more difficult with each passing day. One of the key questions that remains, however, is what is to be done with this information once obtained and verified? Investigating the scene of Ghouta must be an initial step, not the only step in a larger transitional justice process.
Unfortunately—and this could be particularly relevant with respect to the Ghouta attack—transitional justice efforts become more difficult after allegations of mass atrocities. History is plagued by examples of drawn-out conflicts that have ended not with reconciliation, but with institutionalized divisions, mistrust among the citizenry, and a lack of confidence in the legitimate government. The chemical attack that occurred on Wednesday represents the type of events that can calcify divisions and complicate reconciliation between and among different groups in the country.
At the same time, accountability efforts are critical in eliminating any sense of impunity, and the disregard for human life represented by the Ghouta attack must be documented and must be taken seriously by both Syrians and the international community in order to underscore the importance of the concept of accountability. Given this increased sense of urgency that the chemical attack have prompted, it is worth reiterating that accountability efforts must be part of any plans for transition in Syria.
The question of "what next" is intimately entwined with the notion of "accountability." But what is accountability? What accountability will mean for Syrians, and how it is eventually implemented, is up to them. If it means dozens more months of violence without any concrete plans for transitional justice, however, the term "accountability" can be viewed as hollow rhetoric rather than a true commitment to justice.
The value and significance of accountability cannot be understated.  A widespread belief in accountability can dissuade potential future perpetrators, broad support for truth-seeking stigmatizes efforts to hide the truth, and reconciliation efforts can bolster trust and confidence within a population.  But legitimate accountability after the conflict requires documentation, provides legitimate mechanisms and processes for truth-seeking, and is most effective when coupled with civic education and awareness-raising on the various forms transitional justice can take during and after a conflict.  Accountability is not just a word, it is a principle and a tool that can help to aid in Syria's eventual recovery from the conflict.
Absent follow-up to the Ghouta attack, it is foreseeable that Syrians could lose faith that perpetrators of these attack, or any other crimes committed during the conflict, will be held accountable for their actions.  The SJAC is devoted to supporting Syrian-led transitional justice efforts designed to secure justice and accountability for all Syrians. While they are difficult, especially when mass atrocities and war crimes are being committed, documentation efforts and planning for transitional justice can is a powerful instrument to counter immunity and setting the stage for a more peaceful future.
The SJAC sincerely commends the work of documenters who have worked to record the events in Ghouta last week, and it remains committed to continuing support for documentation and transitional justice efforts in Syria.
Signup to receive the SJAC's Weekly Updates here.
Follow us on Twitter at SJAC_info.