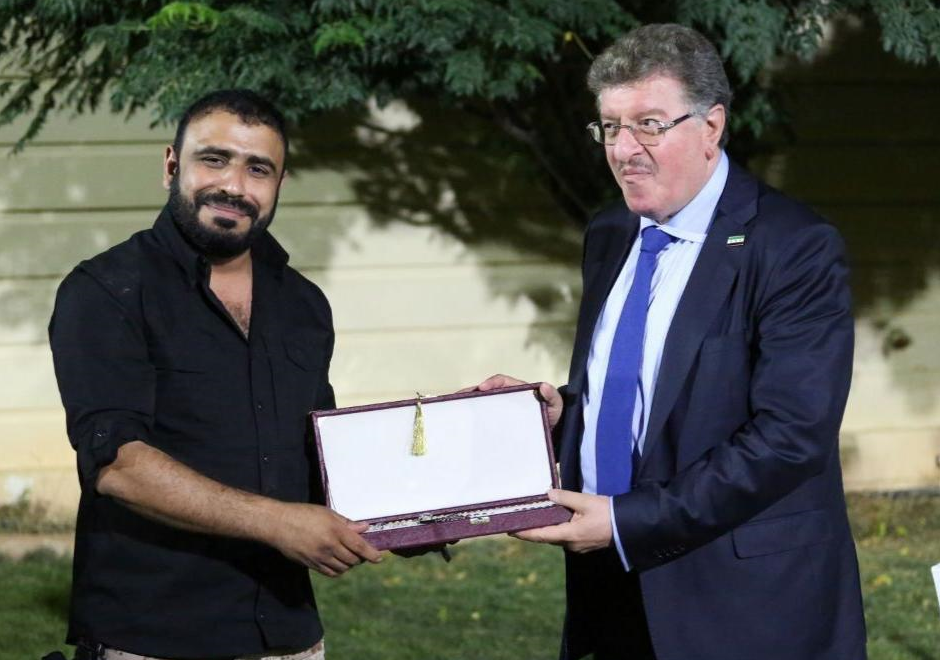 Why the US Should Expand Sanctions in Northern Syria
The recent imposition of U.S. sanctions on the Turkish-backed armed group Ahrar al-Sharqiya represents a step forward in protecting human rights in northern Syria. Reactions to the sanctions by affiliates of Ahrar al-Sharqiya and its allies show that the designation may be a powerful tool to change behavior, and the U.S. should extend sanctions accordingly to include other armed groups operating with impunity in the area, including factions in the Syrian National Army (SNA) such as the Sultan Suleiman Shah brigade. These sanctions should be combined with diplomatic pressure to push back against attempts to normalize the Turkish occupation of Northwest Syria.
Expanding Sanctions in Northern Syria
Photo: Al-Furat News Agency. The President of the National Coalition in a meeting with Abu Hatem Chakra, the head of the Ahrar al-Sharqiya faction, who was sanctioned by the United States
In an official statement last month, the U.S. Treasury Office of Foreign Assets Control (OFAC) explained that it targeted Ahrar al-Sharqiya because the group "has committed numerous crimes against civilians, particularly Syrian Kurds, including unlawful killings, abductions, torture, and seizures of private property." While this announcement, which sanctions a group with few assets within the reach of the U.S. financial system, may seem largely symbolic, the decision elicited genuine fear among other militant groups in northern Syria, suggesting that sanctions could be a powerful tool for reducing ongoing human rights abuses in the region. As just one example, in March of this year, amid calls to sanction armed groups in the North, one major armed group's spokesperson got in touch with SJAC to explain the group's actions and promise to work on human rights matters. SJAC had previously named the group in its report on the predatory recruitment of mercenaries. While SJAC has not engaged with the spokesperson further, and has no proof that there has been any behavioral change, it is clear that the group's leadership was following the sanctions discussion closely, and keen to avoid a designation.
The U.S. should further use this leverage by targeting factions in the SNA, especially those that UN officials have accused of committing war crimes and egregious human rights abuses such as torture, pillage, and arbitrary detention. Recent investigations by Syrians for Truth and Justice (STJ), have shown that former ISIS fighters are now joining many of these SNA-affiliated groups.  Furthermore, SJAC, in collaboration with STJ, has documented the predatory methods through which the SNA has recruited IDPs and children for mercenary combat abroad while defrauding their families. In light of those abuses, SJAC continues to call for the imposition of sanctions on SNA faction leaders like Mohammad Jassem (known locally as Abu Amsha, head of the Sultan Suleiman Shah brigade). Financial sanctions could be particularly threatening to Jassem, who has established extensive property holdings in Turkey on the basis of the SNA's extortionate policies in Afrin.
Despite increasing public scrutiny of crimes in the Northeast, the National Coalition for Syrian Revolutionary and Opposition Forces (The Coalition) leadership has recently taken multiple trips to Turkish-occupied Northern Syria, including a recent trip by Coalition president Salem Al Muslat, during which he met with Abu Amsha, who stands accused of serious crimes, including sexual violence and looting. Al Muslat appeared in a video visiting and supporting "Abu Hatem Shaqra," the sanctioned leader of Ahrar al-Sharqiya. Such visits not only lend support to sanctioned individuals and lend credibility to the individual criminal militias operating within this area, but also the larger Turkish occupation that enables it. The U.S. and its allies should accordingly consider sanctions or other pressure tactics targeting Syrian opposition political leaders who are collaborating with and elevating these militia leaders.
Managing Arab-Kurdish Tensions
The designation unsurprisingly received a mixed reaction along political and ethnic lines. The Syrian Democratic Council (SDC), the political arm of the Kurdish-led Syrian Democratic Forces (SDF) that governs northeast Syria, praised the move as sending a message to other armed groups that act with impunity in northern Syria and delivering a small form of justice for the slain Syrian-Kurdish politician Hevrin Khalaf. However, some actors in northern Syria sharply criticized OFAC's decision as unjust and a reflection of bias in U.S. government policy.  Shortly after the announcement, the Syrian Council of Tribes and Clans released a statement condemning the US government for having allegedly distorted the reputation Ahrar al-Sharqiya   had gained in fighting both Syrian government forces and the "terrorist" Kurdish military units that comprise the SDF. At rallies in Tal Abyad, demonstrators have carried banners denouncing the OFAC designation of Ahrar al-Sharqiya as traitorous and unjustified. The political head of one SNA faction, Mustafa Sejari, took to Twitter to suggest that the sanctions reflected a pro-Kurdish sentiment on the part of the U.S. government, and were not based on a credible assessment of the human rights situation in northern Syria.
However, this pushback is an inaccurate assessment of both the extent of crimes being committed in Turkish controlled areas and the U.S. response. Serious human rights violations in Northern Syria have consistently been reported not only by independent NGOs, but also by the UN Commission of Inquiry. Additionally, the U.S. has not only been outspoken about crimes committed in the Northwest but has likewise used its influence in Northeast Syria to push back against arbitrary arrests and alleged torture of activists by the Syrian Democratic Forces. The recent designation of Ahrar Al-Sharqiya is an accurate reflection of crimes being perpetrated within the country, and the U.S. should now go further, by expanding sanctions to other armed groups in the region.
________________________________________
For more information or to provide feedback, please contact SJAC at [email protected] and follow us on Facebook and Twitter. Subscribe to SJAC's newsletter for updates on our work.