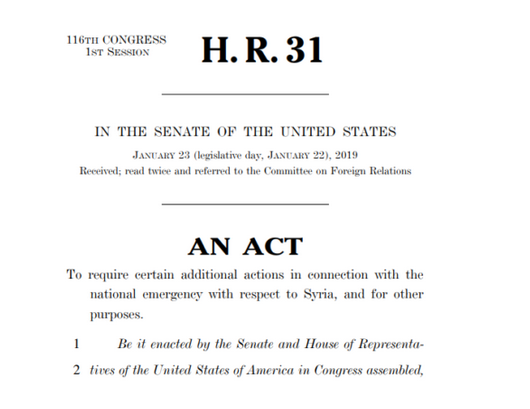 What is the Caesar Bill?: The Potential and Limitations of US Congressional Action on Syria
The US Congress has recently taken up a series of bills regarding the Syrian conflict. Ultimately, most foreign policy decision-making power resides in the Executive Branch. However, Congress also has some foreign policy influence, such as the ability to call for sanctions and appropriate funds including setting restrictions on foreign funding that can be signed into law by the President. The three pieces of legislation discussed below cover different aspects of congressional action with regard to justice in Syria, but with overlapping themes, and in one case, overlapping provisions.
In August 2018, Congress passed the 2019 National Defense Authorization Act (NDAA), which included a section on accountability for war crimes, crimes against humanity, and genocide in Syria.  The bill mandated, among other provisions, a "description and assessment…of programs that the United States government has undertaken to ensure accountability for war crimes, crimes against humanity, and genocide perpetrated against the people of Syria by the regime of President Bashar al-Assad, violent extremist groups, and other combatants." It also mandated a report on potential transitional justice mechanisms that could be appropriate in the Syrian context and authorized the potential for assistance for the creation of such mechanisms if they are deemed appropriate. Similarly, the bill authorized Congress to support entities and organizations that identify suspected perpetrators and support investigations and prosecutions. Neither assessment has been completed at the time of this article, so they have not influenced the following two pieces of legislation.
A second bill, entitled the No Assistance for Assad Act, was introduced in December 2017 and passed the House of Representatives in April 2018, after which the Senate failed to take up the bill. It has yet to be reintroduced in the new Congress. The bill outlined the conditions under which the US would be willing to provide recovery, reconstruction, or stabilization assistance.
The Caesar Civilian Protection Act of 2019 was passed by the House of Representatives on January 22. It has also been passed in the Senate as a component of another bill, the Strengthening America's Security in the Middle East Act, so it is likely that in coming weeks it will be signed into law. The bill creates a new set of sanctions to target not only the Syrian government, but also businessmen who have economic ties to the government, the security sector, the central bank, or state-run infrastructure, including airlines, energy agencies, and construction projects; however, the President can use discretion to lift or enforce sanctions on a case-by-case basis based on his foreign policy goals.
The Caesar Civilian Protection Act and the No Assistance for Assad Act include provisions to precondition the lifting of sanctions and the provision of reconstructions funds, respectively. These conditions include ending the targeting of civilians and civilian objects, releasing all political prisoners, allowing access to detention facilities by international monitors, allowing the safe and voluntary return of refugees, and other civilian protections. However, the No Assistance for Assad Act goes further to include provisions requiring free and fair elections, security sector reform (including vetting and lustration), and progress towards decreasing dependence on Iranian military and proxy forces.
Though the Caesar legislation includes a focus on human rights issues, SJAC recommends that US legislators make the following modifications to both the Caesar Act and the No Assistance for Assad Act (if it is reintroduced in the new Congress).
1. In light of the current administration's disinterest in ensuring a peaceful resolution to the Syrian conflict, Congress should explicitly and firmly call on the President to support the Syrian peace process under the provisions of Resolution 2254. Since President Trump entered office, the United States has been largely absent during the peace process, allowing Russia to dominate negotiations and sideline human rights and victims' grievances.
2. Legislation should include not only "authorization for assistance" but appropriation of funds for documentation and investigations, including to human rights groups and the UN International, Impartial, and Independent Mechanism for Syria.
3. Legislation that calls for the safe, voluntary, and dignified return of refugees displaced by the conflict should include the specification that refugees have the right to return to their homes, in line with SJAC's recommendations on property restitution. Ensuring that displaced persons can return to their homes under a clear property restitution framework helps to prevent government-engineered demographic changes and broader patterns for corruption and abuse of displaced persons.
4. Any normalization of relations or stabilization and reconstruction assistance must be preconditioned on institutional reform, including security sector reform. SJAC recently conducted a review of 5,000 pages of security sector documents that showed patterns of widespread abuses and systematic intrusions by the security sector into the everyday lives of Syrians, which will be published in a forthcoming report.
5. Sanctions alone do not serve as a sufficient replacement for accountability; Congress should address other forms of potential normalization in a way which signals to violators that the US will not support governments that commit human rights violations.
6. Congressional staffers tasked with drafting these reports on patterns of human rights violations should do so in consultation with Syrian victims and human rights organizations.
For more information or to provide feedback, please contact SJAC at [email protected] and follow us on Facebook and Twitter.