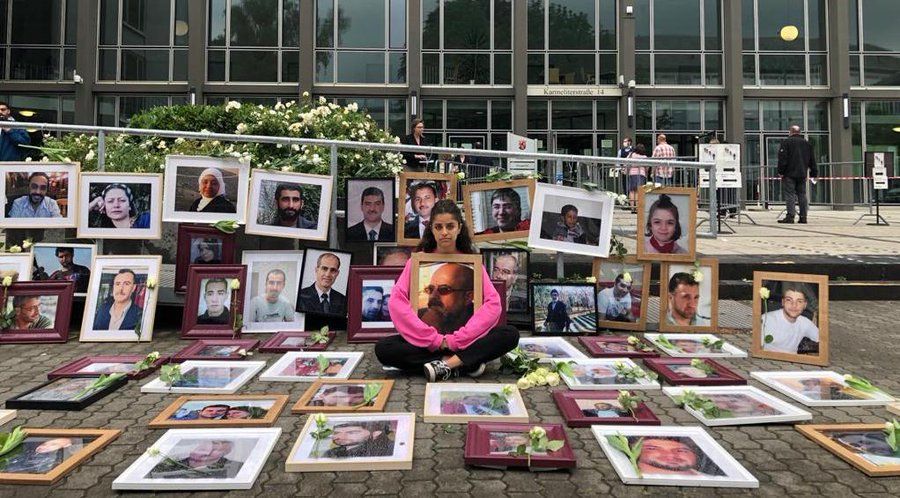 The Women Left Behind
When Fatima's (name changed) husband disappeared in 2013, she risked her life to find any news of him. "I searched in all security branches, but to give any information, they asked me for money which I did not have," she recalls.
Her husband is among the unknown thousands who have been abducted, detained, or gone missing in Syria's nine-year war. Along with the crimes suffered by those disappeared, their families are forced to live in an agonizing state of limbo. Families are often left to cope with the disappearance of a loved one with alternating feelings of hope and despair as they wait for answers. This uncertainty poses a profound psychological burden.
The 2006 International Convention for the Protection of All Persons from Enforced Disappearances identifies both the disappeared and their family members as victims of enforced disappearances. In Syria, as in most conflicts around the world, women comprise a minority among the disappeared, but suffer exacerbated economic, social, and psychological disadvantages due to the disappearance of their male family members. Wives, mothers, and daughters of the disappeared are often left to face a multitude of challenges compounded by pre-existing patriarchal laws and social norms, yet their experiences are often overlooked or marginalized in discussions on missing persons and detainees.
For women like Fatima, the loss of their loved ones has been the traumatizing start to a seemingly endless series of grief and struggles. "The women who lost their husbands or their fathers, if they didn't have a job, they will struggle to get one to support their families. They will also face a society which deals in a very bad way with single moms," Fatima notes.
Alone, in the face of poverty and discrimination
In 2018, Syrian organizations Dawlaty and Women Now for Development conducted a survey with more than 50 Syrian female relatives of missing persons in Syria and Lebanon. The majority of women interviewed stated that they had lost the main breadwinner of their households and had been displaced at least once. 89% had a least 1 child and 58% had 4 or more children, yet more than 65% were unemployed. Many women struggle to find employment with limited education and limited economic opportunities for women. Some cannot work because they remain the primary caretakers of their children. In the absence of the principal bread-winner, the material problems faced by these women are manifold: economic insecurity and dependence on in-laws, limited social benefits, and the financial burdens of both providing for their children and families and searching for missing relatives.
Despite these economic burdens, the uncertain status of the disappeared leaves most families ineligible for 'martyr's funds' and other forms of assistance reserved for families of the deceased, In areas controlled by the Syrian government. Their plight is compounded by existing legal structure which severely disadvantages female family members in the absence of a male head of household. In the absence of their male family members, a women's claim to property is precarious. In the 2018 survey, several of the women interviewed stated that their properties were at risk, and at times lost, to male in-laws or the Syrian government. Under Syrian Personal Status Law, fathers are also the main guardians of their children, leaving mothers with limited legal authority over their children in the event of the father's disappearance. Without a signed procuration from the father, guardianship is transferred to the child's grandfather or male in-laws if the father is missing, subjugating the mother's authority over her children to the will of her male relatives.
These limitations ultimately drive some women to file for divorce from their missing husbands, or to legally change their husbands' status to deceased. Those who refuse to do so are left often without remedy. Syrian law considers a missing person to be alive until he or she is either eighty years old or, in the current conflict, after four years have elapsed following a formal missing person complaint is filed. It is only after four years have passed that a judge can rule the missing as legally deceased. The legal process, however, substantially varies depending on whether the wives of the missing live under Syrian government or de-facto authority. For example, since an official complaint can only be filed in Syrian government-controlled areas, those living in North and Northeast Syria cannot officially register their missing without facing a myriad of security risks such as arrest or investigation.
"I don't show anyone that deep, deep inside, I'm very sad."
SJAC's Project Manager for its Missing Persons program, which works closely with families of the missing in Northeast Syria, spoke on the long and devastating consequences for female relatives. "Some wives are forced to abandon their children because the women's families are unable to bear the living expenses," she notes. Furthermore, they experience an immense psychological toll. "Most of the women whom I have met have symptoms of post-traumatic stress disorder, depression and suicidal tendencies." Yet women must also deal with their experiences, not only as victims themselves, but as mothers to the children of the missing. In the 2018 survey, one woman described the need to internalize her grief in front of her children: "I can't let them feel that I'm sad because they are already affected. In the evening, however, after they sleep, I wish to die, and not see the next morning. I don't show anyone that deep, deep inside, I'm very sad."
Despite their suffering and loss, many wives of missing persons are met, not with empathy, but by stigmatization from some parts of society, particularly when they choose to divorce or remarry. In a poll conducted by the Syrian newspaper Enab Baladi, respondents were asked: 'what should the wife of a detainee or a husband who has been missing for many years do?' 50% of respondents felt that they should wait for the release of their husbands. Across Syrian society, wives of missing persons are sometimes shamed as 'owls' or 'crows' as an indication of doom. Others are ostracized in their communities by those who fear their association with detained persons. Under such stigmatization, and with limited access to mental health, women are often left to deal with their loss and trauma alone.
"As families, we have suffered enough"
Yet despite all obstacles, many Syrian women have taken it in their own hands to support each other and fight for their missing loved ones. As in Argentina, Lebanon, and in so many conflicts around the world, women have taken a leading role in advocating on behalf of missing persons in Syria. Among the most prominent groups is Families for Freedom, a women-led movement of families that demands that Syrians on all sides are freed from detention and that their families are given the 'right to know' whether their loved ones are alive and where they are located. FFF has 250 members across chapters in Syria, the UK, Germany, Turkey, and Lebanon, and is led by a steering committee of 11 women. In August 2019, two co-founders of Families for Freedom, Dr. Hala Al Ghawi and Amina Khoulani, spoke before the UN Security Council. Dr. Al Ghawi, whose husband, brother, relatives, and medical colleagues were detained, and some killed, in the war, told the council, "It is in memory of them — and of the hundreds of thousands of disappeared and murdered Syrians — that I appear before you today." Imploring the international community, she declared "as families, we have suffered enough. I am here today to urge you to action."
Recommendations
After nearly 10 years of war, the constant state of limbo, insecurity, and grief suffered by wives, mothers, and daughters of the missing and detained must not be ignored any longer. While the issue of missing persons and detainees have rightly been highlighted by the UN Special Envoy to Syria, a more gender-sensitive approach must be taken in justice efforts and programs for missing persons and detainees. Furthermore, in aid programs in Syria and neighboring countries, the expansion of psychosocial support tailored to the needs of women can help provide much needed support for family members. Finally, the creation of a missing persons status can simplify legal challenges faced by female relatives of missing persons, and help to expand their access to aid programs.
Ultimately however, what the families of missing people need is closure. This means the release of political detainees, provision of information and open lines of communication with those who remain imprisoned, and a comprehensive missing persons program to investigate those that remain missing. As Damascus maintains the status quo, the responsibility falls upon the international community to politically and financially support efforts to discover the fate of the missing. By engaging relevant Syrian and women-led civil society groups in justice efforts, such efforts can recognize the disproportionate burden of conflict shared by both women and families with missing relatives. But the current lack of political will to confront the issues of detainees and missing persons will only intensify the invisible scars of family members of the missing. As the onset of the Coronavirus pandemic has reinstated calls for the release of arbitrarily detained persons, the international community is faced with the unique opportunity to hear the voices of these families and realize the search for their loved ones.
For more information or to provide feedback, please contact SJAC at [email protected] and follow us on Facebook and Twitter. Subscribe to SJAC's newsletter for updates on our work.