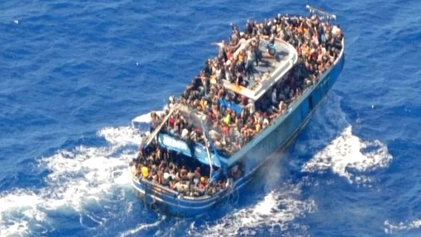 The Migrant Shipwreck Before Pylos: A Syrian Perspective
On June 14, 2023, the coastal town of Pylos in Greece became a synonym for the second deadliest migrant shipwreck recorded in the Mediterranean Sea. The ship was carrying roughly 750 passengers, of whom only 104 were rescued. The passengers, who had set sail from Libya, were predominantly from Pakistan, Egypt, Afghanistan, and Syria. According to survivor testimonies, approximately 150 of the passengers were Syrians, mostly from Daraa, of whom, 35 are said to have survived. However, information has been hard to gather as Greek authorities have restricted journalists' access to survivors. This lack of transparency and conflicting narratives around the Hellenic Coastguard's response to the incident are cause for significant concern and justify calls for accountability. SJAC joins victims' families in their demands for an independent investigation to determine what really happened.
A. Background: From Daraa, Syria to Tobruk, Libya
Deteriorating conditions in Daraa, Syria have put pressure on the local population to flee. The Syrian Government took control of Daraa in 2018 and implemented several reconciliation procedures allowing residents to settle their status with the regime. One such procedure allowed young men to postpone their military conscription for up to 6 months, while another recent procedure provided official documents and travel permits to those who settled their status regarding their obligation to serve in the military. However, with forced conscription in Syria still widespread, a large number of young people settled their status  in order to obtain documents and leave the country. According to an SJAC source, this was a deliberate and calculated strategy to clear Daraa of residents opposed to the regime.
Hezbollah has also been conducting recruitment in Daraa, offering benefits such as security and monthly salaries ranging from $150-300/month to those who did not participate in the revolution. This strategy not only takes advantage of the dilapidated economy and infrastructure in Daraa, but it also creates security risks for opposition supporters and those who opposed reconciliation with the regime, making them a potential target of new Hezbollah recruits. The Daraa Governorate has also experienced increased violence with a rash of unexplained assassinations taking place and sporadic clashes between local military and opposition factions resulting in a highly unstable situation.
B. From Libya to Europe: The World's Deadliest Migration Route
Residents of Daraa who are forced to flee Syria have no option but to take irregular and unsafe routes, as the EU has continuously failed to provide safe pathways to asylum. One of the most dangerous pathways, and the one taken by the victims of the Pylos shipwreck, is to travel to Libya and attempt to cross the Mediterranean to reach Europe by sea. Asylum seekers in Libya are extremely vulnerable to abuse and extortion by smugglers and border control agents, and the life-threatening sea crossing has already resulted in what many have called a "graveyard" and a "crime scene" in the Mediterranean. The IOM's Missing Migrants Project recorded more than 27,000 deaths or disappearances in the Mediterranean Sea since 2014. Meanwhile, the EU and its member states have enforced a deliberate deterrence strategy, using widespread pushbacks to deny entry to asylum seekers at European coasts and borders. Pushbacks are a clear violation of the principle of non-refoulement and the right to effective remedy.
C. Contested Accounts
The official position of the Greek authorities and Coastguard is that they offered assistance several times, but passengers refused and stated they wanted to reach Italy. The Coastguard also asserted that the ship was sailing at steady speed and course towards its destination. This account has been heavily contested by several sources; a BBC report that looked at Marine Traffic animation found that several vessels approached the ship in roughly the same location over the course of the day, contradicting the claim that the ship was sailing steadily. People on the ship contacted AlarmPhone - a hotline for vessels requiring assistance - at least half a dozen times throughout the day. The first call came in at 14:17 CEST and, within 2 hours, AlarmPhone had identified the ship's coordinates and alerted Greek Authorities and the EU's border agency, Frontex. The ship last made contact with AlarmPhone at 00:46 CEST, but the call cut out quickly. The Hellenic Coastguard stated that the ship sank at 02:00 CEST.
Survivors of the shipwreck reported that the Hellenic Coastguard tied a rope to the vessel then dragged it back and forth at high speed, causing it to capsize. An SJAC source in contact with survivors stated that the Coastguard threw a rope and tried to tow the ship twice. On the second attempt, the ship was dragged at a 90-degree angle causing it to capsize. Additionally, an investigative report indicated that survivor statements given to Greek authorities after the shipwreck were likely altered to remove accusations of wrongdoing by the Coastguard, leading survivors to doubt that any legitimate investigation will take place.
Under customary international law, the duty to render assistance to vessels in distress has been formalized in several treaties and conventions, including the United Nations Convention on Law of the Sea (UNCLOS), the International Maritime Organization's (IMO) Sanctity of Life at Sea (SOLAS), and the 1958 Geneva Convention on the High Seas. UNCLOS article 98 requires states to ensure that all ships under their authority render assistance to any person found in danger at sea, and to proceed with all possible speed to the rescue of persons in distress, so long as there is no significant danger to the ship rendering assistance. However, the Hellenic Coastguard has a pattern of neglecting this duty and increasing the dangers faced by migrants at sea through its documented practice of tying ropes to boats to tow them towards Turkey or international waters. Frontex has also been accused of directly participating in pushbacks at sea and has often identified boats in distress but refused to render assistance.
The IMO's Search and Rescue convention defines "distress phase" to mean "reasonable certainty that a vessel or person is threatened by grave and imminent danger and requires immediate assistance". Indicators of distress may include overcrowding or signs of distress by passengers. Frontex's official statement admitted that the agency spotted the ship in the morning around 10:00 CEST and noted that it was moving slowly and was heavily overcrowded. Frontex said it immediately alerted Greek and Italian authorities as to the ship's location and condition. Taken together with the alerts sent by AlarmPhone, the Hellenic Coastguard was on notice that the ship was in distress in the Greek search and rescue zone for several hours before it sank. Even after the ship capsized, survivors were left waiting in the water for at least an hour before they were rescued, while those in the lower levels of the boat – predominantly women, children and Pakistani nationals - were left to drown.
D. Concluding Remarks
For years, the EU has largely ignored calls to improve its' policies towards refugees and asylum seekers, maintaining regressive policies and abusive practices towards refugees, including the failure to create safe pathways to asylum in Europe and put an end to violent and life-threatening pushbacks. Those who are desperate for safety will continue trying to reach the EU through irregular pathways so long as they have no other options available to them. SJAC joins victims' families in calling for a legitimate and transparent investigation of the shipwreck and accountability against those responsible for the loss of hundreds of lives. Human rights groups have already submitted several complaints to UN human rights mechanisms against Greece for its widespread pushbacks and abuses of asylum seekers, yet these practices persist. As such, the EU must exhaust all possible diplomatic and legal action to pursue an unbiased and competent investigation.
___________________________
For more information or to provide feedback, please contact SJAC at [email protected] and follow us on Facebook and Twitter. Subscribe to SJAC's newsletter for updates on our work.