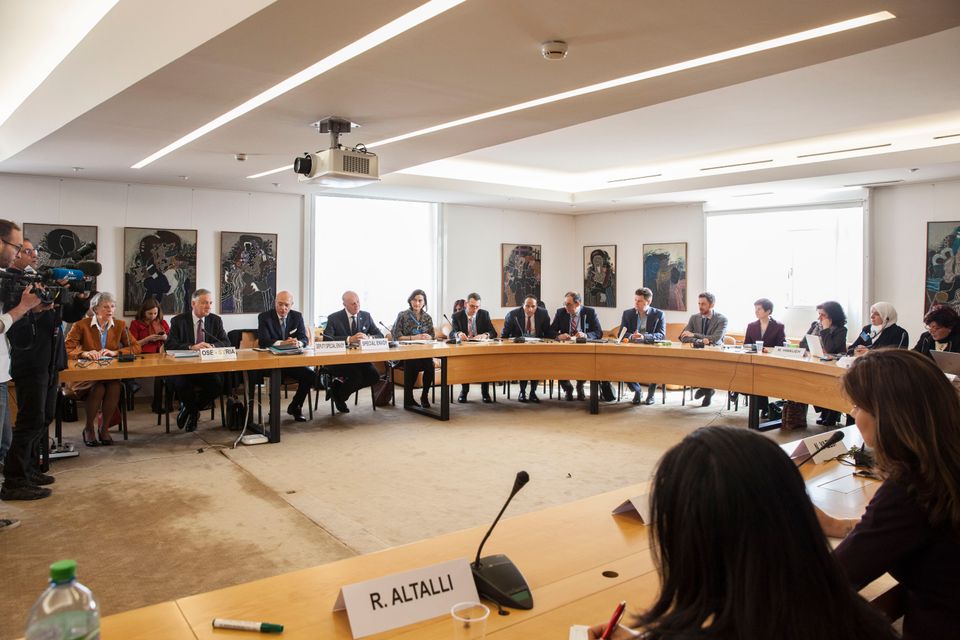 The Controversy over the Syrian Women's Advisory Board
In February, the United Nations made history when the U.N. Special Envoy to Syria Staffan de Mistura convened the Syrian Women's Advisory Board — the first time such a board has been created to advise a special envoy during peace negotiations. Advisory Board members participated in a press conference following a recent meeting with de Mistura to articulate their key demands which included the release of peaceful activists, the distribution of information on the fate of missing persons, and the lifting of Western-imposed sanctions so that humanitarian aid can reach Syrians. Despite the historic nature of the meeting, many Syrian activists criticized the Advisory Board as unrepresentative and a failed attempt at inclusivity. Some went so far as to suspend their contributions to the Advisory Board, such as the Syrian Women Network which discontinued its membership in the Women's Initiative for Peace and Democracy due to the Initiative's involvement with the Advisory Board. (Corrected)*
The Geneva negotiations, in all its iterations, have long been criticized for their failure to substantively include women in the talks. Although women have been involved with peace-building and human rights efforts at the grassroots level, almost every photo taken of high-level meetings in Geneva features a roundtable full of men. Since women have consistently been victims of detention, home raids, and massive displacement, in addition to socio-economic burdens when their husbands, fathers, and brothers disappear or die, they have a large stake in the outcome of the talks. Moreover, certain crimes of sexual and gender-based violence, including rape, forced marriage, and sexual slavery, have specifically targeted women. To ensure that these grievances are addressed and the voices of all Syrians are heard, Syrian women, specifically survivors of violations, should participate in any negotiated settlement.
The inclusion of women is not only a theoretical moral principle. Research has shown that peace processes that include women lead to longer-term peace and stability. In a study of 40 peace processes, the Graduate Institute of Geneva found that when women participate, peace agreements are 35 percent more likely to last for at least 15 years. Since conflict affects women and men differently, the inclusion of women in peace talks helps address the concerns of half the population; and, when half the population feels more secure, the chances of successful peace is more likely. Also, while men generally focus more on issues of power and security, women tend to expand the list of priorities to include victims' rights, transitional justice, and other important social issues that contribute to reconciliation and the sustainability of an agreement.
The Syrian Women's Advisory Board is the United Nation's attempt to be more inclusive. So why did the Advisory Board fail to satisfy the demands of civil society? First, many human rights activists criticized the selection process due to its lack of transparency and clarity. While many notable Syrian women were left off the Board, the United Nations chose to include a few women who were members of political groups that allegedly defended government-sponsored violence, who allegedly have links to extremism, who participated in corrupt practices, and who worked for organizations that assisted with government-led human rights violations. While SJAC is not in a position to confirm or deny these allegations, the accusations suggest that de Mistura's team did not properly vet members, which angered many Syrians, including long-time women's rights activists.
"I am a Syrian feminist and this advisory board does not represent me in the slightest."
Source: Facebook post by Syrian Women's Rights activist Oula Ramadan.
Second, the Advisory Board's final demands indicate that the women negotiated for political aims, rather than for principles of women's rights. The most striking example of this is the Board's demand to lift sanctions so food and medical aid can reach Syrians. While sanctions affect many Syrians by preventing those in the Diaspora from sending money to loved ones and creating difficulties in securing goods from abroad, sanctions cannot be scapegoated for the lack of food and aid in many parts of Syria. The inability of humanitarian aid to reach Madaya and other besieged towns, for example, is not the fault of sanctions, but of the Syrian military's deliberate policy to starve out and repress opposition-controlled towns. A statement that blames sanctions is clearly politicized, reflecting the makeup of the Board itself.
Third, Syrian civil society is concerned with whether the Advisory Board will be allowed to make meaningful contributions to the negotiation process. Civil society has rarely been consulted in the Geneva talks so far. In fact, Syrian negotiators appear to be sidelined altogether as many deals only take place during high-level talks between the United States and Russia. Exactly how the Special Envoy will feed the demands of the Advisory Board into discussions between the opposition and the government or between Secretary John Kerry and Foreign Minister Sergey Lavrov is unclear. It is not enough to create an Advisory Board or to hold one meeting with civil society — engagement must meaningfully contribute to the process and the final deal.
The Syria Justice and Accountability Centre (SJAC) favors the United Nations' attempt to broaden the inclusiveness of the negotiation process. Women must be part of the negotiations in order for their specific grievances to be addressed and for the final deal to have a lasting impact on the ground. The creation of an Advisory Board, however, must have a clear vetting and selection process, should aim to articulate principles as opposed to political statements, and will only be effective if the Board can meaningfully participate in the creation of a final framework agreement. The current Advisory Board has fallen short, and, as a result, it has not been embraced by Syrians.
For more information and to provide feedback, please contact SJAC at [email protected].
==========
* This paragraph has been corrected, it appeared originally as follows:
Some went so far as to suspend their own participation in the Advisory Board, such as the Syrian Women Network which has been engaged in women's rights in Syria since its formation in 2013.