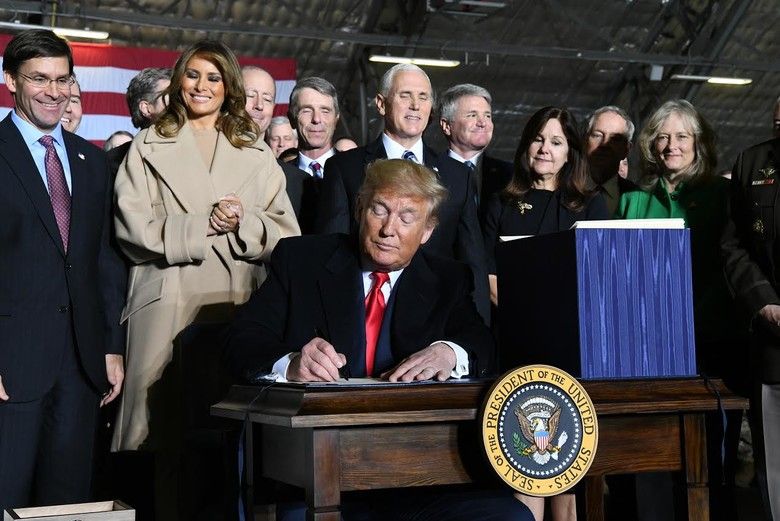 The Caesar Act: Impacts and Implementation
In late December 2019, President Donald Trump signed a $738 billion defense policy bill that included legislation to further the existing sanctions regime targeting Syrian President Bashar al-Assad and his allies. Passed as part of the new law was the Caesar Syria Civilian Protection Act, a nod to the pseudonym used by the Syrian military police photographer who smuggled out nearly 55,000 photographs evidencing systematic torture perpetrated by the Assad government in prisons and detention facilities across the country.
Syria has in fact been sanctioned by the U.S. since 1979, originally due to allegations of state-sponsored terrorism, the occupation of Lebanon, and Damascus' pursuit of weapons of mass destruction and missile programs. The sanctions regime was subsequently extended by the Obama administration after the outbreak of the conflict in March 2011. The objective of the new legislation is no different from past efforts; as the text of the Caesar Act itself states: "It is the policy of the United States that diplomatic and coercive economic means should be utilized to compel the government of Bashar al-Assad to halt its murderous attacks on the Syrian people and to support a transition to a government in Syria that respects the rule of law, human rights, and peaceful co-existence with its neighbors."
Sanctions on Syria have sought to achieve this objective by freezing the assets of the Syrian state and targeting dozens of companies and individuals, particularly government figures, military and security personnel, and entities with alleged involvement in making or using chemical weapons. The U.S. sanctions on Syria have also restricted new investments, exports, sales or supply of services to Syria by any American national or resident.
How does the Caesar Act differ from previous sanctions?
The new legislation, collectively entitled the National Defense Authorization Act (NDAA), expands on the previous sanctions regime by containing a provision directing penalties against Syrian government institutions as well as individuals who do business with Damascus. As the conflict enters a new phase, the NDAA sanctions are largely designed to dissuade individuals and companies from participating in Syrian government-led reconstruction efforts.
Indeed, the Syrian government has recently been courting investors and international donors to help rebuild parts of the country, with reconstruction plans focusing on areas of Damascus and Homs. Several Emirati companies and officials have visited Syria in recent months, indicating interest in potentially investing in Syrian government-led reconstruction, particularly the Marota City plan in southwest Damascus. Moreover, just prior to the passage of the Caesar legislation, Syria's parliament approved oil exploration contracts signed with Mercury LLC and Velada LLC, both of which are Russian companies, in three blocks in Damascus and northeast Syria.
Prior to the passage of the Caesar legislation, the Trump administration had to rely on "verbal threats and private warnings" to discourage governments in Europe and the Gulf from re-engaging politically with Damascus or investing in government areas of Syria. With a view towards reconstruction efforts, the Caesar sanctions represent a far stronger deterrent to international engagement with the Assad government, particularly economic and financial, than previous sanctions regimes. Specifically, the legislation provides for penalties against anyone who "knowingly, directly or indirectly, provides significant construction or engineering services to the Government of Syria." Under the legislation, the Trump administration can further sanction any international company or individual that invests in Syria's energy or aviation sectors, as well as anyone who lends funds to the regime (s.102).
In contrast to European Union sanctions on Syria, the Caesar sanctions seek to address Iran and Russia, the two major allies of the Syrian government. For example, the sanctioning of any government or entity that "significantly facilitates the maintenance or expansion of the Government of Syria's domestic production of natural gas, petroleum, or petroleum products" (Section 102) could potentially target Russian and Iranian private companies trying to benefit from the war by taking control of various Syrian natural resources and national infrastructure. Further, the text of the legislation allows for the punishment of any government or private entity seen to aid the regime or provide any assistance to the governments of Russia and Iran in Syria.
Impacts and Implementation
There are concerns that the implementation of the new sanctions will have an adverse effect on civilians. The Caesar sanctions have been attacked for contributing to the deepening impoverishment of some sections of the Syrian population and preventing economic recovery and reconstruction efforts. The sanctions block luxury developments like Marota City, and rightfully so given their basis in controversial new property laws, but their sweeping nature also prevents necessary rebuilding of basic services and infrastructure. In light of allegations that Assad is using reconstruction projects to consolidate post-war power, expropriate property, and reshape Syrian demographics by dispossessing impoverished communities, the legal reform of property laws must be a precondition of reconstruction assistance and foreign investment.
Further, the restrictions on oil and gas companies from conducting business with Syria may compound existing shortages: Syria imports 60 percent of its domestic gas needs, but has only been able to secure 24 percent of the actual needs of the population. Similarly, the country has suffered severe oil shortages as a result of U.S. sanctions, which has benefited illegal black-market monopolies while negatively affecting ordinary civilians. Such sanctions have also had the unintended effect of increased production costs for Syrian civilians working in manufacturing and agricultural sectors. That being said, while U.S. and international sanctions have contributed to oil and gas crises in the country, other factors like the destruction of Syrian's oil production infrastructure have also played a major role.
Recognizing the potentially negative impacts of sanctions on civilians in Syria, Section 302 of the Caesar Act provides for humanitarian exemptions. Specifically, s.302 allows the President to waive the application of any sanction with respect to NGOs providing humanitarian assistance in Syria. However, banks, insurance and shipping companies, and sellers providing humanitarian goods often refuse to conduct business with humanitarian NGOs due to fears of inadvertently violating U.S. or international sanctions.
Section 401 of the Caesar Bill outlines six requirements for the lifting of U.S. sanctions on Syria:
End to Syrian and Russian aircraft bombing civilians;
Iranian, Syrian and Russian forces, as well as entities connected to them, no longer restrict humanitarian access to besieged areas, and allow for civilians to leave freely;
All political prisoners are released, and the appropriate international human rights organisations are given full access to Syria's prisons and detention facilities;
Bombing of "medical facilities, schools, residential areas, and community gathering places, including markets" by Syrian, Russian, Iranian forces, as well as entities connected to them, ceases;
The possibility for the "safe, voluntary, and dignified return of Syrians displaced by the conflict" is achieved;
And finally, accountability for "perpetrators of war crimes in Syria and justice for victims of war crimes committed by the Assad regime, including by participation in a credible and independent truth and reconciliation process."
Finally, it remains to be seen whether the sanctions outlined in the Caesar Bill will be fully and properly implemented. Secondary sanctions on individuals and institutions doing business with Syrian entities that existed prior to the Caesar Bill were "rarely implemented", as evidenced by the provision of millions of dollars from Russia's Tempbank company to the Central Bank of Syria and Sytrol in 2014, despite U.S. sanctions on both entities. The far-reaching Caesar sanctions include some level of political risk for Washington: if they fail to deter allies from re-engagement with Damascus, the Trump administration will face the thorny, legally-mandated expectation of sanctioning an ally, or otherwise risk rendering the Caesar sanctions toothless.
Economic sanctions can increase the pressure on governments to cease human rights abuses. Unfortunately, they often have adverse collateral impacts on innocent bystanders. Sanctions must be crafted in a way to minimize harm to ordinary civilians. In addition, they are but one tool in the justice and accountability toolbox. An expansive regime of economic sanctions is no replacement for a comprehensive transitional justice framework, including criminal prosecution, truth commissions, and restitution other measures designed to make victims whole.
An Arabic translation of the Caesar Act can be found here.
For more information or to provide feedback, please contact SJAC at [email protected] and follow us on Facebook and Twitter. Subscribe to SJAC's newsletter for updates on our work.