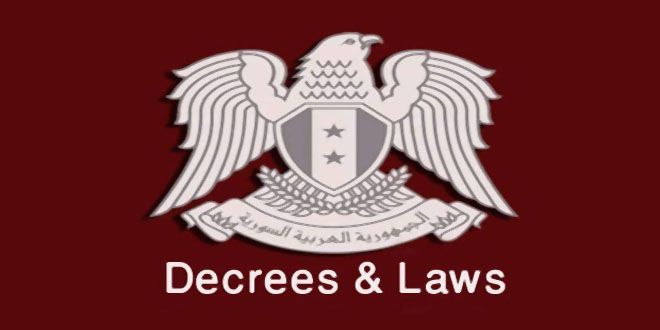 Syria's Newest Decree: Amnesty or a Political Stunt?
On September 15th, Syrian President Bashar al-Assad issued  Decree 20/2019, providing amnesty for certain crimes committed before September 14th of this year. The amnesty reduces sentences for certain crimes and pardons those who have not fulfilled their military service if they return and enlist for duty within outlined timeframes. However, a close read of the text, as well as an overview of the implementation of past such decrees shows that Decree 20/2019 is largely a political stunt, and unlikely to address the thousands of Syrians who are wrongfully detained or fearful to return due to their lack of military service.
The new decree reduces the death penalty to a life sentence of hard labor and reduces life sentences to 20 years. For those who have evaded mandatory military service, this decree provides amnesty given that they report for military duty within three months if they are inside Syria, or six months if they are abroad. However, it is perhaps more important to understand what this decree does not do. The decree does not provide amnesty for any Syrians who participated in the opposition or engaged in any "terrorist activities," including most crimes specified under the Syrian Anti-Terrorism Law. Instead the amnesty applies to a broad range of laws under the General Penal Code and only three articles under the Anti-Terrorism Law, none which benefit the thousands of political detainees who languish in government prisons.
Even for those who may benefit from this decree, there is little reason to trust that it will be fully and fairly implemented. Amnesty Decree 20/2019 is not the first of its kind. This decree is similar to last year's Decree 18/2018 as well as Decree 32/2015 and Decree 8/2016, particularly regarding the military service element. Likewise, reconciliation agreements in the southwest region have included an amnesty clause for those who agree to 'reconcile.' However, arrests of returnees have remained widespread, including of individuals who have signed reconciliation agreements which include an amnesty clause. On September 23rd, a former Free Syrian Army leader was arrested by the Syrian government after returning to government-controlled territory following the amnesty decree, with hopes of reconciliation. This further shows that the decree is a political motive to provide amnesty for a select category of Syrians.
The government continues to pass these hollow amnesty laws to claim that it is addressing international concerns regarding detainees and safety for returning refugees who have not fulfilled service requirements, when in reality countless remain missing in government prisons and returnees are being disappeared. The timing of this decree was particularly notable. The Syrian government announced the amnesty decree the day after Assad hosted Russia's Special Envoy to Syria and the Russian Deputy Foreign Minister in Damascus. Russia, an ally of the Syrian government, has claimed that it is safe for refugees to return to Syria is safe, and has vested interest in seeing Syria be welcomed back to the international community, which will necessitate progress on detainees and refugee return. Additionally, the UN General Assembly high-level week starts on Monday, and the government may be feeling pressure, especially after a recent briefing on detainees at the UN Security Council. The 2018 amnesty decree was also released at a strategic time. It was announced a few weeks after the Syrian Foreign Minister gave a speech at the UN General Assembly, where he called about Syrian citizens to return home, saying "doors are open for all Syrians abroad to return voluntarily and safely." This pattern indicates that the intentions of the Syrian government is not to provide an amnesty to build towards further peace negotiations, but to present itself as a government that is tackling the issue of refugees and detainees.
In the future, amnesty for those who have fought against the government (and are not responsible for serious crimes) may be an important part of a peace agreement. Additionally, political detainees should not wait for an amnesty or a decree to be released, as the idea of amnesty comes from committing a crimes or violation. Political detainees must be released immediately without any preconditions. The current amnesty is not a sign of progress, but rather a publicity stunt by the Syrian government to prove that it is addressing international concerns regarding detainees and refugee return. SJAC urges the international community to reject this charade and continue to push for true, widespread reforms, to include the release of all political detainees and safety guarantees for returning refugees.
For more information or to provide feedback, please contact SJAC at [email protected] and follow us on Facebook and Twitter.