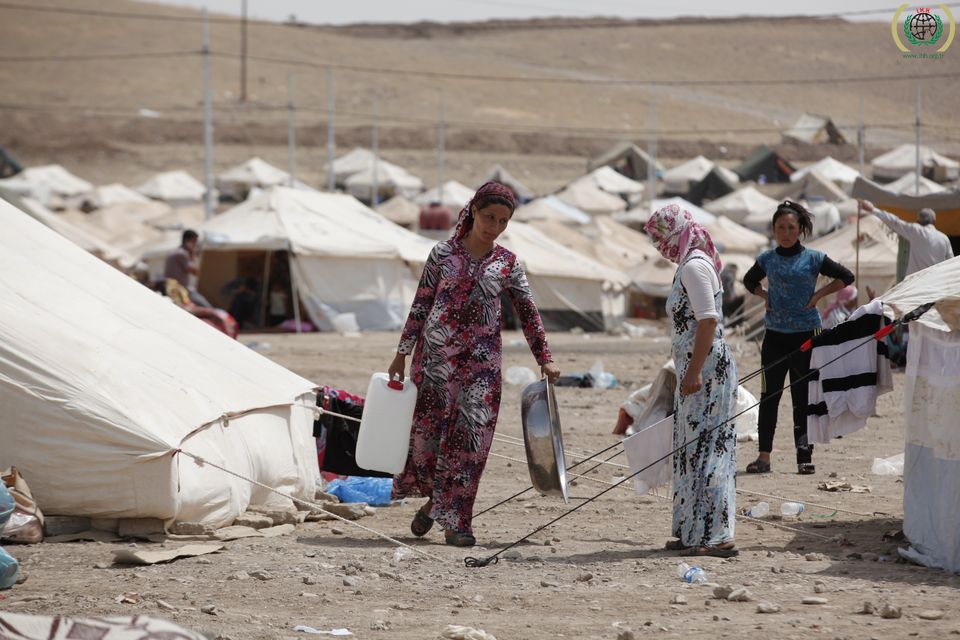 Syrian Refugees Fear Return; Russia is Attempting to Force Them Back Anyway
In recent months, Syria and its backers have begun to shift their policy and rhetoric, preparing for an end to the conflict, or at least the perception of an end. The government is releasing the names of detainees who died in government prisons, passing legislation in preparation for reconstruction, and most recently, calling for the return of refugees. Such a return would signal to the world that Syria is safe and stable, and by removing Syrian refugees from Europe and neighboring countries, it could reduce international interest in the conflict, allowing the government to operate under decreased scrutiny. However, discussions about refugee returns are premature; Syrian refugees still face a credible fear for their lives in returning to Syria. Moreover, the right to return, which should be universal, is currently being selectively offered by the Syrian government, and there are concerns that some returns may not be voluntary. Host countries should not facilitate returns until a peace agreement has been reached and the Syrian government has taken the necessary steps to ensure that the choice to return is universally available, voluntary, and safe.
While the government initially invited refugees to come home in early July, pressure has mounted in recent weeks. In mid-July, Russia announced that, working with the Syrian government, it has launched the Centre for the Reception, Allocation and Accommodation of Refugees, which will monitor and facilitate returns. It also noted that local committees around the country are preparing for returns and that buses have been allocated for the task. More recently, Russia proposed plans to cooperate with the United States, Jordan, Lebanon and Turkey on returns. Some countries have rebuffed this entreaty. For example, the US has insisted that reconstruction funds and support for resettlement will not be offered without a UN-brokered peace agreement that includes elections. However, Lebanese President Michel Aoun has stated that Lebanon is ready "to offer the necessary assistance to implement Russian proposals," and Lebanon has already begun facilitating returns. These developments are deeply concerning, as Syria is not currently prepared for a safe and just return of refugees.
Syria has yet to achieve even the most basic standards of safety and security necessary for return of refugees. Areas of the country are still in conflict, and fears of a government incursion into Idlib are growing. Even in areas that are largely peaceful, threats to returnees remain. SJAC's documentation team is currently monitoring a campaign of arrests in the recently retaken area of Deraa, where many, including journalists and political activists, live in fear of retaliation. Security concerns aside, Syria has been physically devastated by seven years of conflict, and it is unclear where returning refugees will go when many areas of the country lack adequate housing and basic services such as reliable electricity and running water. Before refugee return is feasible, the country will need to comprehensively address these concerns through property restitution and equitable reconstruction.
Additionally, Syria is currently picking and choosing which refugees it will accept, screening all candidates for return and rejecting many names, particularly young men, for security reasons. Such a system allows Syria to use refugee return as another tool of demographic change, carefully selecting who it is willing to accept into a post-conflict Syrian society. Large-scale refugee return should only be supported by host countries if it is available to all Syrians.
Finally, Syrian and Russian efforts to promote returns could encourage host countries, many of which face severe economic and political pressures, to coerce refugees to return to Syria. Forced returns are prohibited by the principle of non-refoulement, which protects refugees' right not to return to a country where they believe they will be in danger, and is enshrined in international customary law. Even in cases where returns may technically be voluntary, many refugees face such low standards of living in their host countries that returns are, in effect, coerced, and policies that create such deprivation can be implemented in order to incentivize return. For these reasons, UNHCR, which is currently not involved with the return of refugees from Lebanon, must have a lead role in facilitating any returns in order to ensure their voluntary nature.
The discussion on refugee return has been dominated by the governments of Syria, Russia and host countries, leaving out the most important voices: the refugees themselves. Recent surveys have shown that, while most Syrians hope they will return home someday, they do not feel safe doing so currently. Syrians who have chosen to leave their country have done so because of a credible fear for their lives. The Syrian government has yet to take steps to address this fear. The conflict continues, the government holds tens of thousands of civilians in indefinite detention, and physical destruction has left much of the country without basic housing and services. In the past, host countries have made inhumane and dangerous policy decisions in an attempt to control the flow of Syrian refugees. Now, they must resist domestic and political pressure to prematurely send refugees home. Instead of focusing on an immediate return, host countries should recognize that return will be a complex and long-term process. The best way to encourage it is by promoting the creation a peaceful and just Syria, one to which refugees will choose to return.
For more information or to provide feedback, please contact SJAC at [email protected] and follow us on Facebook and Twitter.