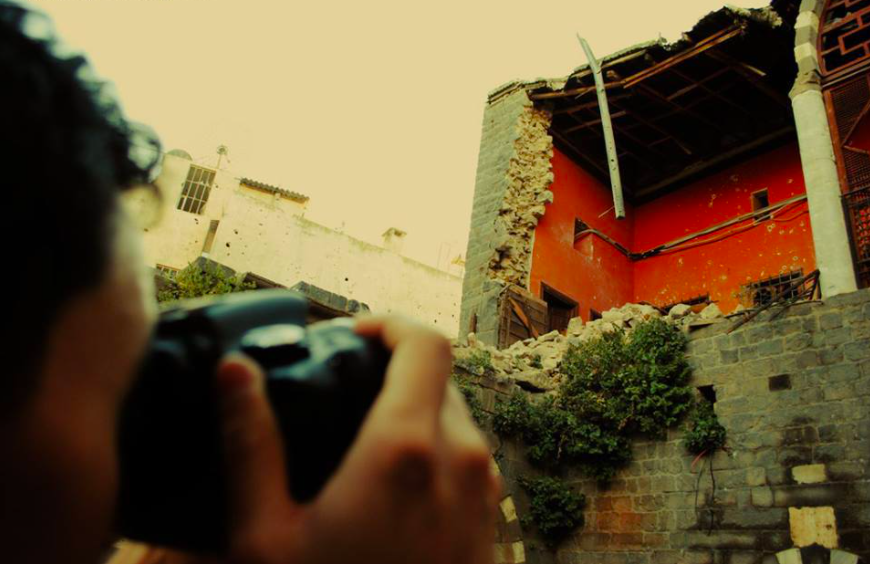 SJAC Shares New Human Rights Training in Arabic
For more than 9 years, Syrian activists and human rights groups have collected documentation and evidence on violations of human rights and international law in Syria. This documentation is vital to the success of justice processes, but in order to be usable it needs to meet international quality standards.  However, many of the human rights activists documenting these crimes have no prior experience in the field and are often working in dangerous and chaotic circumstances, with limited support. SJAC started documenting violations in Syria in 2012 and based upon this experience has been training documenters in Syria and across the region since 2016. It has provided customized trainings both in-person and online, as well as designed an extensive collection of Arabic language training resources, including videos, fact sheets, and quizzes. This week, SJAC has made these materials publicly available for the first time.
SJAC's Arabic language courses are designed specifically for the Syrian context, and have been refined over the last eight years as SJAC's team has collected and analyzed documentation, collaborated with justice mechanisms, and worked to build the capacity of its own documenters as well as a wide network of partners.  New courses are published regularly, reflecting changing dynamics in the conflict. The current courses include the following modules and classes:
Documenting Violations covers how to document different human rights violations via interviews with survivors. Each course covers a different type of violation, providing a definition of the violation, example questions to be asked, and important ethical considerations. Current classes in this category focus on how to document the crimes of human trafficking, torture, sexual and gender-based violence, forced conscription and child recruitment, and detention.
Human Rights and Transitional Justice Principles provides background on principles of human rights and transitional justice through the lens of the Syrian conflict, and can be helpful to those who work in documentation as well as other human rights defenders. Current classes include introductions to international law, transitional justice, and extraterritorial jurisdiction.
Documentation Best Practices covers principles that SJAC's staff utilize throughout their documentation work, and help to ensure that documentation meets SJAC's ethical and quality standards. Courses in this category teach participants how to maintain a proper chain of custody, write a post-interview reflection, and respect the principle of do no harm.
Photo from the new SJAC training platform
SJAC, has utilized these resources to train over 100 activists and human rights defenders as well as members of medical organizations interested in utilizing medical records for justice purposes. Trainees who have benefited from this program work in Syrian refugee communities in Turkey, Iraq, and Jordan, as well as within Syria, including areas that have been subjected to siege such as Eastern Ghouta, Eastern Qalamoun, and the northern countryside of Homs, and also in the regions of Daraa, Hasaka, the governorate of Idlib and the northern Hama countryside. Increasingly, SJAC has provided support to human rights activists and groups elsewhere in the MENA region, including Yemen, Iraq, Iran, and Libya.
Training session in Turkey –Antakya for HRG members.
Lawyer Suleiman Issa, the executive director of Human Rights Guardians, a documentation organization working particularly on enforced disappearance stated, "We participated in many important technical trainings from SJAC, which had a great impact on the development of our work and the quality of our documentation"
SJAC has noticed a significant improvement in the quality of the interviews conducted by the SJAC's documenters and its partners after receiving these training. This quality was measured by a scorecard to assess the quality of the interviews.
SJAC applauds the dedicated activists who continue to document violations with limited resources and training, under extremely hostile conditions.
While its courses are designed primarily for documentation staff, SJAC is hopeful that the newly available materials will be of use to a wide array of human rights defenders in Syria and across the Arab world. While courses are only available in Arabic, in some cases, SJAC can share English-language versions of training material for organizations looking to develop similar training programs. For any questions about the training courses, or to request further training for your organization, please contact us at [email protected]
Access the training website here.
For more information or to provide feedback, please contact SJAC at [email protected] and follow us on Facebook and Twitter.