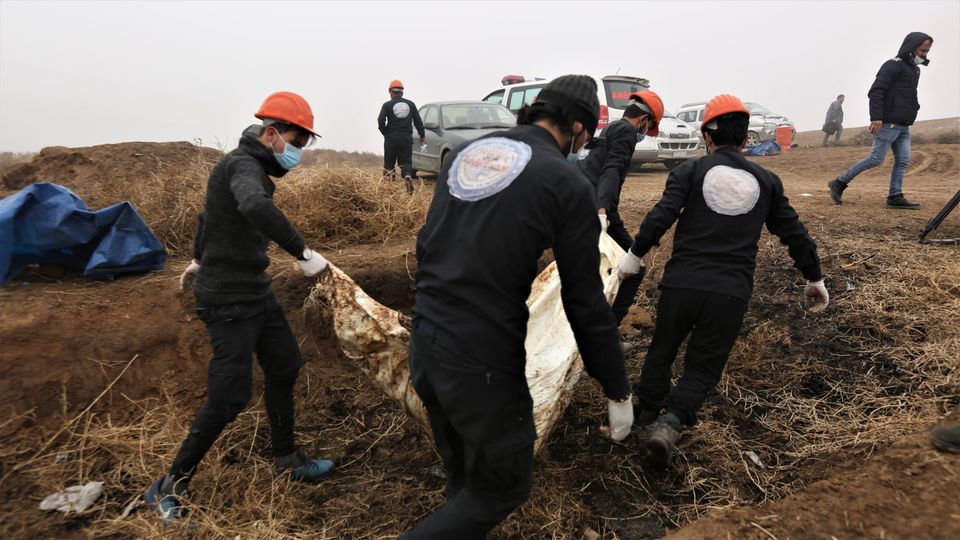 SJAC Launches Missing Persons Program in Northeast Syria
SJAC, in collaboration with the Argentine Forensic Anthropology Team (EAAF), has begun providing technical trainings in mass grave exhumation and documentation to the First Responders' Team (FRT) working to open mass graves in Northeast Syria. These trainings are part of SJAC's larger efforts to address the thousands of missing persons in the aftermath of ISIS's territorial defeat. Its new missing persons program, announced today in Berlin, combines technical trainings with documentation and a close collaboration with families of the missing to start laying the ground work for identification of remains as well as collecting evidence of ISIS's crimes.
What is the situation in Northeast Syria?
ISIS's crimes in Northeast Syria resulted in a network of mass graves containing the remains of thousands of unknown victims. The Coalition to Defeat ISIS's airstrikes left thousands of additional bodies in the rubble. The First Responders Team, made up of 56 individuals between Raqqa and Deir Ezzour, has been working since January 2018 to open graves and relocate bodies. To date, the team has recovered 3,700 bodies from twenty-two graves, and 1,900 bodies from the rubble, streets, or ad hoc graves created by families under bombardment. The majority of these remains have been reburied in a dedicated cemetery after the collection of basic documentation, including biological samples.
The FRT has been doing remarkable work under extremely difficult conditions and with limited outside support. However, the team has no previous experience in exhumations and lacks the technical knowledge to conduct comprehensive documentation and ensure that bodies are not damaged during removal.
What is forensic anthropology?
The Argentine Forensic Anthropology Team films a training video for the First Responders' Team in Northeast Syria.
The field of forensic anthropology combines physical anthropology (the study of human remains) with expertise in archeology (specifically the excavation of burial sites) and forensics (the science of criminal investigations) in order to study human remains resulting from crimes. Forensic anthropology first developed in the context of individual criminal investigations, but increasingly these skills are being applied to the human rights and humanitarian field in order to assist in the investigations of remains in the aftermath of conflict or widescale human rights abuses. Forensic anthropologists work to identify human remains and ascertain the nature of the crime committed and the perpetrator responsible.
Who are the Argentine Forensic Anthropology Team?
The Argentine Forensic Anthropology Team (EAAF) is a nonprofit organization with over thirty years of experience in mass grave exhumation. The organization was first formed in order to address the 30,000 missing persons in the aftermath of Argentina's Dirty Wars. Since then, EAAF has been at the forefront of the development of the field of forensic anthropology worldwide. The EAAF prides itself in taking a community-based approach to exhumations, collaborating closely with families and building the capacity of locals to exhume graves and eventually lead missing persons programs.
What does SJAC's program entail?
In December 2019, SJAC and EAAF began providing the FRT with remote forensic training and conducted a basic assessment to better understand the work of the team and the type of support needed. Going forward, EAAF plans to offer more customized training and provide advice to the FRT on how to restructure its team and create a plan for exhumations. If the security situation allows, EAAF hopes to visit the FRT on the ground so that they can assess graves in person.
However, exhumation is only one piece of the puzzle in attempting to discover the fate of missing persons. SJAC and the FRT are also pursuing documentation of missing persons. Currently what is known as 'antemortem documentation,' potentially identifying information about a disappeared person, is being collected at the FRT's office in Raqqa. SJAC plans to train staff on documentation and provide access to SJAC's missing persons database, which will allow documentation to be securely preserved, and easily searched. SJAC also hopes to connect FRT to displaced families who are not able to physically visit the office in Raqqa.
Finally, missing persons programs are most valuable when they are in line with the needs of the families of the missing. This is why SJAC is collaborating with Jawab, a platform for families of those who went missing under ISIS. Not only is Jawab integrated into the work being done in the Northeast, they are building their own advocacy to ensure that the need to identify the missing in Northeast Syria will be understood internationally and prioritized both in political negotiations and future funding.
The situation in Northeast Syria is just one aspect of the larger crisis of missing persons in Syria, which also includes the thousands of individuals detained by the Syrian government and non-state forces. The expertise in documentation and forensics built under this program will hopefully one day be applied to the country at large, when Syria is able to pursue a comprehensive missing persons program, a cornerstone of any transitional justice process.
You can read SJAC's full report and needs assessment on Northeast Syria here. Going forward, SJAC plans to share regular updates on its missing persons program as well as resources on the role of forensic anthropology in transitional justice. Please click here to subscribe to our newsletter and follow along. If you have any questions or comments, contact us at [email protected]
For more information or to provide feedback, please contact SJAC at [email protected] and follow us on Facebook and Twitter. Subscribe to SJAC's newsletter for updates on our work.