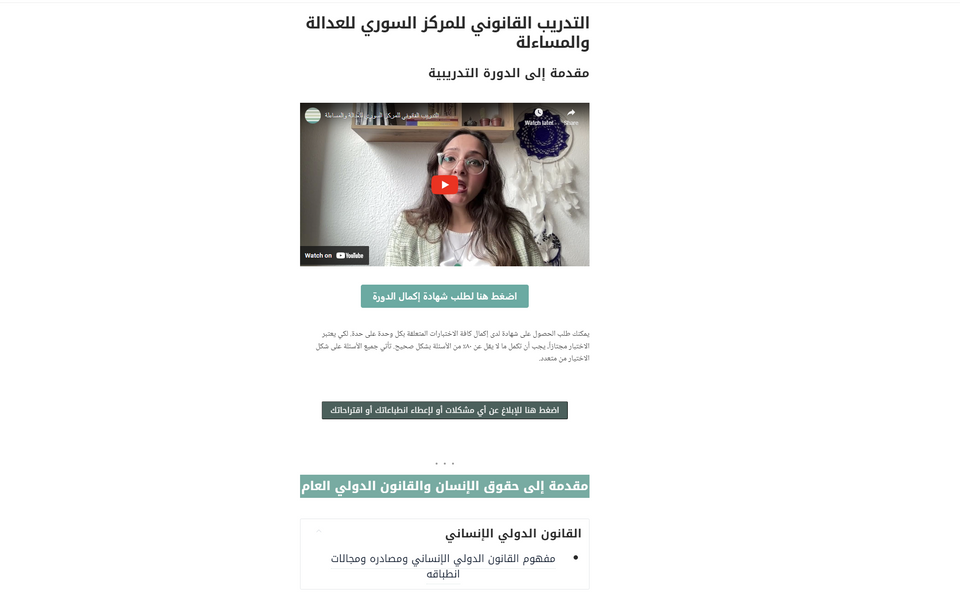 SJAC Launches an Updated Version of its Documentation and Human Rights Training Platform
Today SJAC launches an updated version of its Arabic documentation training platform. This platform helps Syrian activists develop the skills necessary to collect witness testimonials and preserve evidence of human rights abuses. A new modular layout guides trainees through courses on international law, documentation best practices, and transitional justice. Each module contains several videos, in-depth reading material, and quizzes for trainees to test their knowledge and earn certificates showing that they completed the necessary coursework.
Efforts to document human rights abuses have persisted throughout the Syrian conflict. While modern technology allows for the democratization of documentation collection, a lack of training resources, particularly in Arabic, meant that many Syrians had to build their own processes for interviewing witnesses and collecting evidence. Unfortunately, the varying quality of documentation meant that some evidence may be inadmissible in national and international legal processes, potentially allowing perpetrators to avoid prosecution. By offering documentation trainings that meet international standards, SJAC gives Syrians (and other Arabic speakers) the opportunity to play a direct role in accountability efforts.
Although SJAC's trainings are designed for the Syrian context, the lack of Arabic documentation trainings means this platform has become an important resource for documenters  in Yemen, Türkiye, Iraq, and Libya. SJAC will continue to release new courses and improve the learning experience to further standardize and improve documentation efforts across the Arab world.
Access the platform below or view SJAC's English language training resources. Consider donating to SJAC's campaign to expand our documentation training efforts.
___________________________
For more information or to provide feedback, please contact SJAC at [email protected] and follow us on Facebook and Twitter. Subscribe to SJAC's newsletter for updates on our work.