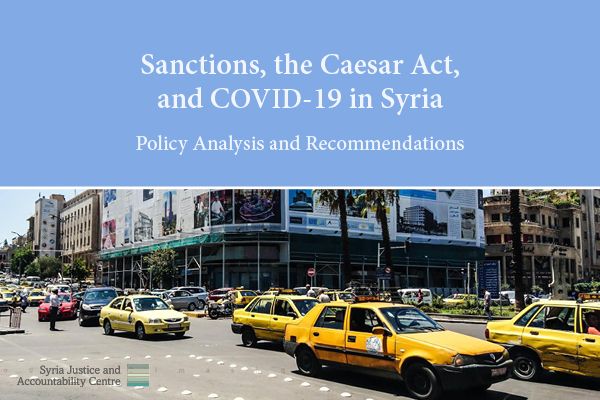 REPORT RELEASE: Sanctions, the Caesar Act, and COVID-19 in Syria
PRESS RELEASE: SYRIA SANCTIONS MUST BE IMPROVED TO FACILITATE MEDICAL RELIEF DURING COVID-19
Washington, D.C. June 16th, 2020
"Syria's existing sanctions regimes should be adjusted and recalibrated to sufficiently meet evolving needs in Syria arising from the COVID-19 pandemic and from the Caesar Act," said the Syria Justice and Accountability Center today in a new report.
The 35-page report, Sanctions, the Caesar Act, and COVID-19 in Syria, conducts a rigorous assessment of urgent needs in Syria based on interviews with experts, analysts, and organizations working in the humanitarian and medical sectors in Syria. The report then examines the relationship between these needs and the imposition of economic sanctions, identifying areas where sanctions procedures, licenses, and humanitarian exemptions can be improved.
Sanctions against the Syrian government are under increased scrutiny as Syria struggles to cope with both the COVID-19 pandemic and an unprecedented currency collapse. The expected entry into force of the Caesar Act on June 17th has intensified the debate over whether sanctions should be lifted to limit adverse impacts on innocent civilians.
The report finds that calls to lift or suspend sanctions against Syria are misguided and oversimplify the complex issues preventing the efficient and equitable distribution of aid. Most importantly, the anti-sanctions narrative deliberately obscures the major role the Syrian government and its allies play in weaponizing humanitarian aid, impeding the timely delivery of medical aid, and worsening the financial crisis. The Syrian government and its allies have continued to attack civilian targets including schools, hospitals, and medical facilities as recently as early 2020, which deeply undermines the credibility of its calls to lift sanctions.
"Lifting sanctions would jeopardize human rights in the country and undermine historic efforts to seek justice for victims of atrocities in Syria and accountability for war crimes," SJAC says in the report. "Protecting human rights and safeguarding ongoing justice and accountability efforts is paramount and must be central to all COVID-19 relief efforts."
"US and EU authorities should facilitate the provision of humanitarian products and services in Syria by issuing comfort letters to humanitarian organizations," said Mohammad Al Abdallah, SJAC's Executive Director. "The US should also clarify the effects of the Caesar Act, issue guidance addressing common concerns and misconceptions, and develop sanctions guidance specifically crafted for the Syrian people in order to promote transparency and awareness of humanitarian exemptions," Al Abdallah added.
While sanctions remain timely, necessary, and justified by the behavior of the Syrian government and its allies, the report strongly recommends that key adjustments to sanctions regimes be made in order to mitigate their negative impacts on the Syrian people and improve the provision of medical and humanitarian aid within Syria.
###
The Syria Justice and Accountability Centre (SJAC) is a Syrian Civil Society organization working towards a Syrian state defined by justice, respect for human rights, and rule of law, where citizens from all components of Syrian society live in peace without fear. Its mission is to promote justice and accountability in Syria by ensuring that human rights violations are comprehensively documented, and that documentation data is securely preserved, catalogued, and analyzed to advance transitional justice and peace-building.
The full report can be found here. For media inquiries, please contact:
English and Arabic:
Mohammad Al Abdallah
Cell Phone: +1-202-704-3215
English:
Genevieve Zingg
For more information or to provide feedback, please contact SJAC at [email protected] and follow us on Facebook and Twitter. Subscribe to SJAC's newsletter for updates on our work.