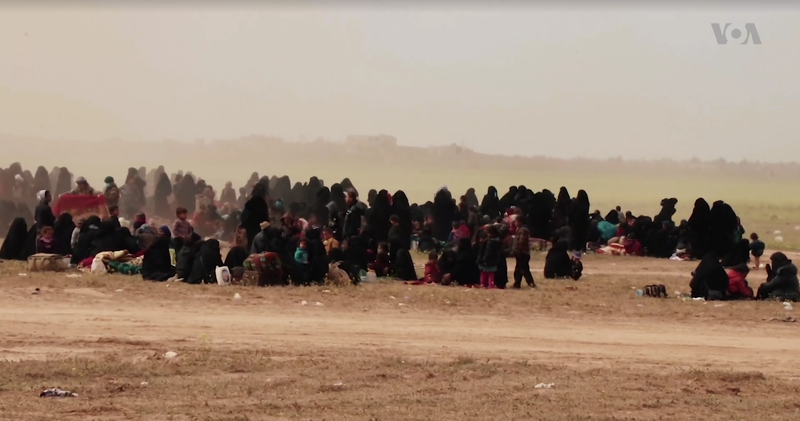 Prosecuting ISIS in Northeast Syria
On April 11, the Syrian Democratic Forces announced an agreement with Baghdad to repatriate 31,000 Iraqis, mostly women and children, currently held in Northeast Syria. This is a troubling development, given the human rights violations that have been widely documented in Iraq's prosecution of suspected ISIS members and supporters, and the decision further complicates the difficulty of finding a suitable venue to prosecute ISIS fighters and affiliates who are in SDF detention facilities. SJAC stands firmly behind the pursuit of justice for victims of ISIS, yet the prosecution of ISIS suspects must abide by international law. To do so, the international community should support the creation of a legal framework for ISIS prosecutions that ensures due-process and halts ongoing abuses. International governments should also stand ready to repatriate their nationals either for prosecution or to serve out their sentences.
Prosecutions in Syria
The SDF has processed thousands of ISIS detainees in courts established under their civilian administration. SDF authorities have reportedly approached the process of trying local ISIS members with practicality and an eye towards reconciliation. Low-level ISIS perpetrators and associates are given relatively light sentences (compared with those in Iraq) and sometimes amnesties. However, the process remains rudimentary and opaque—there is no right to defense or appeal, and no regular monitoring by international observers. SDF detention facilities receive substantial monetary assistance and training from the United States military, which must ensure humane conditions. One U.S. commander has acknowledged that allegations of abuse in SDF custody exist, yet indicated that such incidents were self-reported and offered few details.
In recent months, conditions in SDF camps have grown increasingly dire as the number of detainees ballooned following the capture of the last ISIS stronghold in Baghouz. Meanwhile, the SDF recently deployed local forces to quell a prison break attempt at a detention center in Derik on April 6th.
Prosecutions in Iraq
Currently, SDF authorities are working to minimize the detained population by ramping up repatriations of Iraqi and other foreign ISIS detainees to Iraq. The new agreement to send back 31,000 Iraqi nationals from SDF camps will hasten repatriations already under way. An Iraqi official has stated the returnees would be relocated to camps in Iraq's northwestern Shingal region. Worryingly, authorities are preparing security checks to shift through arrivals in search for 'ISIS families.' Such procedures indicate that returnees, including women and children, are at risk of arbitrary detention in Iraq. It is unclear whether distinctions will be made between those who actively supported ISIS and those who were enslaved by ISIS or caught up in the violence.
ISIS prosecutions in Iraq have become exemplary of a justice system focused on retribution rather than reconciliation. The devastation which ISIS inflicted in Iraq has left a widespread desire for revenge. Entire trials last a few minutes and often end in sentences of life imprisonment or death. Arbitrary detentions and confessions under torture are widespread. Defendants often do not have legal representation or access to the evidence used against them. In 2017, Human Rights Watch found that the majority of ISIS trials in Iraq had been carried out primarily, and at times solely, on the charge of membership in ISIS. It is easier to win a conviction on such charges as compared with charges for specific acts, but it also means that few distinctions are made for the severity of crimes committed and that due process may not be respected, depending on what evidentiary presumptions are made.
Iraqi courts recently began to implement reforms to address the issues raised by HRW and incorporate higher evidentiary standards, but such reforms have not been applied systematically across Iraqi courts. More fundamentally, the Iraqi government and KRG has failed to develop a wider strategy to facilitate transitional justice.
Models for international justice
Following the capture of Baghouz, SDF officials called for an international tribunal to help prosecute the more than 1,000 foreign fighters in its custody. Around 850 are from Europe, where states have shirked their responsibility to take back ISIS fighters for prosecution. While the notion of an international tribunal sparked media attention, such a mechanism is unlikely to be developed in the near term–particularly without a resolution to the wider conflict. Furthermore, international tribunals have traditionally been used to prosecute high-level officials or military leaders, which does not accurately describe the majority of ISIS detainees.
Beyond international tribunals, there are a number of options for the international community to support the prosecution of low-level ISIS members and their families. One possibility is the implementation of a criminal justice system similar to the model developed for the prosecution of piracy off the coast of Somalia. There, the international community supported the prosecution of Somali pirates through courts in regional states such as Kenya. Following prosecution, offenders were extradited back to their home countries to serve out their sentences. In the Syrian context, the creation of a legal framework and international support and monitoring for the prosecution of ISIS foreign nationals in Iraqi counterterrorism courts could help to end on-going violations and ensure fair trials. It would also obviate the need to prosecute in western states and serve to triage members of ISIS from numerous states. However, international support will be required to ensure that prosecutions are done fairly to sustain extradition and withstand possible appeals.
To help reconcile and reintegrate ISIS families, the international community could also support alternative sentencing. In Colombia, the Special Jurisdiction for Peace, imposed sentences against former members of the FARC militia group such as community service and reparations to victims, whereby offenders supported demining activities, property restitution or offered information to find the remains of missing persons.
Need for Accountability
The SDF has limited options. In addition to increasing repatriation to a broken justice system in Iraq, the SDF may proceed with large-scale releases of Syrian ISIS detainees, risking the release of dangerous offenders. In the event of a reconciliation between the government and the SDF (or its Arab local affiliates), detainees could be transferred to Syrian government custody, under which they would likely to be tortured and executed without due process.
To address these issues, local governments and the international community must answer difficult questions. How to prioritize prosecution of the most severe crimes; where to draw the line between prosecution and re-integration; how to establish a record for the atrocities committed; and how to foster reconciliation between divided communities? Finally, while the brutality of ISIS's crimes has shocked and captured the attention of the world, this should not divert attention from the need to prosecute all parties engaged in mass atrocities during the Syrian war.
For more information or to provide feedback, please contact SJAC at [email protected] and follow us on Facebook and Twitter.