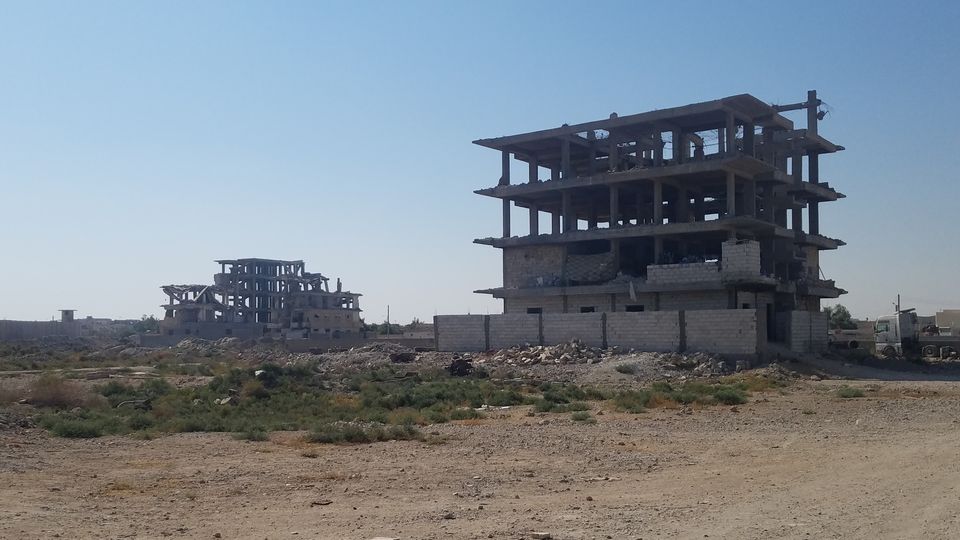 PRESS RELEASE: U.S. Military Should Implement Amends Program for Civilians Killed or Injured in Syria
Despite its acknowledgment of civilian losses, the U.S. military has failed to make ex gratia payments to civilians who were killed or injured during the U.S.-led battle against ISIS in Northeast Syria, says the Syria Justice and Accountability Center today in a new paper.
The paper, "Establishing a U.S. Amends Program in Northeast Syria," calls for the U.S. government to address the legacy of its military presence in Syria by establishing a comprehensive amends program.  The recommendations are based upon the priorities of families that SJAC spoke to who have suffered in the aftermath of the U.S.-led airstrikes, whether through injury, loss of a loved one, or destruction of civilian infrastructure. Airstrikes by the U.S. and its allies in 2017 led to an estimated 1,600 civilian deaths as well as extensive physical destruction in Raqqa and surrounding cities.
Sajed Salama, whose house was destroyed in a U.S. bombardment, shares, "My house was bombed, I lost my father, my wife, and my three children, one of them I could not find his body, and am still searching for it. Our house, which was in a street where only civilians live, was bombed, I wonder why they bombed civilians…I want them to admit, apologize, treat the injured, and rebuild the houses they destroyed."
The U.S. government must attempt to address such losses. "Ex gratia payments are an important form of reparation, offering acknowledgment for harm done and providing financial support to families who may have lost a primary income or are burdened with medical costs," said Mohammad Al Abdallah, Executive Director of SJAC.  "While the U.S. government has utilized this program in Iraq and Afghanistan, the military has not addressed the scale of civilian loss in Northeast Syria, despite the fact that Congress appropriates millions for condolence payments annually, the majority of which goes unspent," Al Abdallah added.
Because of local cultural norms, the difficulty of reaching all victims, and the widespread physical destruction of the city, the paper calls for amends beyond traditional ex gratia payments, including the creation of a special immigrant visa (SIV) program for Syrians who have supported the U.S. military, B-2 visas for those injured in U.S. strikes and requiring medical attention, and community-based programs to repair infrastructure, such as technical assistance in reclaiming damaged agricultural land.
The full report can be accessed here
###
For media inquiries, please contact:
Mohammad Al Abdallah
Executive Director
Syria Justice and Accountability Centre
+1-202-704-3215
______________________________________________________
For more information or to provide feedback, please contact SJAC at [email protected] and follow us on Facebook and Twitter. Subscribe to SJAC's newsletter for updates on our work.