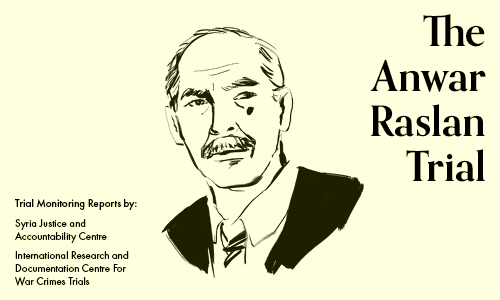 PRESS RELEASE: SJAC Petitions German Constitutional Court to obtain Arabic language translation for Syrian Victims
Berlin, 14 August 2020 – Language barriers are a significant hurdle for Syrians who want to follow and report on the first trial about state torture in Syria that is currently taking place in Germany. Yesterday, Syria Justice and Accountability Centre (SJAC) and Syrian journalist Mansour al Omari filed a complaint, coupled with an application for interim measures, with the German Constitutional Court in Karlsruhe to grant the public access to the Arabic interpretation of the trial. The Higher Regional Court in Koblenz, Germany, previously rejected the petition. Access to Arabic interpretation would make the proceedings accessible to those it primarily concerns: Syrians, especially survivors, their families and Syrian civil society as a whole.
"Not only must justice be done, but it must be seen to be done" said Mohammad Al Abdallah, Executive Director of SJAC. "We believe that the public most affected by the crimes—in this case Syrians—should have meaningful access to the proceedings. Providing Arabic language interpretation to the public gallery would magnify the impact of the trial, sending a message to the world and particularly those in Syria, that there is no impunity for atrocity crimes."
The trial of Anwar R and Eyad A, who are accused of crimes against humanity and other crimes, began in April 2020. It is a historic trial for Germany's judicial authorities as well as the Syrian public. For the first time, Syrians are seeing their state officials charged with crimes against humanity being held to account.
With German as the court's language, the complainants cannot understand much of what is said, despite the fact that several interpreters are already in court and translate every word into Arabic for the defendants and Arabic-speaking joint plaintiffs. Extending the Arabic interpretation service to the public gallery would merely require additional headsets. Nevertheless, the Koblenz court rejected their first petition on grounds that access to Arabic interpretation was impractical and therefore not possible. German law does not require interpretation for members of the public.
"The trial is taking place in Germany based on the principle of universal jurisdiction – but only because a trial in Syria is not possible," said Maik Elster, a lawyer who represents the complainants in this case. "The German Constitution's Article 5 guarantees freedom of press. In these special circumstances, this entails the right to follow court proceedings in one's native language. Arabic-language media and other reports play an essential role in relaying the trial's developments to the affected Syrian public, so that those primarily concerned are sufficiently informed, and can independently follow and monitor the trial. We hope that the German Constitutional Court also sees this necessity and agrees with our matter."
Find more information on the Koblenz trial, please see SJAC's trial monitoring reports here.
For questions and media requests:
English and Arabic:
Mohammad Al Abdallah
Cell Phone: +1-202-704-3215
English:
Roger Lu Phillips
Cell Phone: +1-202-898-7209
For more information or to provide feedback, please contact SJAC at [email protected] and follow us on Facebook and Twitter. Subscribe to SJAC's newsletter for updates on our work.