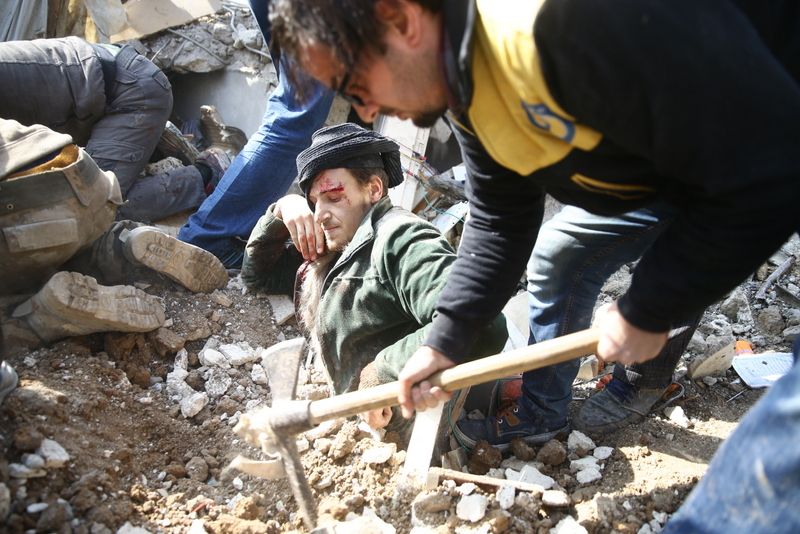 PRESS RELEASE: New Investigation Shows Syrian and Russian governments responsible for 58 double-tap airstrikes on civilian and humanitarian targets in Syria
A new report published today by the Syria Justice and Accountability Centre (SJAC) explores the targeting of civilians and first responders through "double tap" airstrikes, designed to terrorize local populations and impede the work of humanitarian actors. A double-tap is the illegal military tactic of striking an initial location, then striking the same location soon after to target civilians and humanitarian actors who arrive at the scene between the strikes. SJAC's investigation found that the Syrian and Russian air forces have utilized this tactic from 2013 to the present as part of a larger strategy to punish and regain control of opposition-held areas.
"Double-tap airstrikes represent the 'shock and awe' policy of the Syrian government meant to ruthlessly suppress opposition sentiment and terrorize civilians" said SJAC's Executive Director, Mohammad Al Abdallah, who notes that "the performance of double-tap airstrikes in Syria constitutes a serious violation of International Humanitarian Law that amounts to war crimes."
In compiling the report, SJAC's investigative analysts gathered hundreds of images, videos, and other evidence from SJAC's database, social media platforms, media outlets, and satellite imagery.
The analysts reviewed and verified 58 incidents through temporal and geographic benchmarks, five of which are highlighted in the report as clear examples of serious human rights violations. One such incident took place in May 2016 when the Russian Armed Forces targeted Al-Kamooneh IDP Camp in Idlib Governorate. Planes circled above, then struck at least three locations, including the center of the camp, a school for children, and near a firetruck being used by first responders.
When the Planes Return: Double-Tap Strikes on Civilians in Syria, represents the most comprehensive study of double tap incidents pertaining to the Syrian conflict thus far.
###
The Syria Justice and Accountability Centre (SJAC) is a Syrian civil society organization working towards a Syrian state defined by justice, respect for human rights, and the rule of law, where citizens from all components of Syrian society live in peace without fear. Its mission is to promote justice and accountability in Syria by ensuring that human rights violations are comprehensively documented, and that documentation data is securely preserved, catalogued, and analyzed to advance transitional justice and peace-building.
For media inquiries in English and Arabic, please contact:
Mohammad Al Abdallah
Cell Phone: +1-202-704-3215
Nessma Bashi
Cell Phone: +1-248-245-5641
_____________________________________________________
For more information or to provide feedback, please contact SJAC at [email protected] and follow us on Facebook and Twitter. Subscribe to SJAC's newsletter for updates on our work