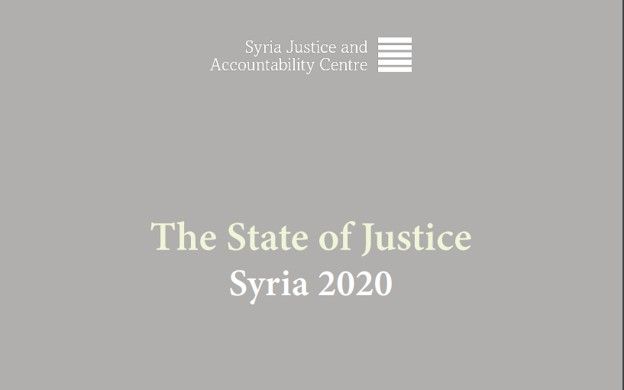 NEW REPORT: SJAC Reviews the State of Justice in Syria
On the eve of the 9th anniversary of the Syrian revolution, the Syria Justice and Accountability Centre (SJAC) has released "The State of Justice in Syria 2020," the organization's first annual review of justice efforts in the Syrian conflict. The report aims to keep the Syrian and international communities informed and engaged in justice efforts, by mapping recent developments in European courts, the United Nations, international sanctions, documentation efforts, and other avenues for justice and accountability. The 41-page report serves an important resource for victims, journalists, researchers, and other justice actors, and includes a compilation of nearly 100 Syria-related cases in Europe, North America, and Australia—the most extensive list published thus far.
"With this report, we seek to maintain pressure on the international community to support justice for the millions of Syrians victimized during this conflict and to inform Syrian victims of the options available to them," offered Roger Lu Phillips, SJAC's Legal Director. The government's continuation of deliberate attacks against civilian populations, schools, and hospitals shows its impunity and blatant disregard for human rights and norms. Already in reconciled areas, the return of government repression forewarns of the long-term future for Syria in the absence of a democratic transition and genuine reform. In Northeast Syria, the international community has failed to provide a coordinated response to administer justice for tens of thousands of captured ISIS fighters and their families, threatening a resurgence of the terror group.
Nonetheless, there are significant efforts underway. On the international stage, Syrian groups are building their capacities to take leading roles on issues affecting their communities. Inside Syria, courageous Syrians continue to document violations on the front lines and in government-held territories, building the evidentiary foundations for future cases. In Europe, Special War Crimes Units and legal aid groups continue to pursue cases involving those responsible for atrocity crimes in Syria, helping to fill a judicial vacuum left by the international community. "These Universal Jurisdiction cases in Europe offer Syrian victims the best opportunity for meaningful justice in the near term," said Mr. Phillips. He added, "That is why SJAC has made it a priority to support the work done by European prosecutors."
It is imperative that international actors re-energize their efforts to pursue accountability against the conflict's worst perpetrator, so that the government responsible for the vast majority of war crimes will not be legitimized, and its strategy of slaughtering its own people will not be normalized. Sustainable peace in Syria can only be achieved when the egregious crimes of the past and present is accounted for.
Read the full report here. For questions or press inquiries, please email [email protected].
For more information or to provide feedback, please contact SJAC at [email protected] and follow us on Facebook and Twitter. Subscribe to SJAC's newsletter for updates on our work.