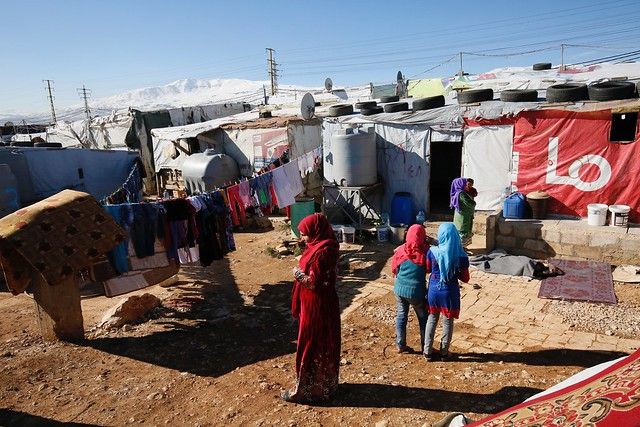 New Government Policies Worsen Conditions of Refugees in Lebanon
Refugees in Lebanon are facing an impossible choice: stay in an increasingly repressive and hostile environment in Lebanon, or face persecution and violence in returning to Syria. In late June, Lebanese President Michel Aoun told a visiting U.S. delegation that "Syrian territory, except for Idlib (province) and its surrounding area, is now stable, making it easier for refugees to return." His administration, he claims, "has not been informed of any returnees getting harassed."
Aoun's statement reflects a growing narrative from Lebanese officials that is a dangerous and deliberate misrepresentation of the situation for Syrians in both Lebanon and Syria. This narrative has been accompanied by new legislations which are making conditions for refugees in Lebanon worse than ever before. SJAC rejects the claims of the Syrian and Lebanese governments that refugees are returning on a voluntary and safe basis. This article highlights the continued risks faced by returnees, and the direct and indirect means by which they are being coerced to return.
No options left in Lebanon
Since the start of the conflict, Lebanon has adopted a strict 'non-integration' policy, aimed at discouraging refugees from long-term stays. Residency and work permits have always been difficult for Syrians to obtain, and under the order of the Lebanese government, the UNHCR stopped registering refugees in May 2015. In recent months, Lebanese authorities have tightened restrictions even further as they propagate the notion that the Syrian war is now 'winding down'.
Forced deportations: Until recently, the Lebanese government has generally respected the principle of non-refoulement for Syrians. This changed in 2019, when two new decisions issued by the Supreme Defense Council (on April 15) and General Director of the General Security (on May 13) made it possible for Lebanese authorities to deport Syrians who enter the country illegally. Since then, Lebanon's state media has reported that more than 300 Syrian nationals were deported and sent back to Syria in May 2019. In addition, it is estimated that 30 Syrians have been deported from Hariri International Airport in 2019.
Home Demolitions: In mid-April, the Supreme Defense Council issued a decree ordering the dismantling of all informal refugee shelters made with concrete and all other materials besides timber and plastic. In the weeks leading up to the July 1st deadline, thousands of Syrians found themselves homeless after families were forced to tear down their own makeshift homes to avoid wholesale destruction by authorities. Immediately following the deadline on July 1st, the Lebanese Armed Forces made a show of force by demolishing around 20 homes. In the town of Arsal alone, an estimated 3,500 to 3,600 refugee families were affected by the order. There, the Lebanese Red Cross had to step in and take emergency action to establish temporary tented shelters to support more than 500 families affected by the government's order.
Labor restrictions: In June, Lebanese Labor Minister Camille Bou Sleiman stated that employers had until July 9th to legalize the status of their employees or face a penalty of 2 million Lebanese pounds (approximately USD$1,327). According to Sleiman, only 1,733 Syrians have valid work permits, restricted to the fields of construction, agriculture, and cleaning. Yet UNHCR estimates that 43% of Syrians in Lebanon participate in the labor force, most in the informal sector. Should the order on legal employment be widely enforced, tens of thousands may be left jobless.
Widespread discrimination:
In addition to official policies, leading Lebanese politicians have unabashedly propagated racist and inflammatory rhetoric which has increased hostilities and spurred a wave of hate crimes against refugees. One of the most egregious is Aoun's own son-in-law and current Foreign Minister Gebran Bassil, who in recent weeks has unleashed a slew of xenophobic tweets and comments disparaging Syrians for "taking jobs from the Lebanese" while alluding to the 'genetic' nature of Lebanese affiliation. Spurred by these comments, the youth branch of Bassil's party, the Free Patriotic Movement, recently staged a widely-publicized media stunt, in which groups of youths demonstrated in front of shops, chanting the national anthem and entering shops to interrogate owners as to whether they were hiring Syrians. Volunteers handed out flyers calling on Lebanese citizens to report photos and videos of Syrians working in local businesses, so that they could be reported to authorities.
Return to persecution
While these economic, political and social pressures are bearing down on Syrian refugees, Lebanese authorities have created channels to ostensibly facilitate 'safe' returns. Under agreements with Damascus, Lebanon's General Security Directorate set up repatriation centers where Syrians can register their intent to return. The names of these individuals are transmitted to the Syrian government, who 'vets' applicants and greenlights their return.
Returnees are falsely led to believe that the vetting process indicates a guarantee for their safety. Instead, there are now widespread reports that returnees are being met with harassment, arbitrary arrest and detention. One survey, conducted by the Syrian Association for Citizens' Dignity, found that 75% of Syrians who returned to government held territories experienced one or more of these violations. Another Syria researcher, who spent months gathering data on returnees to government held areas, has estimated that more than 1,000 Syrians have gone missing after returning home.
Donors must demand change
Amidst growing backlash against these recent policies, the Lebanese government announced this week that Syrians in Lebanon may apply for a 'temporary residence permit' with the sponsorship of an employee or a private Lebanese citizen. However, the announcement applies only to Syrians "violators" who have overstayed their residency permits or those were granted permission to return to Syria (but did not). It does not apply to Syrians who entered Lebanon "illegally" in the first place, which constitute the majority of Syrian refugees in Lebanon. Furthermore, it does not address the many barriers which have prevented the few Syrians who have residency permits from renewing them—difficulties in finding sponsors, prohibitively high fees, and arbitrary application of the regulations.
The influx of Syrians in Lebanon presents immense challenges. Despite the trickle of Syrians returning home in recent weeks, Lebanon continues to host more than 1 million refugees—the most per capita in the world. To adequately support refugees, Lebanon needs much more funding and support from the international community. In a positive step, the international community increased its pledges of humanitarian aid for Syria this year to $7 billion, including funds for refugee host countries. The funds aim to support, not only Syrians refugees, but also affected host communities in Lebanon and neighboring states.
However, it is critical that international funding for Lebanon is not given blindly. Recent policies implemented by Lebanese authorities violate the fundamental principle of non-refoulement.   While providing aid to Lebanon, donors and international organizations must do more to pressure the Lebanese government in ending such violations. One way to do so would be to make the disbursement of funding or services to local governments contingent on their respect for non-refoulment and other human rights-based indicators.
The international community must also reject the false narrative of safe and voluntary returns to Syria. Until there is genuine political reform in Syria and an end to the repressive policies which sparked the conflict, no Syrian refugee should be forced to return to Syria. This is a fundamental principal of international law, one which Michel Aoun himself should know well. After all, he himself was once a refugee. After being driven from his palace by the Syrian army in 1990, Aoun fled with his family to France, where he was granted political asylum. The same principles that protected his right to flee decades ago must be upheld for Syrians seeking refuge in Lebanon today.
For more information or to provide feedback, please contact SJAC at [email protected] and follow us on Facebook and Twitter.