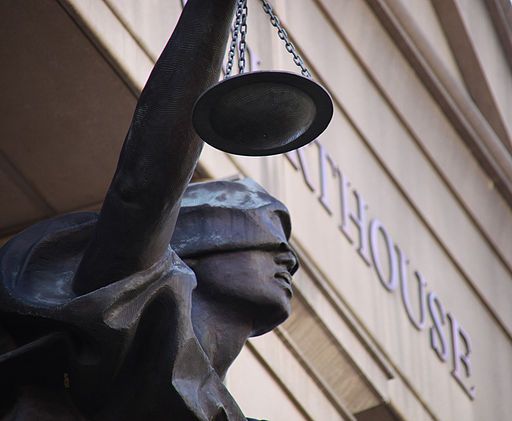 Looking Across the Pond: What Germany and the US can learn from each other when prosecuting international crimes
As part of its work monitoring trials that prosecute crimes committed in Syria, SJAC has closely followed the developments of US v. Alexanda Kotey and El Shafee Elsheikh, a case before the U.S. District Court for the Eastern District of Virginia involving the infamous ISIS Beatles. On September 2nd, defendant Kotey pleaded guilty to eight charges, including hostage taking resulting in the deaths of James Wright Foley, Kayla Jean Mueller, Steven Joel Sotloff, and Peter Kassig as well as terrorism related charges.
By attending both the proceedings in Alexandria, Virginia, and Koblenz, Germany, SJAC has identified a sharp contrast between American legal proceedings ("common law") and those of many European countries ("civil law"), including Germany where prosecutors have brought universal jurisdiction cases for crimes committed in Syria. While neither system is wholly superior to the other, highlighting SJAC's differing experiences monitoring American and German legal proceedings, as well as the varying degrees of victim participation, is important for creating realistic expectations for Syrians seeking justice and accountability from domestic courts.
Cooperation with the prosecution
Along with pleading guilty to all eight charges raised by federal prosecutors, Alexanda Kotey made several notable concessions in his plea agreement. Namely, he waived his right to appeal his conviction and sentence, and agreed to be transferred to the United Kingdom 15 years into his sentence. He also agreed to provide information on other crimes important to the U.S. government or other governments. These concessions may be a reason why Kotey was not obligated to testify against his fellow Beatle, El Shafee Elsheikh, and why he may be transferred to his home country, the U.K., after serving 15 years of his sentence [albeit to plead guilty to crimes against British victims, including David Haines and John Cantlie]. However, it did not spare him from answering the Judge's pointed questions about his culpability; for each count, Kotey was asked to explain why he pled guilty. The prosecution was then instructed to present evidence supporting Kotey's guilt.
In contrast, one the main criticisms of the trial of Anwar Raslan and Eyad Al-Gharib before the Higher Regional Court in Koblenz, Germany is that cooperation between the Federal Prosecutor General Office (GBA) and insider witnesses has been inconsistent. In fact, Eyad Al-Gharib willingly told German migration authorities about his role in quelling demonstrations, arresting protestors, and transferring them to detention facilities of the Syrian General Intelligence Directorate. The Federal Criminal Police interviewed Al-Gharib, first as a witness and then as a suspect. Consequently, Al-Gharib's own testimony incriminated him, though parts of it were inadmissible due to the police's failure to properly inform him of his change of status and rights when they interviewed him.
Certainly, suspects with insider knowledge of crimes and criminal organizations should not enjoy full immunity in exchange for information. Nonetheless, agreements like the one reached between Kotey and the prosecution show that perpetrators of international crimes can contribute to justice and accountability efforts by providing information relevant to future prosecutions, particularly by engaging with victims and their families. Plea agreements of this kind are also permissible under German law, but are rarely invoked.
Digital evidence
As Kotey pleaded guilty during the September 2nd hearing, the prosecution presented evidence for each count. Much of the evidence cited by the prosecution was open-source. It included video footage shot and published by Kotey himself. Similarly, digital evidence has also been critical to the prosecution's case in Koblenz where the Caesar Files (see p. 23) were examined by a court for the first time. Authentication of the evidence required an analysis of the information's technical aspects and meta-data, as well as an assessment of corroborating evidence used to verify the chain of custody. In addition, the court heard detailed testimony surrounding the forensic analysis of the File's content.
Both cases exemplify the increasing importance of digital evidence in trials pertaining to international crimes. While the judge in US v. Kotey did not necessarily need to assess the evidence directly, to a certain degree, his request of the prosecutors to present relevant evidence followed a similar procedure as the presentation of digital evidence in Koblenz. Both trials, therefore, provide crucial guidance and best practices on how to use digital evidence at trial. It also illustrates the importance of insider witnesses. Kotey's admissions helped to authenticate the videos without the need for expensive and time-consuming expert testimony.
Transparency
Public accessibility to the proceedings has been integral to US v. Kotey. Under the Sixth Amendment to the U.S. Constitution, anyone accused of a criminal offense has the right to a public trial. Additionally, the First Amendment stipulates that the general public and the media have an interest in open-court proceedings, though there are exceptions to this rule and these rights are secondary to those of the parties. As such, members of the public have been allowed into the Kotey courtroom, including SJAC's staff and members of the media, while a court reporter has captured the live testimony with a stenographic machine which is then turned into an official transcript publicly available within 90 days of production. A courtroom sketch artist was also present at the September 2nd hearing. By generally following such protocols, U.S. courts hope to ensure fair trials and hold the criminal justice system accountable through a system of checks and balances rooted in public participation – at least in civilian courtrooms. This is decidedly not the case in Guantanamo proceedings which are governed by separate rules for military commissions. The issue of transparency is central to the question of whether foreign fighters should be prosecuted in civilian versus military tribunals.
In contrast, criminal procedure in Germany does not allow verbatim trial transcripts to be created. Instead, trials of outstanding importance for the country's contemporary history can be recorded for academic purposes and stored in official archives for later use, once the trial is concluded (§ 169 (2) GVG). Consequently, the court in Koblenz denied requests by civil society organizations, academics, and legal professionals to record the entire trial based on the rationale that witnesses might be intimidated or provide tainted testimony. The court also denied a request for the parties' final statements to be recorded, explaining that the trial was not of outstanding importance, and that allowing closing statements to be recorded in this case would open the door for all trials pertaining to crimes against humanity to be recorded.
The court's decisions illustrate that German procedural law requires reform to make trials more widely accessible. This is even more important considering the large number of direct and indirect witnesses eager to follow such trials from outside of Germany.
Victim participation
Victim participation has also been central to the proceedings in US v. Kotey, which is evidenced by the role of the Foley, Mueller, Sotloff, and Kassig families, some of whom were present in the courtroom and who have for years advocated for the Beatles to be held publicly accountable. In fact, as part of the plea agreement, Kotey has agreed to attend supervised meetings with the families of victims upon the families' request. It is important to note that the scope of victimhood in this case is limited to the four families of those who were killed or kidnapped. However, it is also worth noting that the judge permitted public participation by teleconference, even after COVID restrictions that barred in-person attendance were lifted. Further, the Court ensured that Arabic interpretation was provided to anyone in attendance, despite the defendant testifying in English, in which he is fluent.
In Koblenz, the family members of direct victims who seek to participate in the proceedings face several hurdles. The first issue is that many of them are not sufficiently proficient in German, the language in which proceedings are conducted. Nor do they have adequate knowledge of the German legal system. Some of the family members were able to join as plaintiffs, which entitled them to be represented by counsel and to follow in-court proceedings using simultaneous Arabic interpretation. Nevertheless, the broader Syrian community, which is sizeable in Germany and is impacted by the structural crimes at the heart of the case, have been side-lined; they are unable to attend court sessions in-person because access to interpretation is limited, and neither the prosecution nor other authorities have provided the public with much information.
Conclusion
While neither legal system is superior, both the U.S. and Germany can learn from each other's best practices, as well as the lessons learned during their respective Syria-related domestic proceedings. From SJAC's perspective as a trial monitor, Germany should adopt procedures that facilitate meaningful victim participation and allow for public accessibility to proceedings, while balancing the expectations of participants. On the other hand, the US should embrace the concept of universal jurisdiction and recognize the role it could have in shaping accountability efforts for the world's most egregious crimes. It should fully represent the criminality of the perpetrators by charging conduct pursuant to the War Crimes Act, in addition to terrorism charges, and only bring these cases before civilian courts. By combining the best elements of both systems, direct and indirect Syrian victims might find some semblance of individual and collective closure to their suffering.
________________________________________
For more information or to provide feedback, please contact SJAC at [email protected] and follow us on Facebook and Twitter. Subscribe to SJAC's newsletter for updates on our work.