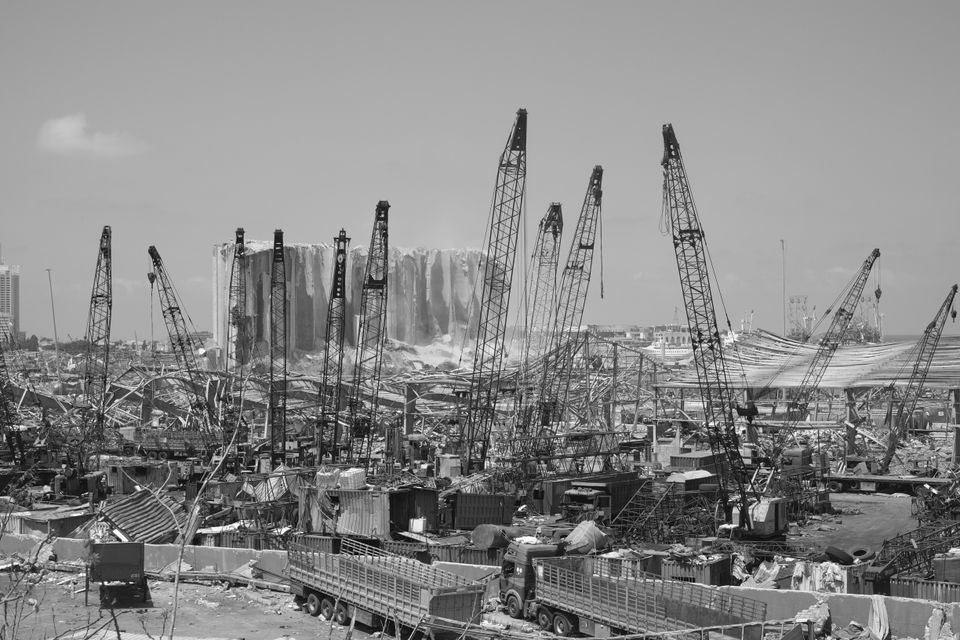 Lebanon's Economic Turmoil: Syrians face Unique Vulnerabilities
One year after the Beirut blast that killed over 200 people, including Syrian refugees, Lebanon lacks a functioning federal government, faces steep inflation, and according to its, now former, Prime Minister is "days away from social explosion." Lebanon, with a population of 6 million people, is home to the world's largest number of refugees per capita, including an estimated 1.5 million Syrians who are suffering alongside their Lebanese hosts. In addition to the serious issues facing all people living in Lebanon, Syrians fleeing the conflict in their own country are particularly vulnerable.
Lebanon's strict residency rules, however, have left an estimated 86% of these Syrians without legal residency. Barriers to residency, including fees and ID requirements, mean many Syrians work in exploitative industries and cannot send their children to school. In 2015, Lebanon's government stopped UNHCR from registering Syrian refugees, excluding newly arrived Syrians from legal registration. Without legal residency, Syrian refugees struggle to access basic services, obtain identification documents, and face risks of arrest and deportation back to Syria. More recently, Syrian refugees without registration have been hesitant to get tested, treated, and vaccinated for COVID-19 due to fears of deportation. As Lebanon's economy spirals, Syrian refugees are especially vulnerable and face compounding insecurities threatening their presence in Lebanon and their dignity.
Lebanon Economic Crisis
Following the Beirut port explosion, the Lebanese government resigned, but has not been replaced due to political stalemate and corruption. Politically, Lebanon now faces EU economic sanctions targeting politicians and has a caretaker government which asserts it cannot negotiate with the International Monetary Fund (IMF) to address the economic crisis.  Though Beirut continues to rebuild after the Beirut blast and families of victims still lack answers, Lebanon's economic spiral was beginning before the blast. Between 2018 and 2020, Lebanon's GDP fell 40% from $55 billion USD to $33 billion USD. By 2021, its currency had lost 90% of its value since 2019 when the government's currency was pegged to the U.S. dollar to create relative currency stability. The resulting currency shortage has led to high inflation and ever-rising food and fuel prices. Electricity blackouts and medicine shortages are now commonplace, and many have seen their retirement savings wiped out as the Lebanese pound's value plummets and subsidies end. The World Bank has concluded that Lebanon's financial and economic downturn is one of the worst economic crises globally since the nineteenth century.
Impact on Syrians
While the economic situation impacts the whole country, Syrian refugees in Lebanon face particular insecurities and challenges. Without legal registration, many refugees already face hazardous working conditions or discrimination when attempting to work the few jobs that they can access. As jobs and resources grow scarce and there's an increasing need for aid, tensions between the Lebanese and Syrian communities mount. Violence against Syrians in Lebanon during the Syrian presidential elections were widely reported and reports of pushbacks and deportations to Syria are commonplace. Though Lebanon is not a state party to the 1951 Refugee Convention, it remains bound by customary international law forcibly repatriate those fleeing persecution (non-refoulement). Following the Beirut blast, assistance was prioritized for citizens, rather than refugees, despite many Syrians being active in recovery efforts and experiencing loss due to the explosion.
In 2019, 55% of Syrian refugees in Lebanon lived below the poverty line. Today, 91% of Syrians in Lebanon live in poverty, compared to 55% of the Lebanese population. 99% of Syrian households do not have enough food and 100% of Syrian households have to buy food on borrowed money. The little money that Syrians earn through humanitarian assistance programs and work has little purchasing power. Basic supplies, including food and medicine, is on average five times more expensive than the cost of the same products in 2019. Although refugees receiving cash assistance from the World Food Programme (WFP) have received a 40% increase in the monthly stipend from the pre-crisis rate, the value has significantly decreased. Pre-economic crisis, the value of the payout was equal to $27 USD. Today, it is only valued at $7 USD. The amount of UN cash aid for refugees was further impacted by the central bank giving UN agencies a lower currency conversion rate, costing the WFP $250 million. In July 2021, UNICEF announced that it would be giving cash assistance to refugee families in U.S. dollars to avoid the unfavorable exchange rate.
Lack of legal registration puts Syrian refugees in a state of limbo – they cannot return home to Syria, but they are not welcome or accepted in Lebanon as refugees. Many also cannot afford to leave Lebanon, turning instead to smugglers in an attempt to travel to Europe. Lack of options have led to feelings of desperation and several media outlets have published stories of Syrians leaving Lebanon to return to Syria, despite the risks. Upon return, however, returnees are subject to suspicion, interrogation, and detention. The economic collapse has created a dilemma for Syrian refugees: return to Syria and face possible disappearance or torture, or stay in Lebanon and face possible starvation and desperation.
Syrian refugees should not be forced to choose between premature return and maintaining refuge in Lebanon. Although already strained, Lebanon's government must include Syrians and refugees in economic aid projects. When it comes to food distribution schemes and economic recovery, refugees should be included, particularly as they contribute to Lebanon's and Beirut's recovery. Lebanon must also lower barriers for refugees to legally register and permit UNHCR to restart direct refugee registration and counting. This will streamline humanitarian assistance and possible resettlement.
Currently, politics and corruption continue to stand in the way of a functioning Lebanese government. Lebanon's political leaders must prioritize forming a government and negotiating IMF and World Bank assistance. However, the IMF and World Bank, along with the international community, must ensure that Syrian refugees receive assistance under any package and policy reform. Economic recovery efforts must be comprehensive for the whole population and not enhance Syrian refugees' vulnerabilities.
________________________________________
For more information or to provide feedback, please contact SJAC at [email protected] and follow us on Facebook and Twitter. Subscribe to SJAC's newsletter for updates on our work.