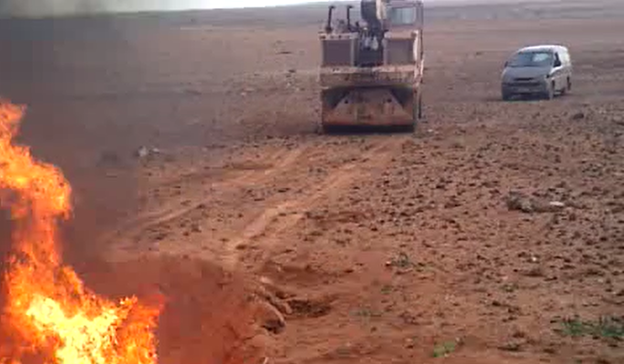 PRESS RELEASE: New report reveals systematic disposal and destruction of human remains by the Syrian government
Monday, Oct 31st, 2022- Washington, D.C.
"The Syrian Military Intelligence and the Syrian Army's 9th Division burned the corpses of civilians, defectors, opposition members, and other non-combatants they killed in summary executions" said the Syria Justice and Accountability Centre (SJAC), in a new investigation published today.

The report "Leave No Traces: The Burning and Disposal of Human Remains by the Syrian Government" exposes the systematic way in which the Syrian government documented the destruction of human remains. "High ranking officers in the Syrian military intelligence and the Syrian military participated in the illegal destruction of bodies," said Mohammad Al-Abdallah, SJAC's Executive Director, "They did so while being filmed by members of military intelligence, indicating that all echelons of the military were aware that evidence of crimes was being destroyed."
This report documents instances where non-combatants were captured by Syrian government forces. These civilians should have been considered protected persons under International Humanitarian Law, however, SJAC's investigation uncovered that they were subjected to summary executions, and their bodies were destroyed, hindering forensic investigations that could be used in future accountability efforts.
"SJAC's investigation relied on evidence recovered from a government laptop which contained photographic and video evidence of torture, killing, and post-mortem offences committed by the military intelligence and members of the 9th Division's 34thArmored Brigade," added the lead investigator on the case. "While most of this evidence was produced directly by the perpetrators, SJAC was able to further authenticate our findings through open-source information, and government intelligence documents already held in SJAC's Bayanat database."
###
The Syria Justice and Accountability Centre (SJAC) is a Syrian civil society organization working towards a Syrian state defined by justice, respect for human rights, and the rule of law, where citizens from all components of Syrian society live in peace without fear. Its mission is to promote justice and accountability in Syria by ensuring that human rights violations are comprehensively documented, and that documentation data is securely preserved, catalogued, and analyzed to advance transitional justice and peace-building.
For media inquiries in English, please contact:
Michael Ader
Communications Coordinator
Cell: +1-801-970-3065
For inquiries in English and Arabic, please contact:
Mohammad Al-Abdallah
Executive Director
Cell Phone: +1-202-704-3215
_________________________
For more information or to provide feedback, please contact SJAC at [email protected] and follow us on Facebook and Twitter. Subscribe to SJAC's newsletter for updates on our work.