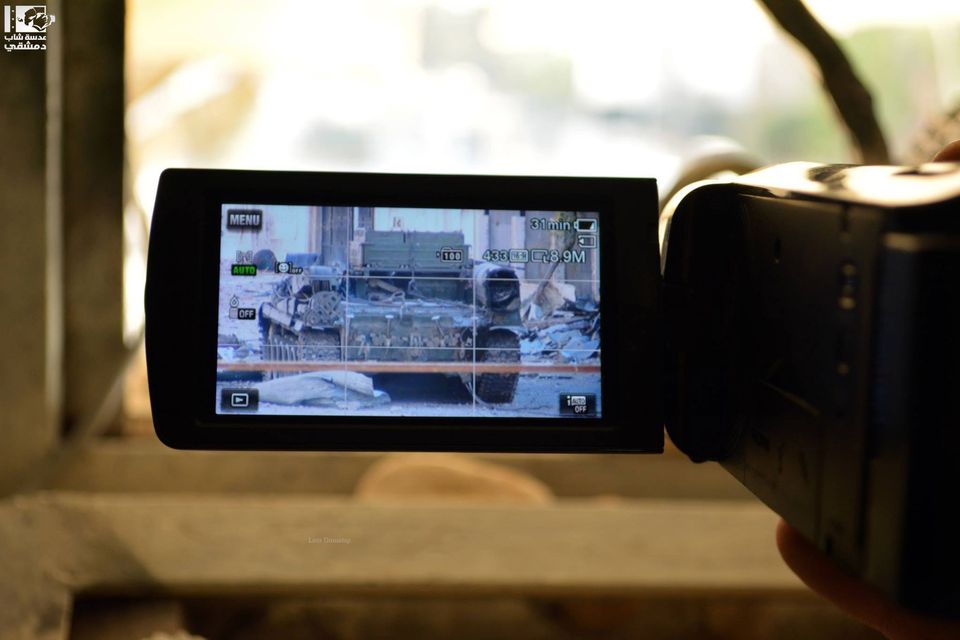 It's time to stop impunity for crimes against journalists in Syria
Since 2014, November 2nd has been dedicated to remembering all journalists who have been killed, harmed, or detained while pursuing their profession and to continuing the fight against impunity for all crimes against journalists. Last year, on the occasion of the fifth anniversary of the International Day to End Impunity for Crimes Against Journalists, SJAC took stock of the various crimes committed against journalists during the Syrian conflict and called upon all states to actively engage in the fight against impunity. One year later, with the conflict still ongoing, there are continuing shortcomings in the fight. The targeting of journalists must end, detained journalists must be released, and there must be justice for all journalists in Syria who have been detained, tortured, or killed. We take this opportunity to highlight the persecution of Syrian journalists who are targeted because of their tireless efforts to report on the Syrian conflict at the grassroots level.
Crimes against journalists committed in the last year
Regarding general freedom of press and media, the situation in Syria has steadily worsened since 2011. According to the 2020 World Press Freedom Index by Reporters without Borders (RSF), Syria is ranked 174 of 180 with only Vietnam, Djibouti, China, Eritrea, Turkmenistan, and North Korea creating worse conditions for journalists. Additionally, though the number of journalists killed since 2019 has declined, Syria is still the second deadliest country for journalists as of December 13, 2019, with 3 journalists killed in 2020 so far. However, killings are not the only measure of reprisal. All parties to the Syrian conflict continue to detain and threaten journalists (including those outside the country such as Sam Alebrahim and Hamberfan Kosah), to suspend their credentials, and to restrict internet access as well as censor reports. To date, nine journalists in Syria are still missing, most of them since 2012. Another form of reprisal was recently used by the Syrian government when it launched, with the help of a pro-government journalist, a sexist hate-campaign against Idlib journalist Merna Alhasan.
The Syrian government is not alone in committing crimes against journalists, as Hayat Tahrir al-Sham recently engaged in attacking and detaining journalists. Ongoing conflict in Northwest Syria has also created threats for journalists, and four journalists embedded in the government army were injured during an SNA attack in Aleppo in February.
Since November 2019 four journalists in Syria died in crossfire with reports about their identities and circumstances of death being immediately spread by colleagues and employers on different networks worldwide. One could say that dying in crossfire, is an occupational risk when reporting from a conflict area and that it does not constitute a crime. However, journalists in conflicts are protected under international humanitarian law (IHL). Breaches of these norms by the parties to the conflict consequently do constitute crimes and therefore require thorough investigation and accountability for the perpetrators.
Achievements in fighting impunity
Progress to reach accountability for crimes against journalists has been made by the U.S, which is working to bring perpetrators of such crimes to trial. Two British nationals, alleged members of the so-called ISIS "Beatles" who are amongst those responsible for the detention of two American journalists, were transferred to the U.S where they will now face trial. Earlier this year, French authorities arrested Majdi Mustafa Ne'ma aka Islam Alloush, former Jaysh al-Islam spokesperson who is amongst others allegedly responsible for detaining the Syrian journalist and human rights defender Razan Zaitouneh, her husband and two colleagues in 2013. A case which already passed the indictment stage is the so-called "Raslan Trial," which is currently being tried before a higher regional court in Germany. Amongst Raslan's victims at Branch 251, a brutal detention and interrogation facility of the Syrian general intelligence directorate, are journalists and members of the civil society reporting on the situation during the protests in 2011 and 2012.
At the very beginning of this year, Turkey made efforts to protect South African journalist Shiraaz Mohamed. Turkish intelligence protected Mohamed, who escaped detention in Syria and made his way to Turkey, and arranged for him to return home safely.
Shortcomings
The achievements made in fighting impunity for these crimes, when understood in relation to the ongoing crimes against journalists in Syria, show three significant shortcomings:
Considering the number of crimes against journalists during the ongoing Syrian conflict as well as attempts to hold perpetrators accountable, it can be found that there is still impunity for the vast majority of crimes. According to studies by the International Federation of Journalists (IFJ), nine of ten crimes against journalists in Syria remain unpunished.
Attempts by states to hold perpetrators accountably mainly focus on cases where the victims are nationals of the prosecuting state. This can be seen not only from the upcoming Beatles trial in the U.S and Britain's reluctance to take legal steps, but also from the Colvin Case as well as recent U.S talks with Syrian officials to push for the release of the American journalist Austin Tice.
Attempts to fight impunity for crimes against journalists often only focus on instances in which the victims were professional journalists. Crimes against so-called citizen journalists, members of civil society reporting on the conflict through social media, often do not create as much publicity as they work as freelancers and do not have publishers and media networks supporting them and informing the public about instances of violence against them.
Conclusion
SJAC calls upon all parties to the Syrian conflict to stop targeting those reporting on the conflict, release all detained journalists, and end impunity for all crimes committed against journalists. The latter call is also directed to the international community. States are urged to achieve justice for all journalists, not only their nationals but also Syrian citizens. States should also support efforts by the International Federation of Journalists to promote a new UN Convention on the protection of journalists in conflict zones, to recognize the importance of a comprehensive codification of the obligations pertaining to the protection of media professionals under international human rights and humanitarian law with a view to enhancing their effective implementation.
For more information or to provide feedback, please contact SJAC at [email protected] and follow us on Facebook and Twitter.