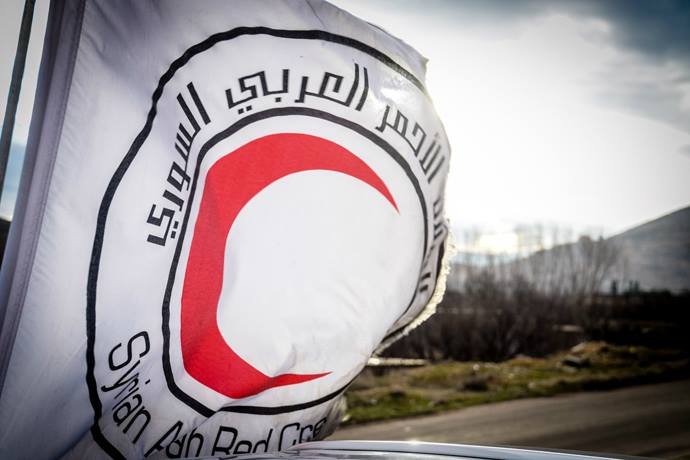 Inside the Syrian Arab Red Crescent
Eight years into the Syrian war, the Syrian Arab Red Crescent (SARC) has become the leading organization directing and implementing humanitarian aid efforts in Syria. Under regulations set by the government, it is now estimated that around 60% of international aid in Syria is channeled through SARC. UN agencies, the ICRC, and other international humanitarian organizations (IHOs) appear to have accepted partnership with SARC as a necessary compromise, and have carefully avoided public criticism of SARC.
SJAC interviewed four SARC volunteers who worked in SARC's Damascus branch, cumulatively between 2007-2018. In these conversations, volunteers stressed that while many SARC volunteers have risked their lives to deliver aid on the front lines, they have been hampered and endangered by the government's growing influence and infiltration within SARC. In this article, SJAC offers a critical examination of SARC's ties with Damascus, and the long-term consequences of the international community's partnership with the organization.
2011-2012: SARC on the front lines
Founded in 1942 and formally recognized by the ICRC in 1949, SARC is headquartered in Damascus with fourteen branches that have historically operated with varying degrees of autonomy in each of Syria's governorates. Even before 2011, the Syrian government utilized SARC as a mechanism to control humanitarian efforts in Syria. All NGOs seeking to work in Syria were required to reach a memorandum of understanding (MOU) with SARC, and to get SARC's approval for activities and payments.
When protests began, the government acted to ensure that SARC's leadership would remain loyal to the government by freezing SARC elections indefinitely in 2011. Meanwhile, security forces and pro-government militias began targeting SARC ambulances as they attempted to rescue wounded protestors. Local teams began receiving instructions to limit their operations in opposition-held and contested areas. For local volunteers, decision-making from SARC headquarters remained opaque, yet the explanations given by coordinators were always the same: "We were always told that if we did not do what they [the government] says, we can't do anything."
When SARC first aid teams did reach opposition-held neighborhoods, they were ordered to take the wounded to government hospitals, where widespread abuses against patients were being reported. Some patients found themselves denied medical access and even tortured by nurses and doctors. Many were detained by security forces directly from the hospitals. "People were afraid to go and sometimes refused," one volunteer remembers, "but in cases where they were severely wounded and needed surgery, they had no choice because only the government hospitals had the resources to treat them and we were given strict orders."
By mid-2013, SARC teams in Damascus needed permission to enter all opposition-held areas. Approvals were rarely granted by the government, and even when they were, SARC volunteers were not guaranteed safety. In one instance in 2013, one interviewee recalled how the government had bowed to pressure from the ICRC and granted SARC access to the besieged area of Barzeh, a neighborhood in Damascus. The SARC convoy attempted to reach the area three times, but in each instance, was met with gunfire from an unknown source. After the third attack, they were forced to give up the mission.
Syrian government memos obtained by SJAC show how intelligence agencies were giving explicit orders for its branches to work in close coordination with SARC to "regulate the distribution of medical aid to these areas [under opposition control] and select the types of aid that will be allowed."
2013: The Government Consolidates Control
In that same year, the government clamped down on dissent within SARC. One by one, volunteers and coordinators pushing for greater access were being forced out of the organization or arrested by security forces. One of the most consequential arrests was that of Mohamed Raed al-Tawil, a SARC board member and coordinator of first aid teams who was arrested by security forces inside SARC headquarters, and subsequently tortured during his four-month detention. Al-Tawil had been one of the leading figures pushing for humanitarian assistance to opposition areas. "It changed SARC. Most of the work done outside of government-held areas was done through him," one volunteer told SJAC. "His successor could not do what he did. She knew that what happened to him could happen to her, so she kept a low profile and tried to do as she was asked."
As arrests increased and rumors on the infiltration of security agents swirled, mistrust spread among volunteers. The family of one SARC volunteer, who was arrested and died in detention in 2014, told SJAC that he had been detained after going against orders to deliver aid to besieged areas in Homs. He was informed on, his family believed, by a colleague within SARC. "At the beginning, there was a rule: if new members want to join, others had to vouch for him personally," one volunteer recalls. "There was an atmosphere of trust among the team. [But] this changed in 2013."
By 2014, Syrian government memos obtained by SJAC show how intelligence agencies were giving explicit orders for its branches to work in close coordination with SARC to "regulate the distribution of medical aid to these areas [under opposition control] and select the types of aid that will be allowed." Other documents reference UN complaints, alluding to instances in which security agents interrogated and detained aid recipients directly from aid distribution centers. In an interview with Human Rights Watch, one former SARC volunteer stated that he witnessed numerous instances where intelligence officers collaborated directly with SARC employees to steal humanitarian supplies. Likewise, when one SJAC documenter entered a recently abandoned facility of the Political Security Division in 2015, he found dozens of boxes of aid stamped with the ICRC and SARC logos that had been confiscated.
In addition to government documents released by SJAC, this video taken by members of our documentation team shows boxes of @ICRC and @SYRedCrescent humanitarian aid stored in a political security branch building, clearly diverted from those in need. https://t.co/HDZKAanVxw pic.twitter.com/C4iGpkoZ0o

— Syria Justice and Accountability Centre (@SJAC_info) August 7, 2019
It is not clear whether, and to what degree, SARC's former president, Abdul Rahman al-Attar, and certain Board members pushed back against government orders and the interference by the security sector. The general belief among many volunteers is that, while the volunteers themselves wanted SARC to be impartial, the leadership in headquarters was aligned with the government. Nevertheless, al-Attar was forced to resign in 2016—some believe, because he had not acquiesced enough to government demands. His successor and SARC's current President, Khaled Hboubati, is a prominent Damascus-based businessman with close connections to the government, and whose father-in-law was the former head of the Damascus Business Council.
The Cost of Compromise
As reconstruction efforts begin in much of Syria, the partiality and corruption of the leading distributor of aid will have long-term consequences. In areas retaken by the government, Damascus is already utilizing its control of SARC to punish disloyal populations. In Daraa and al-Qunaitra, for example, civil society organizations active between 2012-2018 were all dissolved or relocated, and subsequently, replaced by SARC after the government regained control. When SARC began distributing aid donated by the World Food Programme in early 2019, locals there accused SARC of denying aid to those with links to opposition groups, despite the reconciliation agreements in place. One SARC employee who was interviewed by Syrians for Truth and Justice appeared to admit to such a policy, stating: "It is a routine procedure requested by the administration. We write the word 'security' next to the names of those wanted for the security branches, which means that he/she must visit a security branch for a routine investigation and then he/she is entitled to receive his/her basket."
Due to government regulations that force IHOs to rely on local partners, IHOs have few mechanisms in place to prevent such discriminatory practices by SARC. In its partnership with UN agencies, for example, SARC undertakes all implementation, distribution, and reporting. International partners cannot conduct fields visits to monitor projects without prior approval from SARC and travel permits from the Ministry of Foreign Affairs. Ultimately, one interviewee told SJAC, "SARC decides what kind of information they would provide organizations. In many cases, there is no cross checking."
Finally, IHOs have undertaken inadequate measures to protect the SARC volunteers they support on the ground. One SARC volunteer who worked throughout the siege of Eastern Ghouta, in the neighborhood of Harasta, told SJAC that his unit began receiving salaries and funds for logistical supplies from the ICRC in 2017 (SARC had cut off funding to the unit after the siege began). Despite the ICRC's support, when the siege ended in 2018, volunteers in Harasta were told by SARC headquarters that were 'no guarantees' for their safety. Without protection, many fled to Idlib along with other evacuees. "The ICRC did not do anything to guarantee our safety or security in Ghouta," says the interviewee, who was among those that fled. His colleagues who chose to stay continued to receive salaries from the ICRC. Among them, one was subsequently detained by the government for six months before being sent to complete his compulsory military service. Another volunteer who was later detained remains in detention to this day.
Need for Criticism and Action
In 2016, more than 70 aid groups in Syria, including the Syrian Civil Defense and Syrian American Medical Society, withdrew from an information sharing agreement with the UN, stating "UN agencies based in Damascus and their main partner, SARC, have been making the final decisions, shaped by the political influence of the Syrian government." Unfortunately, the boycott did little to reverse the government's growing influence on SARC, and SARC's growing influence on humanitarian aid in Syria.
SJAC calls on IHOs and their donors to do more to push back against corruption and partiality in SARC. This includes resisting intrusive SARC conditions that have impeded the ability of international actors to adhere to humanitarian principles in Syria. As they direct millions of dollars in aid to the organization, IHOs can and should condemn corrupt or discriminatory practices implemented by SARC. Furthermore, the ICRC and IFRC have a fundamental responsibility to protect and advocate in the highest degree for SARC employees detained or threatened by the Syrian government. To date, more than 60 SARC volunteers have died while providing life-saving assistance across Syria. Their work deserves recognition, but the international community cannot allow their sacrifices to be cynically used to shield SARC from criticism and a necessary acknowledgement of their growing partiality.
For more information or to provide feedback, please contact SJAC at [email protected] and follow us on Facebook and Twitter.