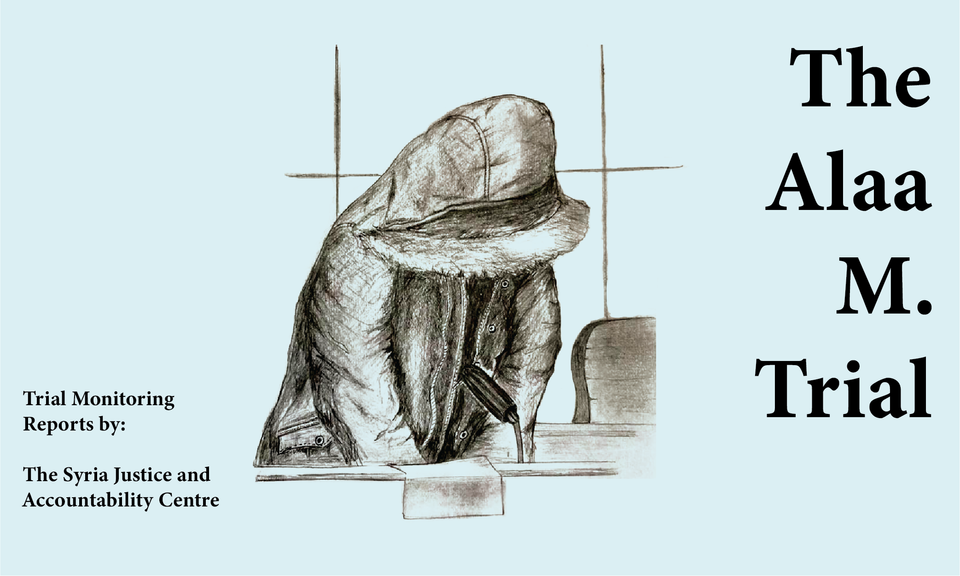 Inside the Alaa M. Trial #4: They certainly didn't turn all the buildings around
SJAC's 4th trial monitoring report details day 5 of the trial of Alaa M. in Frankfurt, Germany. The judges continued to question the defendant. Nonetheless, many questions about the documents that M. and his lawyer submitted to the investigative judge remained unanswered. The Judges' questions then focused on the sketches that M. provided to the Court. However, M.'s sketches and the corresponding descriptions raised more questions, as did the discrepancies among sketches, and between sketches and satellite imagery. The judges indicated their determination to clarify all details at the beginning of the trial. Their questioning of M. will continue into the next hearing.
Summaries/Highlights:
Day 5 – February 8, 2022
The Judges' questioning of the defendant continued and focused on the eleven sketches of the military hospitals in Mazzeh and Homs that M. provided to the Court the previous week. However, there were some discrepancies between the sketches, as well as between the sketches and satellite images of the two military hospitals that were also shown and discussed in Court. Some of the confusion was resolved, but the Judges decided to postpone the further questioning of M. on other topics until the following week because they felt that understanding the correct layout of each hospital might be pertinent to the trial at a later stage, so establishing the facts now would be helpful for later.
______________________________________________________
For more information or to provide feedback, please contact SJAC at [email protected] and follow us on Facebook and Twitter. Subscribe to SJAC's newsletter for updates on our work.