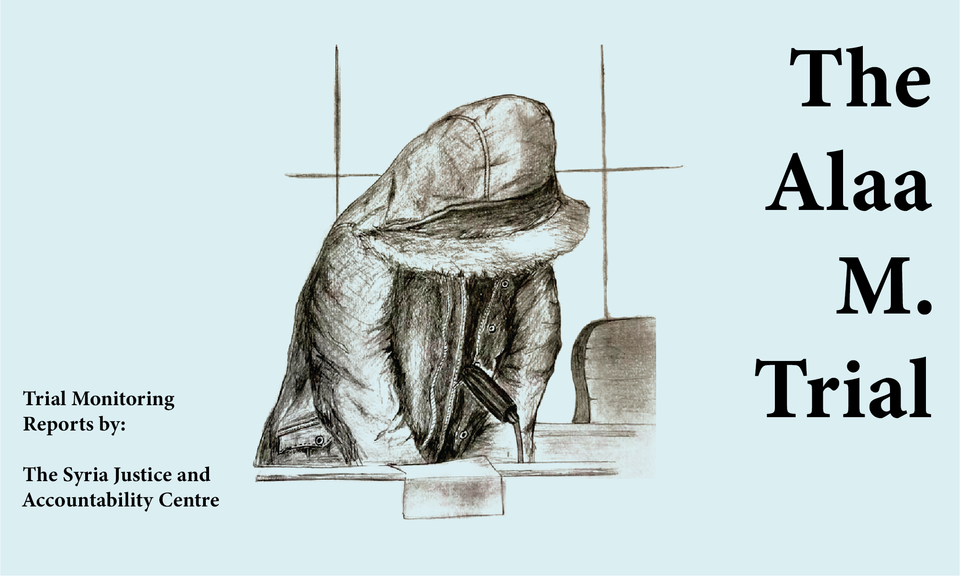 Inside the Alaa M. Trial #1: The First Day of Proceedings
Higher Regional Court – Frankfurt, Germany
Trial Monitoring Summary #1
Hearing Date: January 19, 2022
CAUTION: Some testimony includes descriptions of torture.
Note that this is not a verbatim transcript of the trial; it is merely an unofficial summary of the proceedings.
Throughout this summary, [information located in brackets are notes from our trial monitor] and "information placed in quotes are statements made by the witness, judges or counsel." The names of witnesses and identifying information have been redacted.
Highlights:
Day 1 – January 19, 2022
The Prosecutors read out the indictment in the case of Alaa M. He is charged with killing, torture, forced sterilization, and inflicting severe physical and mental pain as crimes against humanity. The defendant is represented by three lawyers, two of whom are state appointed. Three survivors joined the trial as plaintiffs. They are each represented by a counsel.
After the indictment was read out, M. provided information on his personal and professional life before 2011 to 2012. Over the following trial days, M. will provide information on the accusations against him.
Trial Day 1 – January 19, 2022
The proceedings began at 10:05AM at the Higher Regional Court in Frankfurt (Main), Germany with 19 spectators and 19 journalists in the gallery, and another ten journalists in a separate media room.
The case is tried by eight judges, including three additional judges and Judge Dr. Koller serving as the Presiding Judge. The prosecution is represented by Dr. Zabeck and Dr. Schlepp. The defendant is represented by three Defense Counsel: Dr. Endres, Al-Agi, and Bonn. The three plaintiffs were not present in the courtroom on the first trial day. Each plaintiff is represented by a counsel: Counsels Bahns, Mohammed, and Reiger.
The defendant, Alaa M., entered the courtroom in an olive-green jacket with his hood pulled over his head.
Opening of the Trial
Presiding Judge Koller opened the trial of Alaa M. at the Higher Regional Court in Frankfurt. He explained to M. that, although M. agreed to waive his right to simultaneous Arabic-language interpretation, an interpreter will sit next to M. in case of linguistic challenges during the trial.
Koller verified the personal details of the defendant and recalled that Alaa M. has been in pre-trial detention since June 20, 2020.
Indictment against Alaa M (as delivered by the Prosecution)
The indictment consists of 18 counts that the defendant allegedly committed as a resident physician at Homs Military Hospital, Damascus Military Hospital, and at a Military Intelligence Branch in Homs between April 2011 and December 2012. More specifically, the defendant is accused of having tortured patients by causing them physical and mental pain, in addition to causing other damages that were not a consequence of sanctions in accordance with international law. The prosecution argues that the alleged crimes were part of a widespread and systematic attack against the civilian population.
The Prosecutors first elaborated on the circumstance in Syria at the time. They recalled the suppression of the civil population, the role of the Military Intelligence Service in this suppression and the role of the Military Hospitals, before they detailed the defendant's alleged role. The Prosecutors then went on to explicitly describe each count of the indictment, including descriptions of torture and severe mistreatment.
The Prosecutors concluded that Alaa M. allegedly abused patients as a doctor and violated his professional obligations. The Prosecutors qualify his actions as killings, torture, forced deprivation of reproductive capacity, and inflicting severe physical and mental pain as crimes against humanity pursuant to § 7 (1) nos 1, 5, 6, 8 VStGB and other crimes pursuant to German domestic criminal law.
Judges' Questioning on Alaa M.'s Personal Information
M. described how he grew up as a Christian in Syria, attended medical school, started his residency at Homs Military Hospital, specialized in orthopedics and trauma surgery, and continued his residency at several different Military Hospitals and a civilian hospital before he left Syria for Germany in May 2015. He started German language classes years before that and wanted to go abroad for medical training for several years. However, he was unable to go to Germany because he needed a visa, had to complete his training, and lacked financial resources.
M. said he always worked in a civilian position, never a military one. Each year for four years, he could travel [from Germany] to Syria for 90 days, during which time he delayed his military service. He paid $8,000 in 2019 to be released from the mandatory military service in Syria.
Questioning by the Plaintiffs Counsel
Defense Counsel Endres said that the defense team and M. are not answering questions from the plaintiffs [and their counsel]. Presiding Judge Koller replied that he will still allow the plaintiffs and their counsel to ask questions. He added that often "they have such great questions" that the Judges pick up. Endres added that he is familiar with this technique, however, his client will not answer in such cases. Presiding Judge Koller said it is at least worth a try and oftentimes he then gets the defendants to answer the question.
Inspection of Documents
Documents that were provided to the Federal Prosecutor General's Office during the investigation were inspected in Court, such as: M.'s German residency permit, his passport, and a letter of reference.
Proceedings were adjourned at 12:39PM.
The next trial day will take place on January 21, 2022.
______________________________________________________
For more information or to provide feedback, please contact SJAC at [email protected] and follow us on Facebook and Twitter. Subscribe to SJAC's newsletter for updates on our work.