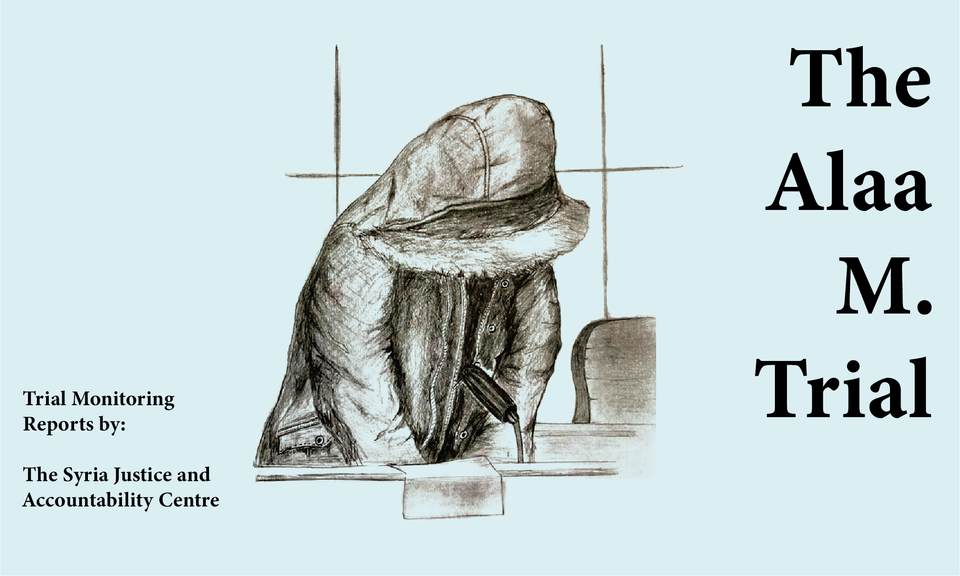 Inside the Alaa M. Trial #28: Sketching the scene
Higher Regional Court – Frankfurt, Germany
Trial Monitoring Summary #28
Hearing Dates: November 29, 2022
CAUTION: Some testimony includes descriptions of torture.
Note that this summary is not a verbatim transcript of the trial; it is merely an unofficial summary of the proceedings.
Throughout this summary, [information located in brackets are notes from our trial monitor] and "information placed in quotes are statements made by the witness, judges or counsel." The names and identifying information of witnesses have been redacted.
Day 45 – November 29, 2022
SJAC's 28th trial monitoring report details day 45 of the trial of Alaa M. in Frankfurt, Germany. The fourth survivor-witness in the trial testified in court. The Presiding Judge started the session by referring to the information he received from the German Criminal Police that the witness, P11, had recently suffered a stroke. The Presiding Judge wanted to make sure that P11 was in good health and see if that stroke resulted in sequelae from which P11 suffered. P11 reassured the Presiding Judge and told him that everything was fine.
The Judges asked P11 about his relationship with P8 and his brother, how they were detained and the circumstances surrounding their detention. P11 began to recount the events of how he and his two cousins were arrested at his house and the mistreatment they were subjected to in detention. P11 described the incident in which Alaa M. allegedly caused the death of P8's brother. P11 then briefly described what he and P8 went through subsequent to that incident as they were taken for interrogation, and how they were released. The Judges turned back to the events mentioned by P11 and asked him in depth about what he witnessed and went through. The Judges then asked P11 to describe the corridors and cells in more detail.
After P11 described the events again in a more extensive way, the Judges asked him to approach the Judges' bench, where a table and papers were prepared for him to draw sketches of the places he described earlier. A camera transmitted what P11 was drawing via the screens in the courtroom. The Judges continued to ask detailed questions about each place P11 described and what happened there, whenever P11 finished drawing a sketch for it.
________________________
For more information or to provide feedback, please contact SJAC at [email protected] and follow us on Facebook and Twitter. Subscribe to SJAC's newsletter for updates on our work.