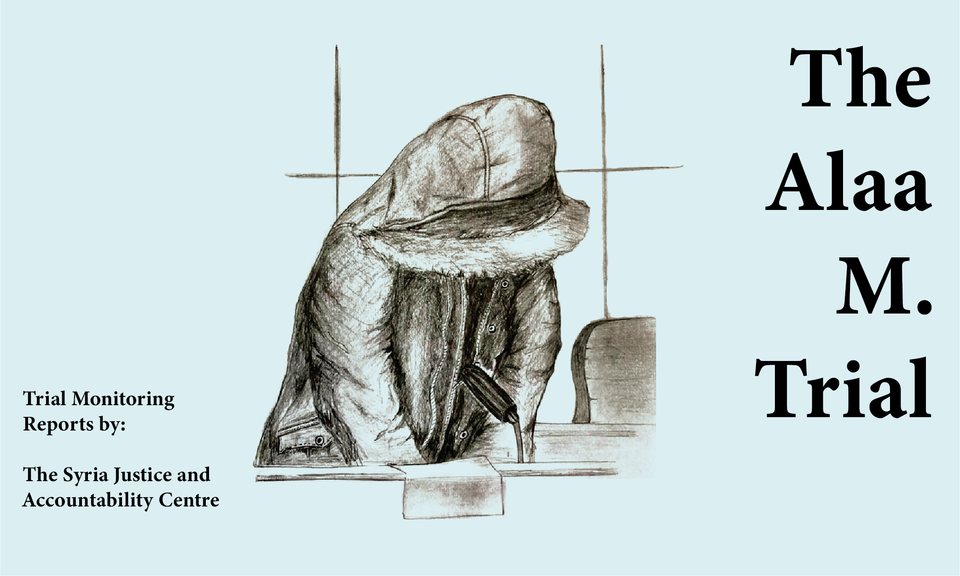 Inside the Alaa M. Trial #22: Nothing goes as planned
Higher Regional Court – Frankfurt, Germany
Trial Monitoring Summary #22
Hearing Dates: September 27 & 29, 2022
SJAC's 22nd trial monitoring report details days 33 & 34 of the trial of Alaa M. in Frankfurt, Germany. After hearing the asylum officer who worked on P4's case on the first day, the Court started to inspect an Al-Jazeera video on the second day. The video was about the torture of civilians at Homs Military Hospital, Alaa M.'s alleged role in performing acts of torture, and how a group of journalists tracked M. down in Germany. Sections of the Arabic video were shown in court, followed by a meticulous translation of the audio and the written inserts. However, inspection of the video could not be completed due to a medical emergency among the Judges. This was the second unforeseen delay, as one of the witnesses who was summoned for day 33 did not appear. Further, the Court had to cancel two trial days the following week due to scheduling conflicts with other ongoing cases.
CAUTION: Some testimony includes descriptions of torture.
Note that this summary is not a verbatim transcript of the trial; it is merely an unofficial summary of the proceedings.
Throughout this summary, [information located in brackets are notes from our trial monitor] and "information placed in quotes are statements made by the witness, judges or counsel." The names and identifying information of witnesses have been redacted.
Highlights:
Day 33 – September 27, 2022
The Court heard the testimony of an employee of the German Federal Office for Migration and Refugees. The employee conducted the first two hearings with P4. She was questioned about how these hearings went and about some of details that P4 provided. Her testimony revealed the sometimes chaotic conditions during people's first asylum hearings in 2015 and 2016, especially for Syrian refugees.
The Prosecutors then reacted to the defense team's statement questioning P4's credibility. The Prosecutors elaborated on how P4's testimony was credible.
Due to the Judges having to try multiple other cases and thus, being overloaded, the two trial days scheduled for the following week were cancelled.
Day 34 – September 29, 2022
On this day, the Court started to inspect a 48-minutes video produced by Al-Jazeera. The Arabic video detailed torture that detainees were subjected to and died from at Homs Military Hospital. The video also showed how journalists investigated claims about Alaa M.'s participation in the torture of detainees and how they tracked him down in Germany. The video was inspected in court by watching clips and having a linguistic expert translate the audio and the written inserts. This lengthy undertaking was supposed to be finished after a longer break. However, it had to be delayed due to a medical emergency among the Judges.
_________________________
For more information or to provide feedback, please contact SJAC at [email protected] and follow us on Facebook and Twitter. Subscribe to SJAC's newsletter for updates on our work.