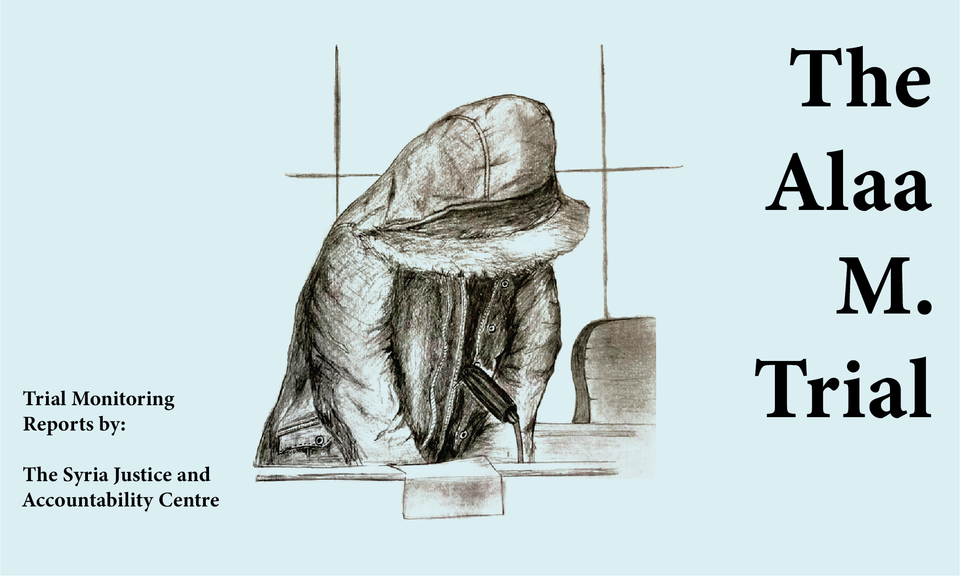 Inside the Alaa M. Trial #5: It's a smear campaign!
SJAC's 5th trial monitoring report details days 6 and 7 of the trial of Alaa M. in Frankfurt, Germany. Once the judges completed their questioning of Alaa M., a video was shown in court from M.'s hearing with the investigating judge at the German Federal Court of Justice. The video showed M. accusing a former colleague of spreading false accusations against him as part of a smear campaign due to M.'s refusal to support this colleague in field hospitals. M. is scheduled to elaborate upon his explanation for why he is accused of the alleged crimes in one of the following trial sessions. When questioned by the prosecutors, M. only provided short answers and repeated previous descriptions.
Summaries/Highlights:
Day 6 – February 22, 2022
The judges completed their questioning of the defendant. He refused to elaborate on his explanation as to why and how the allegedly false accusations were brought against him. M. said that since one of his three defense counsel, Dr. Endres, was not present, he preferred to answer these questions once Dr. Endres is back.
To facilitate the prosecutors' questioning, parts of M.'s hearing with the investigating judge at the Federal Court of Justice were shown in court. In that hearing, M. said that all accusations against him were based on one false story about an incident in which he allegedly burnt a patient who laid in bed at a military police station in 2012. According to M., this false story was spread by a former colleague who wanted to damage M.'s reputation because M. refused to help this colleague by working in field hospitals. M. added that he refused, not because he was pro-Assad, but because he "knew these kinds of people. They were all ISIS members, radicals and fanatic Islamists."
M. said that he felt that the German authorities did not want to help him combat the allegedly false accusations and that he therefore contacted the Syrian Embassy in Germany who offered him seats on a flight from Berlin to Beirut that was scheduled to fly Syrian students out of Germany during the pandemic in 2020. M. told the Court that he declined the offer as he wanted to continue his life in Germany.
Day 7 – February 24, 2022
On this day, the prosecutors continued their questioning of Alaa M. He either provided one-sentence answers, saying that he did not hear, see, or notice anything, or he simply repeated what he already said on previous trial days. Questioning will continue the following week when M. is also scheduled to provide a more detailed elaboration on why and how the allegedly false accusations were brought against him.
The trial days scheduled for March 15 and 17, 2022 were cancelled.
______________________________________________________
For more information or to provide feedback, please contact SJAC at [email protected] and follow us on Facebook and Twitter. Subscribe to SJAC's newsletter for updates on our work.