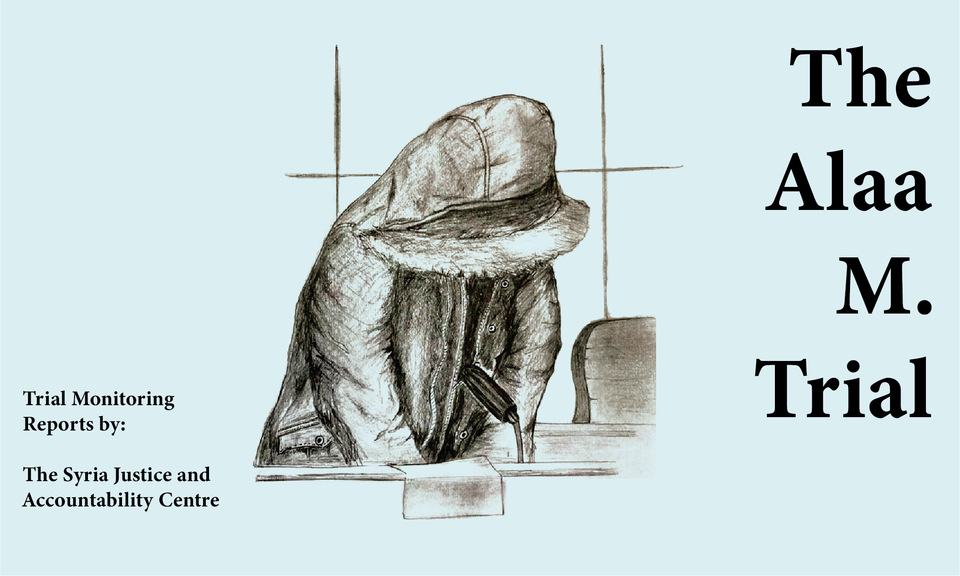 Inside the Alaa M. Trial #6 : It's a conspiracy!
SJAC's 6th trial monitoring report details day 8 of the trial of Alaa M. in Frankfurt, Germany. The defendant, Alaa M., provided his long-awaited explanation as to why the alleged accusations were brought against him. M. accused a former colleague of being a radical Islamist fighter. He said that the colleague falsely accused him because M. refused to help at a field hospital. The Prosecutors continued their questioning which would carry over into the following trial day. To compensate for recent delays in the proceedings due to illnesses, the Court announced two additional trial days.
Summaries/Highlights:
Day 8 – March 24, 2022
The defendant provided his long-awaited explanation as to why he thinks that the allegations were brought against him. According to M., his former colleague who allegedly joined armed Islamic terrorist groups was mad at M. because M. refused to help him at a field hospital. The colleague then made false allegations against M. publicly.
When questioned by the Judges, M. said he found out that his former colleague joined armed terrorist groups after M. checked the colleague's Facebook account. When the Judges asked M. why exactly these allegations were false, M. repeated that he was not where the alleged crimes were committed at the times when they occurred. For those incidents at which he was indeed present, M. denied having been involved in any of the crimes. M. called the allegations a "conspiracy" against him, initiated by his former colleague who must have been in contact with others to come forward with several false allegations.
The trial days scheduled for March 1, 8, 10 15, 17 and 18, 2022 were cancelled due to illness of a judge. To compensate for recent delays that were caused by illness, two additional trial dates were announced: Tuesday, March 29 and Thursday May 19, 2022.
______________________________________________________
For more information or to provide feedback, please contact SJAC at [email protected] and follow us on Facebook and Twitter. Subscribe to SJAC's newsletter for updates on our work.