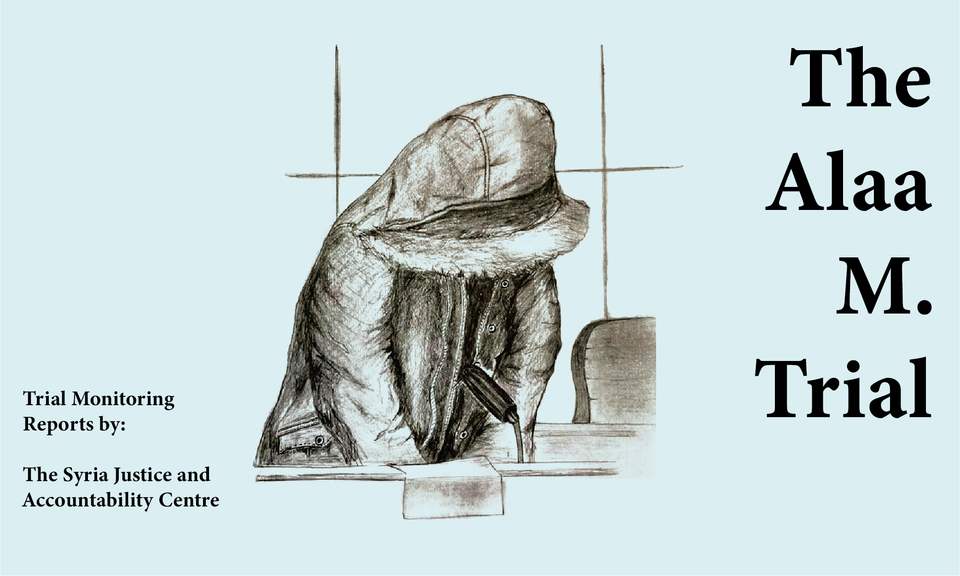 Inside the Alaa M. Trial #16: Descriptions of Emerald Planet
SJAC's 16th trial monitoring report details day 22 of the trial of Alaa M. in Frankfurt, Germany. The Court heard the testimony of the second victim-witness in this trial. He told the Court about how he was arrested, how he was transferred between different Intelligence Branches, and how he was also taken to a Military Hospital during his detention journey. According to the witness, the conditions at the hospital and the treatment of detained patients there had nothing to do with medical treatment. He described regular beatings, mistreatment, and how one of the detained patients was allegedly killed by the defendant. When asked about how a juvenile can end up in a situation like the one in the Military Hospital, the witness said that the relevant rules in Syria are from Emerald Planet.
According to SJAC's trial monitoring policy for this trial, updates on trial days will only be shared publicly once a witness has completed their in-court testimony. This is to reduce stress for witnesses, especially survivors, caused by media reporting. SJAC remains dedicated to ensure the integrity of proceedings by not sharing any identifying information and details about the subject matter.
Highlights:
Day 22 – June 23, 2022
The Court heard the second victim-witness in the trial. He told the Court about how he was arrested in Syria, then detained at several Intelligence Branches, prisons, and a Military Hospital. He then told the Court about the treatment of detained patients at the hospital, which was far from medical treatment. Instead, detained patients were beaten and one detainee was killed, allegedly by the defendant in this trial. The witness's in-court testimony will continue for several trial days.
_________________________________________
For more information or to provide feedback, please contact SJAC at [email protected] and follow us on Facebook and Twitter. Subscribe to SJAC's newsletter for updates on our work.