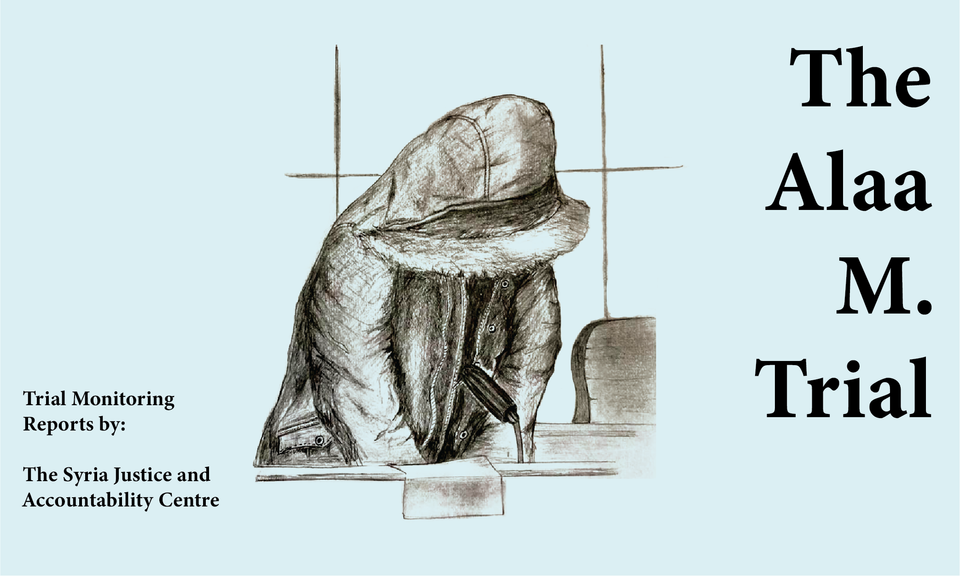 Inside the Alaa M. Trial #7: Attempts to unveil the conspiracy
SJAC's 7th trial monitoring report details day 9 of the trial of Alaa M. in Frankfurt, Germany. As the questions for M. became more detailed, Judges and Prosecutors completed their questioning of M. Despite previous pronouncements by the Defense Counsel, M. did answer at least some questions asked by the Plaintiff's Counsel. Nonetheless, the defense team intervened for some questions, telling M. not to answer. The Judges took notice of which questions were answered and which were not. The questioning of M. by the remaining Plaintiff's Counsel and his defense team is scheduled to be completed the next trial day when the Court will hear the first witness in the trial. In order to mitigate the risk posed to the safety of upcoming witnesses, the Judges will not publicly mention their names prior to their in-court testimony.
Highlights:
Day 9 – March 29, 2022
During this session, the Judges completed their questioning of the defendant on the subject matter, so did the Prosecutors. The Plaintiff Counsel started their questioning, however, as the Defense Counsel have previously indicated, the defendant only answered some of the Plaintiff Counsels' questions.
To increase witness protection in light of reported threats against witnesses and their families, the Judges will not publicly mention the names of witnesses scheduled to appear in Court in the sessions before their in-court testimony. This way, the Judges seek to reduce the circle of people having prior knowledge of a witness' testimony to an absolute minimum.
______________________________________________________
For more information or to provide feedback, please contact SJAC at [email protected] and follow us on Facebook and Twitter. Subscribe to SJAC's newsletter for updates on our work.