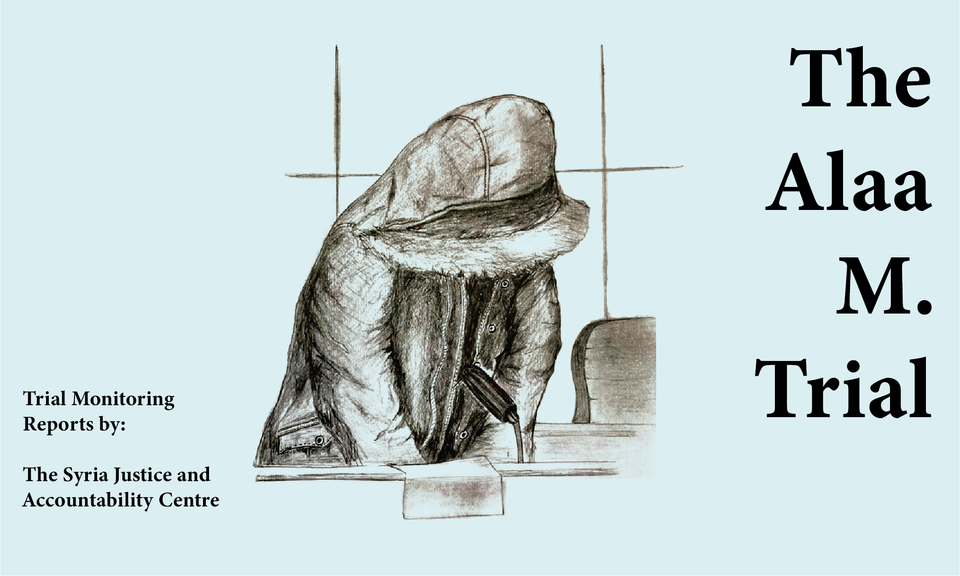 Inside the Alaa M. Trial #7: Attempts to unveil the conspiracy
Higher Regional Court – Frankfurt, Germany
Trial Monitoring Summary #7
Hearing Date: March 29, 2022
CAUTION: Some testimony includes descriptions of torture.
Note that this summary is not a verbatim transcript of the trial; it is merely an unofficial summary of the proceedings.
Throughout this summary, [information located in brackets are notes from our trial monitor] and "information placed in quotes are statements made by the witness, judges or counsel." The names and identifying information of witnesses have been redacted.
Highlights:
Day 9 – March 29, 2022
During this session, the Judges completed their questioning of the defendant on the subject matter, as did the Prosecutors. The Plaintiff Counsel started their questioning, however, as the Defense Counsel have previously indicated, the defendant only answered some of the Plaintiff Counsels' questions.
To increase witness protection in light of reported threats against witnesses and their families, the Judges will not publicly mention the names of witnesses scheduled to appear in court in the sessions before their in-court testimony. This way, the Judges seek to reduce the circle of people having prior knowledge of a witness' testimony to an absolute minimum.
Trial Day 9 – March 29, 2022
The proceedings began at 1:40PM at the Higher Regional Court in Frankfurt (Main), Germany with ten spectators and one journalist in the audience. One cameraman took videos inside the courtroom before the start of the session.
Judges' Questioning
The Judges completed their questioning of M. on the subject matter of the case. M. answered their follow-up questions on details about how and why he thought that one of his former colleagues was leading a smear campaign with false allegations against him. He explained to the Judges how he met this colleague and how he got into an argument with him as a result of which M. reported the colleague to their employer. M. also described what led him to believe that his former colleague's defamation campaign was based on the fact that M. is a Christian and his colleague was a militant Islamist fighter.
Prosecutor's Questioning
Upon the Prosecutor's request, M. described how he got in contact with the Syrian embassy in Berlin to ask one of their employees, a former journalist, to help him collect and translate allegedly false information that was spread about M. in the media and information that M. obtained about those publicly accusing him. M. also said that he rejected an offer to take a flight organized by the Syrian embassy from Berlin to Beirut because he wanted to continue his life in Germany and not leave without knowing when or if he is able to come back. When questioned about his Facebook posts in support of Bashar Al-Assad, M. said a nurse forced him to write them and that the Syrian army protected the Valley of Christians from ISIS.
Plaintiffs Counsels' Questioning
As announced by the defense team, M. did not answer all of the Plaintiffs' Counsels' questions, despite the Presiding Judge reminding him that once a defendant starts to provide a statement on the subject matter and then refuses to answer single questions, the Judges can come to their own conclusions on the partial statement. The defense team said M. is aware of that and they jointly decided that he will not answer certain questions by the Plaintiffs' Counsel.
One of the Plaintiffs' Counsel had several questions on where M. went to school and M.'s studies and early career. M. answered these questions, however, his lawyers advised him not to answer whether he had a fight with some people in 2016 because they participated in demonstrations against the Syrian government.
The proceedings were adjourned at 3:07PM
The next trial day will be on April 5, 2022 at 10AM.
_____________________________________________________
For more information or to provide feedback, please contact SJAC at [email protected] and follow us on Facebook and Twitter. Subscribe to SJAC's newsletter for updates on our work.