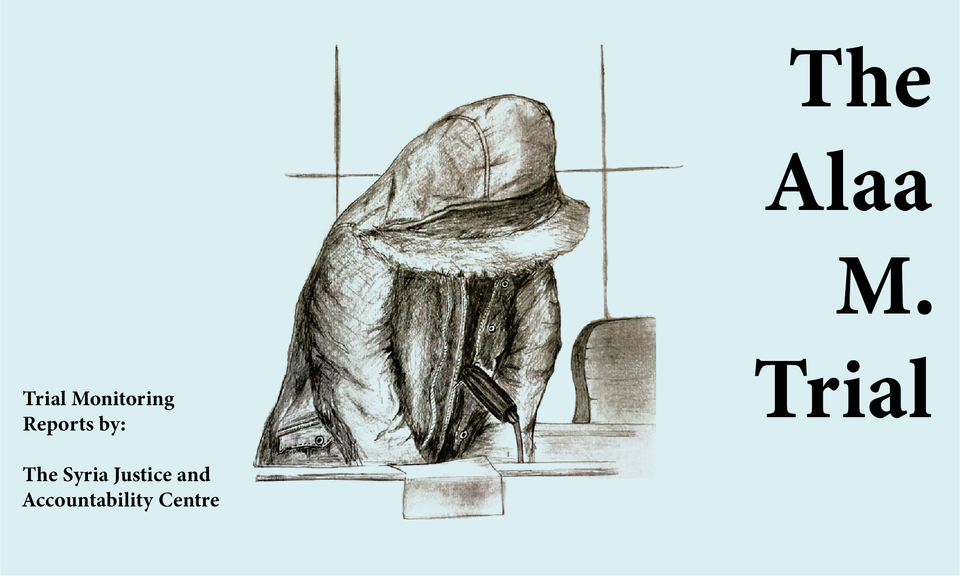 Inside the Alaa M. Trial #33: An Ostentatious Spoiled Boy
Higher Regional Court – Frankfurt, Germany
Trial Monitoring Summary #33
Hearing Dates: January 24, 2022
CAUTION: Some testimony includes descriptions of torture.
Note that this summary is not a verbatim transcript of the trial; it is merely an unofficial summary of the proceedings.
Throughout this summary, [information located in brackets are notes from our trial monitor] and "information placed in quotes are statements made by the witness, judges or counsel." The names and identifying information of witnesses have been redacted.

SJAC's 33th trial monitoring report details day 53 of the trial of Alaa M. in Frankfurt, Germany. A new witness appeared in court to testify. The witness was a former colleague of the Accused Alaa M. at Homs Military Hospital. The witness described how, in 2011, the hospital staff was divided into a pro-government section that tortured patients, and a section that remained neutral with patients. The witness described the Accused as a facetious person who liked to joke around and as a spoiled child trying to achieve his goal by "buying people."
After that, the witness recounted details of two incidents in which the Accused abused patients at Homs Military Hospital. He explained an incident that he had heard about the Accused setting fire to a minor's body part. The witness also clarified some of the misunderstandings from the police questioning's transcript. The witness concluded by explaining the reasons for leaving his job at Homs Military Hospital and moving to another hospital.
Highlights:
Day 53 – January 24, 2023
On this day, a new witness, who was a former colleague of M. and worked with him as a doctor in Homs Military Hospital, was summoned to testify in court. Upon the Judges' request, P12 started his testimony by describing the tasks of Homs Military Hospital and mentioned the names of some doctors working there. P12 then described the working relationship between him and M. According to P12, after the start of the protests in Syria in 2011, the hospital staff split into two parts, each one taking a side. While both sides worked together, the great majority were working for the government and the army and were against the patients. P12 described how members of the pro-government group mistreated [anti-government] patients and the methods they employed, since these patients were treated as enemies. Pro-government patients were considered heroes. P12 explained that he and the few people with him treated all patients well, regardless of their background, but if a [anti-government] patient fell into the hands of the other section, he would be an "unlucky person."
The Presiding Judge asked P12 to describe M.'s behavior in the hospital and how he treated patients. P12 described M. as a facetious person who liked to joke around - he was "normal and good" and accepted by the team. In response to the Presiding Judge's question about M.'s relationship with the chief physician of the department, P12 explained that they loved each other. After the Judge confirmed that P12 was referring to the period prior to 2011, he asked P12 to describe M.'s status afterwards. P12 explained that M. became a favored person by the Syrian government, showing them that he was with them and that the patients were enemies. M. was trusted and sent to the prison to see the patients there, according to P12. After that, P12 recounted two situations in which he witnessed M. mistreating patients, and the Presiding Judge indicated that both cases were not included in the indictment. Then, the Presiding Judge quoted P12's previous police statement in which P12 stated that he heard about an incident in which M. poured a flammable substance on a minor's body part and set it on fire. P12 reiterated that he was not an eyewitness to the incident but rather heard about it from someone.

The Presiding Judge asked P12 to recall and elaborate on how he answered when he was asked during the police questioning to describe M. P12 said that he described M. as an ostentatious spoiled boy from a rich family, who loves to show off, courts people or buys them [off] for gain or to cover up a shortcoming. P12 then explained relevant matters the Judges had difficulty understanding from the police questioning's transcript and provided clarifications of what he meant at the time. In addition, P12 enumerated names of doctors who were trusted by the Syrian government, like M.
Towards the end of the session, the Presiding Judge noted that P12 left work at Homs Military Hospital and moved to Damascus asking why P12 had moved. P12 replied that the torture of patients at Homs Military Hospital and the relatively good overall situation in Damascus were the reasons behind his decision to move to Tishreen Hospital. P12 told the court that Tishreen Hospital had a relatively better reputation than Al-Mezzeh Hospital - where he didn't work - because [the Syrian government] wanted to whitewash Tishreen Hospital's reputation, unlike what was happening in Al-Mezzeh Hospital. P12 had heard about atrocities being committed there against anti-government patients. P12 concluded by recounting how he traveled first to a neighboring country to escape military service and working for the army that tortures patients, and then how he arrived in Germany.
___________________________
For more information or to provide feedback, please contact SJAC at [email protected] and follow us on Facebook and Twitter. Subscribe to SJAC's newsletter for updates on our work.