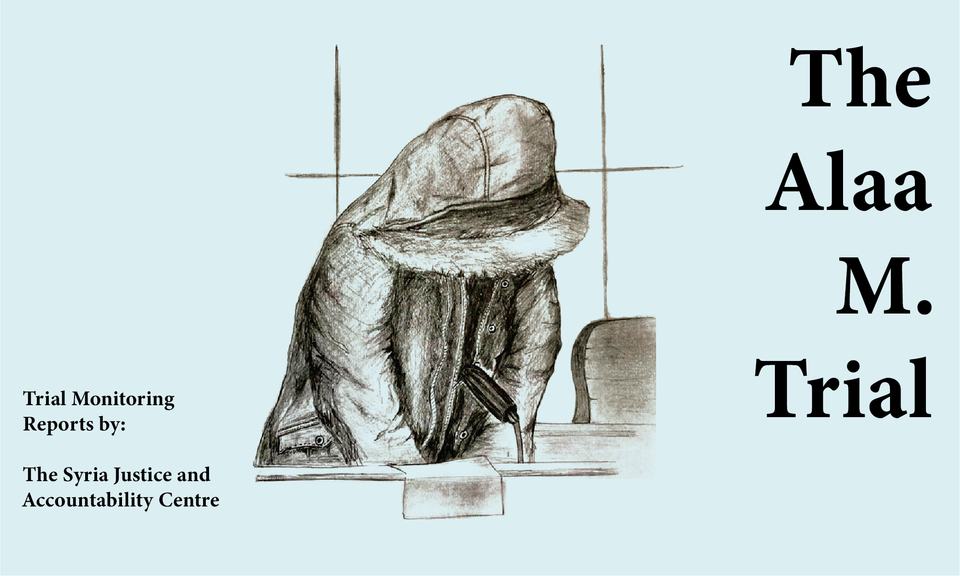 Inside the Alaa M. Trial #11: A Hospital Far from Medical Care
TRIAL OF ALAA M.
Higher Regional Court – Frankfurt, Germany
Trial Monitoring Summary #11
Hearing Date: May 9, 2022
CAUTION: Some testimony includes descriptions of torture.
Note that this summary is not a verbatim transcript of the trial; it is merely an unofficial summary of the proceedings.
Throughout this summary, [information located in brackets are notes from our trial monitor] and "information placed in quotes are statements made by the witness, judges or counsel." The names and identifying information of witnesses have been redacted.
Day 15 – May 9, 2022
The Judges completed their questioning of P1 by asking several detailed follow-up questions. The questions were targeted to clarify discrepancies between P1's in-court questioning and previous police questioning, as well as to detect what information about the case and his testimony P1 shared with other witnesses. The Prosecutors and Plaintiffs' Counsel also completed their questions that addressed details of P1's previous testimony. The defense team's questioning of P1 is scheduled for the following trial day.
Trial Day 15 – May 9, 2022
The proceedings began at 10:11AM at the Higher Regional Court in Frankfurt (Main), Germany with three spectators and two media representatives in the audience. A cameraman took videos inside the courtroom before the start of the session.
Judges' Questioning
The Judges continued their questioning of P1, the first survivor-witness in the trial. The questions focused on details about incidents in which P1 was involved or witnessed at Homs Military Hospital, as well as details about these incidents that P1 previously provided to the police. The Judges were also interested in P1's communication about the case with other witnesses and his identification of Alaa M. as one of the perpetrating doctors at Homs Military Hospital. P1 explained to the Judges that he did not communicate about the case with other witnesses, and he described how he first heard about the case and identified Alaa M.
Prosecutors' Questioning
The Prosecutors only had a few follow-up questions for P1, focusing on the details of his previous testimony about alleged perpetrators at Homs Military Hospital.
Plaintiffs' Counsel Questioning
P1's counsel questioned on communication between him and his counsel prior to P1's in-court testimony to show the court that P1 did not receive any information about the content of the proceedings from his counsel. His counsel also tried to resolve some interpretation-related miscommunication between P1 and the Court.
Additional Remarks
P1 often indicated that he cannot remember certain details about his time at Homs Military Hospital. He became visibly emotional towards the end of the trial day and seemed exhausted. His questioning will continue into a third day, when the defense team will ask their questions.
The proceedings were adjourned at 03:05PM.
The next trial day will be on May 17, 2022 at 10AM.
_____________________________________________________
For more information or to provide feedback, please contact SJAC at [email protected] and follow us on Facebook and Twitter. Subscribe to SJAC's newsletter for updates on our work