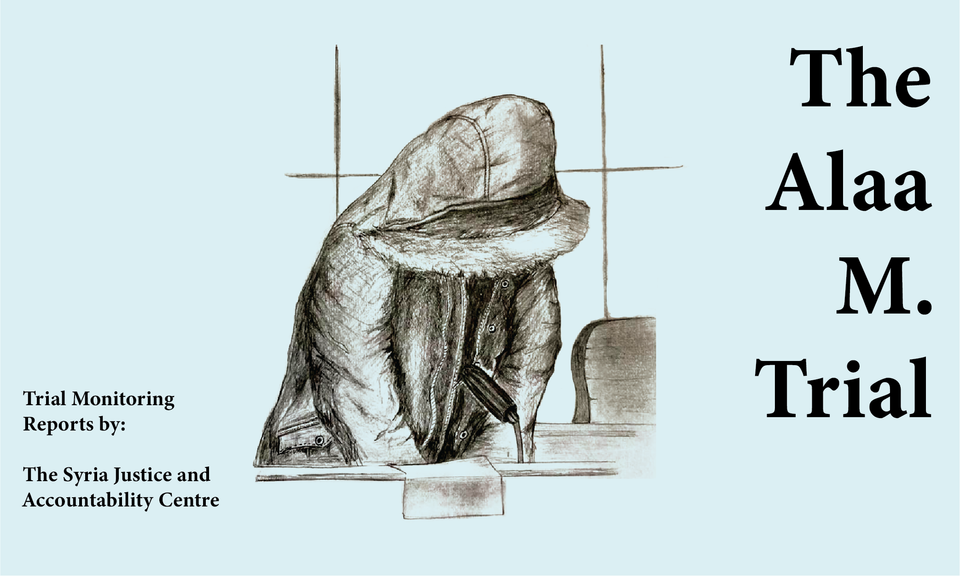 Inside the Alaa M. Trial #27: The wonderland of translation
TRIAL OF ALAA M.
Higher Regional Court – Frankfurt, Germany
Trial Monitoring Summary #27
Hearing Dates: November 15, 2022
CAUTION: Some testimony includes descriptions of torture.
Note that this summary is not a verbatim transcript of the trial; it is merely an unofficial summary of the proceedings.
Throughout this summary, [information located in brackets are notes from our trial monitor] and "information placed in quotes are statements made by the witness, judges or counsel." The names and identifying information of witnesses have been redacted.
SJAC's 27th trial monitoring report details day 44 of the trial of Alaa M. in Frankfurt, Germany. The Presiding Judge began the session by showing screenshots from P8's broken phone that was previously delivered to the German Federal Police Office. The Presiding Judge thanked Criminal Inspector Deußing who worked on the phone until late hours to extract as much information from it as quickly as possible. While Deußing sat on the witness stand, the court interpreter participated in the hearing as a linguistic expert.
Screenshots of P8's comments on the Al-Jazeera video in which he claimed that Alaa M. tortured him and his brother and caused his brother's death, in addition to people's replies, were shown in court. Each screenshot featured the original comment followed by a German translation produced by Google Translate which the German Police used. Since the translation was poor because the comments were written in colloquial Arabic, the linguistic expert retranslated them. He explained why there were some awkward Google-translated phrases, pointing to translation mistakes and misspellings of colloquial phrases that cast doubt on the meaning of the phrases.
After the linguistic expert was dismissed, Inspector Deußing was the only witness in the courtroom. The Judges asked Deußing about the interrogation that he conducted with P8 in another European country, and they compared what P8 said in his in-court testimony and in the German Police questioning. The Judges then gave the other parties to the case the opportunity to ask Deußing questions before the session ended.
________________________
For more information or to provide feedback, please contact SJAC at [email protected] and follow us on Facebook and Twitter. Subscribe to SJAC's newsletter for updates on our work