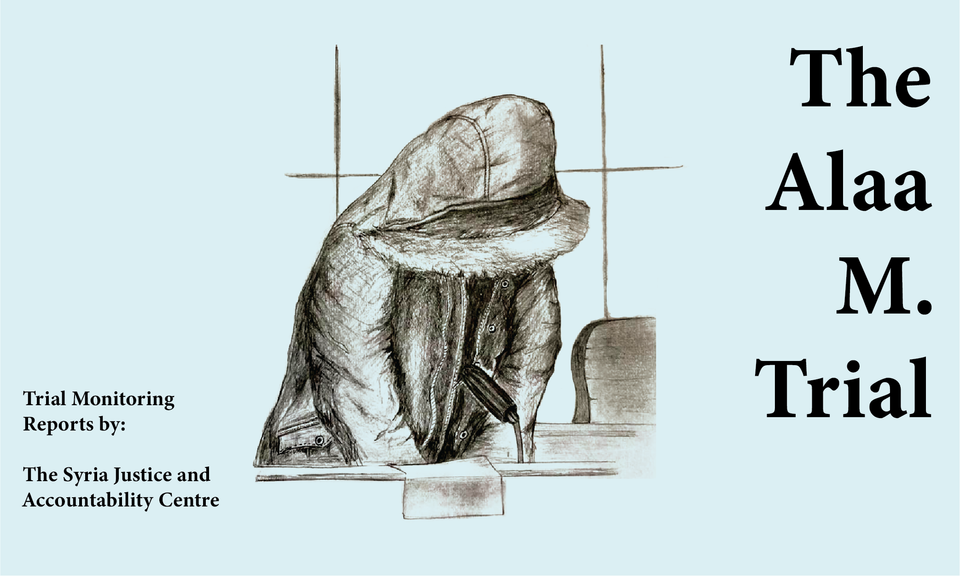 Inside the Alaa M. Trial #13: Lost Without Translation
Higher Regional Court – Frankfurt, Germany
Trial Monitoring Summary #13
Hearing Date: May 24, 2022
CAUTION: Some testimony includes descriptions of torture.
Note that this summary is not a verbatim transcript of the trial; it is merely an unofficial summary of the proceedings.
Throughout this summary, [information located in brackets are notes from our trial monitor] and "information placed in quotes are statements made by the witness, judges or counsel." The names and identifying information of witnesses have been redacted.
Highlights:
Day 18 – May 24, 2022
P1 completed his in-court testimony on this day. His testimony was spread over five trial days spanning four weeks. The defense team completed their questioning, focusing on alleged discrepancies between P1's previous police questioning and his in-court testimony. The trial day was marked by heated discussions between the parties about procedural and stylistic details. P1 had to sit through these discussions without being able to fully understand them as he was assisted by only one interpreter who could not translate everything for P1.
Trial Day 18 – May 24, 2022
The proceedings began at 10:09AM at the Higher Regional Court in Frankfurt (Main), Germany with six spectators and a media representative in the audience.
Defense's Questioning
The Defense Counsels' questioning focused on discrepancies between P1's in-court testimony, his previous police questioning, and his asylum interview. They also asked follow-up questions to P1's previous statements in Court. The Judges had to intervene several times, telling the defense to focus only on actual discrepancies instead of constructing contradictions that only make P1 insecure. Regarding the defense team's follow-up questions, the Judges and other parties repeatedly noticed that the questions were repetitive, apparently based on the defense's incomplete records of previous sessions.
Administrative Matters
P1's Counsel used his right to comment on P1's in-court testimony to reiterate that he did not inform P1 about details of the ongoing proceedings or share details or documents from the case with him. However, when the Judges asked the Counsel to introduce these statements in a proper procedural manner, as a witness, the Counsel rejected to do so.
Additional Remarks
The Presiding Judge informed the parties at the beginning of the session that the interpreter had difficulty during the previous trial days to provide correct and complete interpretation of questions and answers due to people talking over each other. This was an issue during this trial day, leaving P1 looking lost and confused at times as he sat through heated discussions between the parties without the interpreter being able to interpret.
The proceedings were adjourned at 12:44PM.
The next trial day will be on May 31, 2022 at 10AM.
_____________________________________________________
For more information or to provide feedback, please contact SJAC at [email protected] and follow us on Facebook and Twitter. Subscribe to SJAC's newsletter for updates on our work