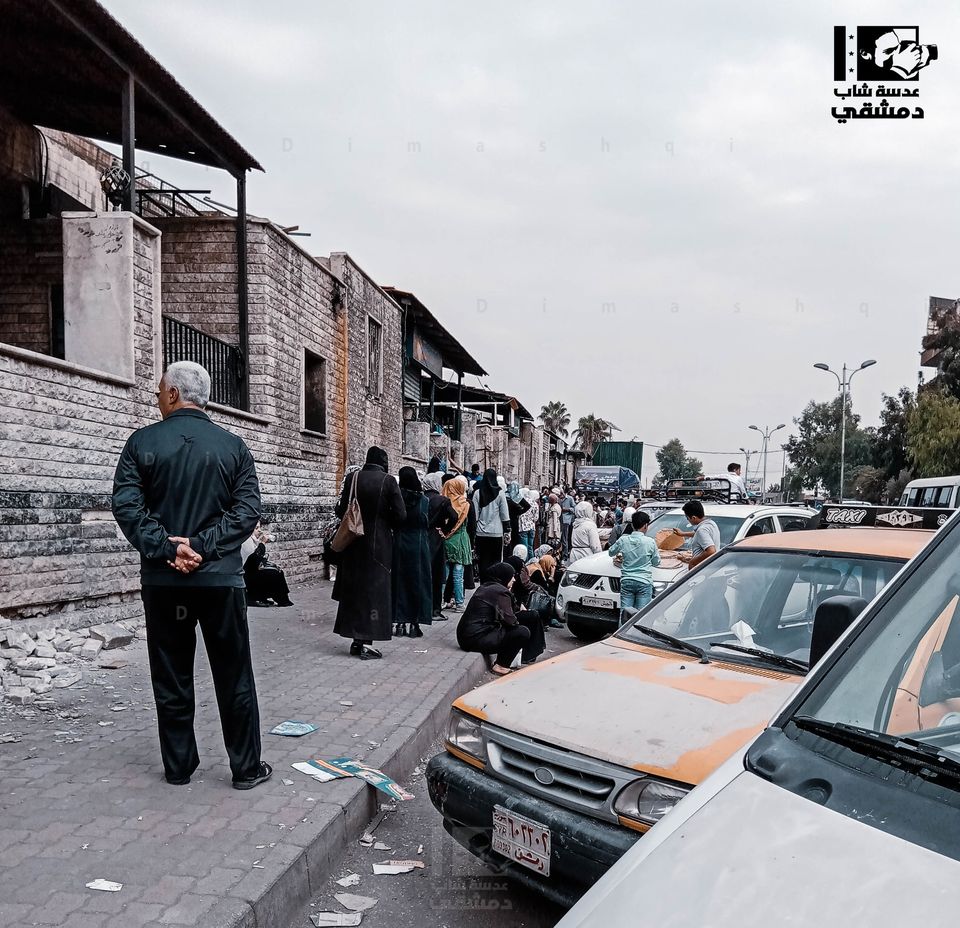 Hunger and COVID-19: Syrians are Facing Overlapping Humanitarian Crises
While the number of COVID-19 cases continues to rise in Syria, the country is also fighting a pandemic of hunger. In late October, images spread online of those waiting for bread in caged pedestrian walkways, a symbol not only of the country's increasing economic crisis but also the government's irresponsible pandemic response.
The World Food Programme (WFP), the winner of this year's Nobel Peace Prize, estimates that 9.3 million people in Syria face acute food insecurity, rising by 1.4 million people in the last six months. The UN Humanitarian chief, Mark Lowcock, expects that another 2.2 million Syrians could face food shortages by year's end. Now, COVID-19 is further destabilizing the economy and slowing the ability of humanitarian organizations to provide assistance. Action by the international community, including the opening of further cross-border aid crossings, is vital.
The Toll of Ten Years of Conflict
Almost ten years into the conflict, millions of Syrians are displaced and aerial campaigns and bombings have devastated infrastructure. The last decade has taken a toll on supply flows and agricultural production. Transportation of goods in and out of the country, as well as within Syria, have been disrupted as trade routes have become longer and more insecure, driving up costs. Higher costs of agricultural inputs, displacement, and destroyed irrigation systems and land, as fields have been converted into makeshift IDP camps, have led to fewer farmers and fewer crops. In 2020, forest fires burned about 9,000 hectares of forest and agricultural land in Syria's northwest. While these fires burn annually, the past two years have devastated croplands, worsening the humanitarian landscape and fueling misinformation and distrust.  Years of drought leading up to the 2019 fire season had already strained community agricultural resources. In 2017, the FAO estimated that since the beginning of the conflict, Syria had experienced a loss of $7.5 billion in agricultural products due to damage to crops and decreased production.
The combination of these factors has shrunk food supplies and driven up prices. Food prices are now twenty times higher than pre-conflict levels, and the WFP estimates that a basic food basket costs 76,000 Syrian pounds versus the pre-conflict cost of 4,000 Syrian pounds. High prices are compounded by shortages, as staple items are increasingly difficult to find. Costs of food imports have risen, while Syria is producing fewer crops, particularly wheat. Farmers in the northeast have found themselves in a bidding war between the Syrian government and Kurdish authorities, but neither party has been able to meet market prices. The lack of supply has forced the Syrian government to limit the amount of subsidized bread each Syrian family is eligible to buy.
The crisis in the agricultural industry is exacerbated by the larger financial crisis. The banking crisis in Lebanon has further disrupted the Syrian economy devaluing the Syrian lira and drying up Syria's foreign reserves. The economic spiral has brought U.S. and European sanctions under scrutiny. While humanitarian assistance is technically exempt from these sanctions, more exemptions are needed to ensure that they do not unintentionally hinder access.
COVID-19
Instability, conflict, and restrictive government policies continue to limit the humanitarian support many Syrians desperately need, however, this has worsened with COVID-19. As countries around the world have closed borders and changed port protocols, cargo shipments globally, including aid, have slowed and faced delays. With food shipments, this risks spoiling food and leading to food waste. Travel restrictions and lockdowns add additional barriers to Syrians trying to access food assistance. In April, the WFP and NGOs faced travel restrictions in traveling between rural and urban areas, and school closures have halted WFP school feeding programs in Aleppo and Idlib without a replacement to feed children at home. Lockdowns also impact job prospects. As Syria's borders closed and curfews were imposed, hotels and restaurants shuttered, factories stopped production, and fewer people were needed to staff schools and essential businesses.
Syrians who are able to access support are often forced to wait in long lines with little or no physical distancing, putting themselves at risk for COVID-19. Others are having to make difficult choices about how to prioritize between food and the protective measures that are necessary to stop the spread of the virus. As Medecins sans Frontieres reported earlier this month, when Syrians are faced with the choice to buy food or masks and soap, food takes precedence.
Recommendations
The current crisis requires a robust response by the international community.
First, further funds are desperately needed. With competing donor interests in Syria and worldwide, humanitarian funding for emergency food relief in Syria continues to fall short. In August, due to funding shortfalls, WFP reduced the calories in food baskets for recipients in Syria. Funding shortfalls are largely driven by WFP's reliance on earmarked funding, which makes responding to emergency situations difficult and slow. Donors need to provide unrestricted funds to allow the WFP to react nimbly to this moment of global crisis.
Second, humanitarian aid movement must be prioritized and considered essential both in Syria and internationally. Delays in shipments and staffing restrictions slow aid delivery and drive up costs to deliver food baskets to rural and hard-to-reach regions. Shortened market hours, fewer aid deliveries due to border crossing closures, and limits to subsidized goods have required more frequent visits to markets that are often over-crowded. Humanitarian actors should be included in discussions on travel restrictions and other lockdown measures, to ensure that they do not impede humanitarian access.
Additionally, the international community must also prioritize humanitarian access. The continued closures of the Bab-al-Salam and Al-Yarubiyah border crossings have slowed aid delivery and hindered access.
As the Syrian lira continues to fall and the economic crisis worsens, SJAC maintains that governments imposing sanctions on Syria must provide clear guidance and risk mitigation on humanitarian exemptions for NGOs and the banking sector. The US and European countries must ensure that humanitarian assistance to help combat both COVID-19 and hunger are not targeted or hindered by sanctions.
Finally, SJAC continues to urge the Syrian government to be transparent about the COVID-19 crisis and accept support from the WHO and other organizations. The Syrian government must allow for expeditious delivery of assistance by reducing restrictions to international organizations, allow for robust contract tracing, and reduce economic barriers to being tested and receiving treatment for those who contract COVID-19. Furthermore, personal protective equipment distribution must continue and be scaled up to prevent COVID-19.
For more information or to provide feedback, please contact SJAC at [email protected] and follow us on Facebook and Twitter.