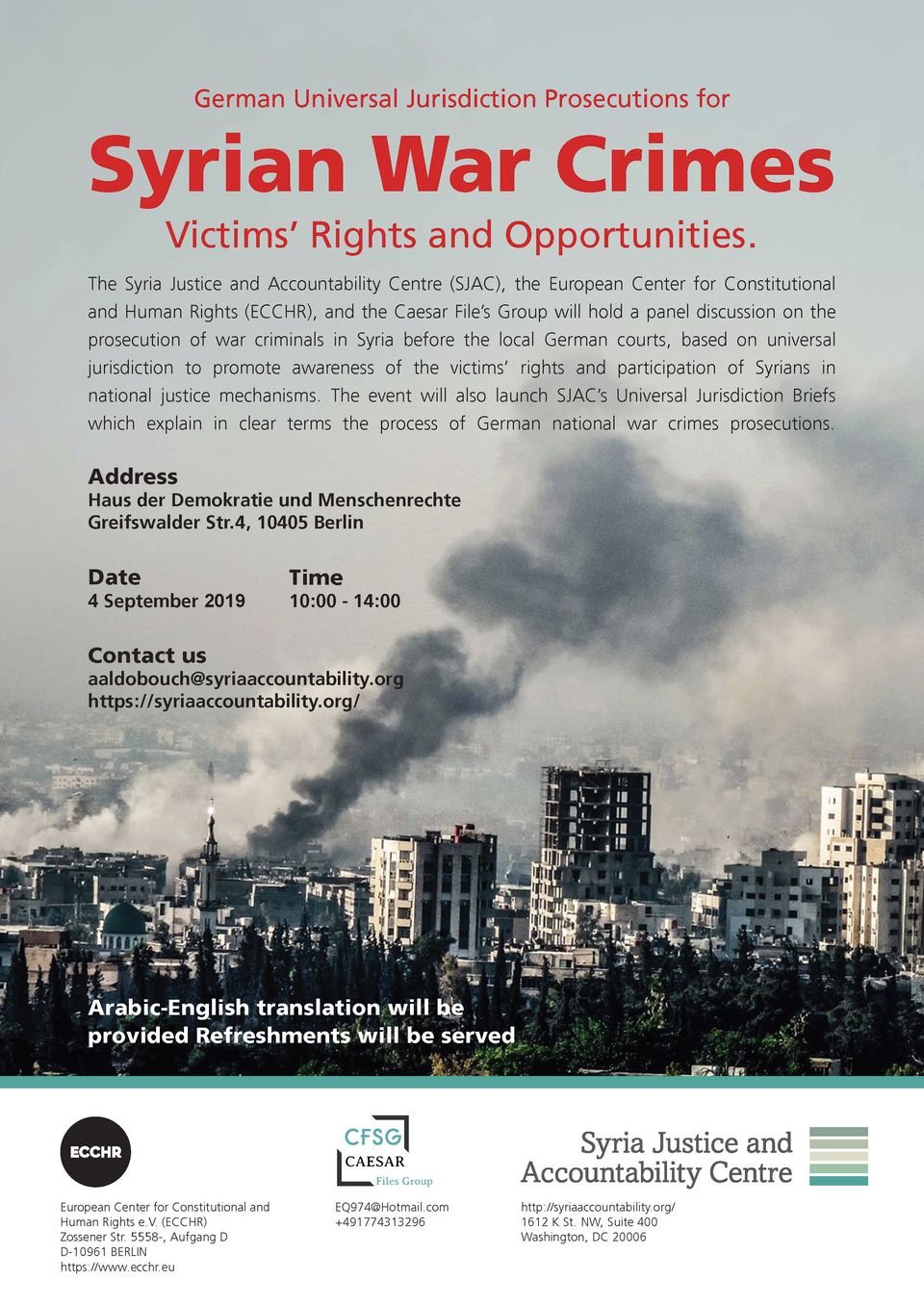 EVENT: Syrian war crimes: victims' rights and opportunities (Berlin)
Since 2011, Syrians have witnessed widespread atrocities at an unimaginable scale but they have limited means to seek justice within Syria. Under the principle of "Universal Jurisdiction", Germany has adopted legislation which allows its courts to prosecute serious crimes committed during the Syrian conflict. Prosecutors in Special War Crimes Units in Germany and other European states have sought indictments against former members of the Syrian government, members of the Syrian armed opposition, and ISIS fighters.
If you are Syrian and have experienced a serious violation of your rights, you may have an option to seek justice in German courts. On September 4th, the Syria Justice and Accountability Centre (SJAC), in partnership with European Center for Constitutional and Human Rights, and the Caesar Files Group, will host a panel discussion on victim's rights and opportunities in Germany. Join us to learn more about how German prosecutors pursue criminal accountability for crimes committed in Syria, and receive tips on how to bring a case to court.
The event is free and open to all. English-Arabic translations will be provided and refreshments will be served.
RSVP on Facebook: https://www.facebook.com/events/357850008442360/
Date and Time
Wednesday, September 4, 2019 at 10 AM – 2 PM
Location
Haus der Demokratie und Menschenrechte – Greifswalder Str. 4, 10405 Berlin
Organized by
Syria Justice and Accountability Centre (SJAC)
European Center for Constitutional and Human Rights (ECCHR)
Caesar Files Group (CFSG)
Panelists
Roger Lu Phillips (moderator)
Senior Program Officer, SJAC
Roger Lu Phillips is an international lawyer with ten years of experience in international criminal law. Prior to joining SJAC, he served as a United Nations Legal Officer at the Extraordinary Chambers in the Courts of Cambodia and worked at the International Criminal Tribunal for Rwanda in a similar capacity.
Aweiss Aldobouch
Legal and Human Rights Adviser, SJAC
Aweiss Aldobouch is a Syrian lawyer and international human rights advocate from Damascus. Prior to joining SJAC, he worked as a legal adviser for international humanitarian agencies and as a Country Expert and Outreach Officer for the International Commission on Missing Persons (ICMP).
Patrick Kroker
International Crimes and Accountability, ECCHR
Since 2015, Patrick Kroker has worked in the International Crimes and Accountability program of ECCHR, where he is responsible for ECCHR's work on Syria, including universal jurisdiction prosecutions. He worked as an assistant to Civil Party Lawyers at the Extraordinary Chambers in the Courts of Cambodia and in 2012 completed his PhD on the subject of victims' participation in international criminal proceedings at the University of Hamburg.
Sibyle Rothkegel, Psychotherapist
Sibyle Rothkegel is a psychologist, psychotherapist, trainer and supervisor. She regularly trains police and legal staff on dealing with traumatized persons, prevention of vicarious traumatization and in intercultural communication.  She was involved in psycho-social support of traumatized witnesses at the International Tribunal in The Hague.
Jenny Fleischer, Attorney at Law
Jenny Fleischer is a Berlin-based lawyer specializing in asylum law.
Ulrich Staudigl
Head of Department of International Criminal Law, German Ministry of Justice
For more information or to provide feedback, please contact SJAC at [email protected] and follow us on Facebook and Twitter.