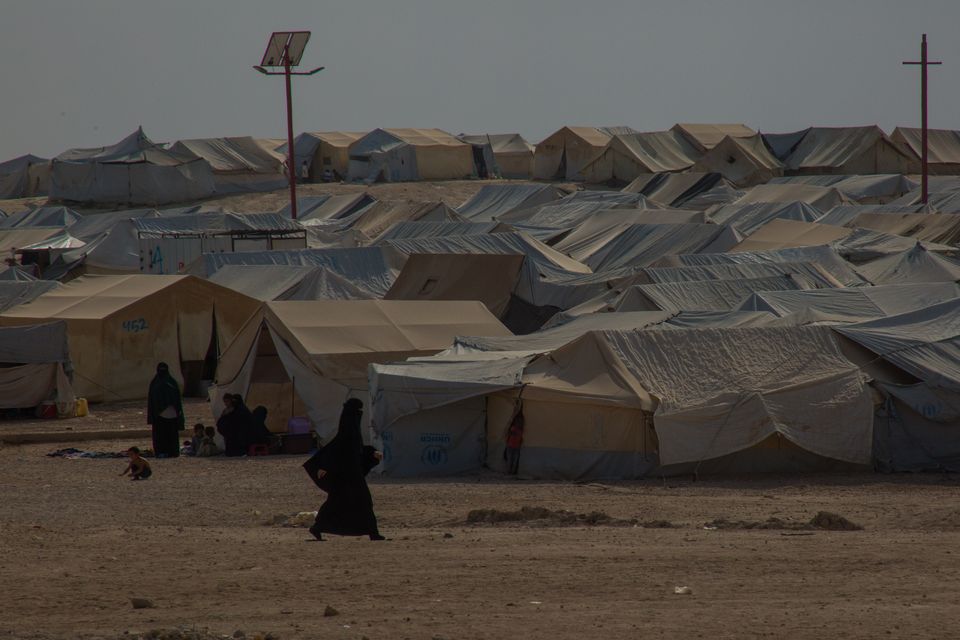 Deteriorating Security Conditions in Al-Hol Camp Necessitate Repatriation Programs
A spate of recent murders at Al-Hol Camp in Northeast Syria raises safety and security questions concerning its nearly 70,000 residents. Sixteen murders were committed between August 1 and October 11, 2020 of whom nearly two-thirds were Iraqis. The growing security risks display the need for states to implement repatriation programs.
The camp's administration has launched an investigation into the increased violence, but anecdotal reports made to the United Nations Office for the Coordination of Humanitarian Affairs cite several reasons for the murders, including: revenge crimes, tribal disputes, ISIS activity, collaboration with security authorities, and honor killings. Despite the worsening security conditions, however, threats to security forces have led to reduced day patrols and stopped night patrols in certain parts of the camp.
The recent murders come after a U.N. Security Council report detailed how the COVID-19 pandemic "highlight[s] the vulnerability of holding facilities and camps for internally displaced persons, particularly those in areas controlled by the Syrian Democratic Forces." Throughout the pandemic, social media campaigns have raised money to support the families of foreign fighters in Al-Hol who live in dilapidated conditions. Additionally, individuals affiliated with ISIS have consistently escaped the camp, sometimes with the help of corrupt guards and smugglers.
In July, Al-Hol's security was further called into question when a Turkish intelligence operation revealed the web of transnational smuggling networks that have freed countless ISIS-affiliates, including a Moldovan woman and her four children. Some of the escapees, most of whom are women and children, have been taken to Turkey or other rebel-held areas in Northwestern Syria after being released by bribed guards. Many strive to implement ISIS's multigenerational plan by repopulating areas formally under Caliphate control.
The threats posed by ISIS-affiliates is credible for their countries of origin. Several countries have recent memories of domestic terrorist attacks and might fear the return of ISIS-affiliates who remain radicalized. Others are skeptical of obtaining convictions for non-combatants who joined ISIS, specifically those who claim not to have committed crimes, given evidentiary limitations. In addition, politicians likely do not want to deal with the political repercussions given popular disapproval. One poll found that 89% of French people were worried about jihadists returning to France, with 53% saying that they were "very" worried. 52% of respondents said that the children of jihadists should be left in Iraq and Syria. States have thus reacted in different ways to questions surrounding repatriation. The United Kingdom and Denmark stripped nationals of citizenship. Belgium and France only took back a small number of children, and Dutch courts held that the Netherlands is not obliged to assist in the repatriation of children.
Consequently, ISIS-affiliates face a barrage of legal issues that must be clarified. One issue is that some countries conduct investigations and hold trials in absentia, raising concerns about due process rights and defendants' right to adequate counsel. Another issue pertains to criminal offences associated with membership of a terrorist organization, which many countries have adopted. A broad interpretation of membership might result in convictions for individuals whose association with ISIS was coerced, including women who suffered from mental health conditions or who were recruited as minors. There is also the issue of orphaned children for whom establishing familial ties and national origins can be complicated.
But the risk of not repatriating ISIS-affiliates will be grave. A major concern is that the camps in which ISIS-affiliates reside are notorious for their horrible conditions. A report by Human Rights Watch on Al-Hol found "overflowing latrines, sewage trickling into tattered tents, and residents drinking wash water from tanks containing worms." The lawless and inhumane nature of places like Al-Hol creates an environment "ripe for all sorts of indoctrination of little kids and of women who just don't know what's going to happen to them or their families." Indeed, American intelligence officials have stated that ISIS enlists new members from the camp, and that the Syrian Democratic Forces who run Al-Hol are unable to provide "minimal security." ISIS ideology has therefore spread "uncontested."
Another concern is the safety of the few Iraqi refugees in Al-Hol who fled Iraq because of ISIS. Although they live in different sections of the camp than ISIS-affiliates, the rising rate of murder and violence toward them indicates the constant dangers they face. Many of these incidents are carried out by women affiliated with ISIS. In September, the mother of a seven-month-old infant was hung to death by an electricity cable. Reports suggest that the victim's brother was also killed by ISIS women in Al-Hol. Refugees who fled Iraq find themselves in a seemingly endless cycle of trauma, and they deserve to be protected.
Accordingly, managed repatriation programs are essential for states to responsibly and reasonably balance their security concerns with their human rights obligations. Foreign citizens should be returned home where they can be fairly tried and detained, or reintegrated into society with appropriate psychosocial support. Central Asian countries serve as an example, such as Kazakhstan which built a program attuned to the physical needs and ideological reeducation of repatriated individuals. Other countries must follow suit. The failure of the international community to accept ISIS-affiliates will only breed further radicalization, the consequences of which could cost lives down the road.
For more information or to provide feedback, please contact SJAC at [email protected] and follow us on Facebook and Twitter. Subscribe to SJAC's newsletter for updates on our work.