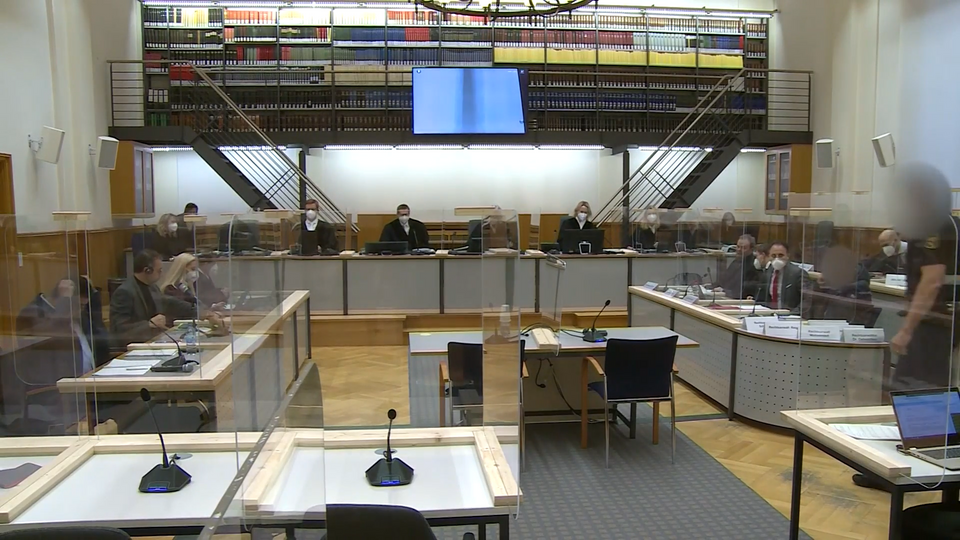 Blackboxing Justice: Greater transparency needed in German universal jurisdiction trials
On April 23, 2020, Germany was commended on the start of "the world's first trial on state-torture". Still, close observers of the trial of Anwar R. and Eyad A. (Koblenz trial) have noticed some underlying issues common to German trials under universal jurisdiction (UJ). Other trials currently underway in Frankfurt and Düsseldorf support the image that in seeking accountability for perpetrators of international crimes, Germany should enable greater transparency and inclusivity for the survivors of the crimes.
Public Access
Significant efforts were made by the Higher Regional Court (OLG) in light of the large public interest in the Koblenz trial. For the first eight months, the hearings initially took place in the district court building which has a larger public gallery. As seats were further limited due to COVID related protection measures, there was insufficient space for many interested spectators, amongst them several survivors. When the district court later indicated that it could no longer spare the room, the OLG was obliged to remodel its library to host the trial. This could only be done thanks to court guards working overtime to implement all COVID protection measures, and the efforts of the court's administration to provide the necessary financial resources.
Despite the individual efforts of the court, the new courtroom could not solve already existing issues regarding public access to interpretation. Even though this room offered more seats, Arabic speaking spectators were still unable to follow the proceedings. Regardless of preliminary measures ordered by the German Federal Constitutional court, only court accredited Arabic speaking journalist can request access to interpretation devices.
Interpretation
Under German law, the language of the trial is always German. If parties involved do not understand German, courts are obliged to provide interpretation to them. Nonetheless, there is no obligation to grant access to interpretation for the public as well. Interested audience in UJ trials usually consists of mainly non-native German speakers and they can only follow the proceedings when they have access to interpretation. The court in Koblenz, however, denied public access to interpretation devices, only allowing court accredited journalists to use the interpretation devices [Arabic/English]. Considering that the accreditation process was published in German and lasted only a week right at the beginning of the COVID-pandemic, there are almost no Arabic speaking journalist accredited for this trial. The above-mentioned extension of access to interpretation following preliminary measures by the Constitutional Court is therefore practically useless.
This practice as well as a pending final decision by the Constitutional Court show that there is no clear and uniform guidance on how to provide non-native German speakers – the ones with the biggest interest in UJ trials – access to the proceedings in court. In addition, neither the courts nor the Federal Prosecutor inform the public about proceedings under UJ in any other language other than German which has been an issue ever since the commencement of the first UJ trials in Germany.
Public Reporting
It is therefore up to third parties, like NGOs, to inform victim groups about the proceedings. They do so by attending the hearings and providing reports in foreign languages such as English and Arabic. Due to German-only communication by German authorities, these reports are the only way for people interested in the trial to get any information about the proceedings. The judges in Koblenz might tolerate this practice, but in other UJ trials like the Taha Al J. trial in Frankfurt, there are no publicly available reports. While the judges in Koblenz only informally warned "everyone blogging about this trial" to carefully consider the information they publish regarding to witness protection, the judges in Frankfurt seemed to be more restrictive. Although trial monitors are observing the trial in Frankfurt, they are prevented from sharing their observations with the public. Meanwhile another trial in Düsseldorf against two Syrians allegedly involved in killing a government officer as ISIS affiliates, receives almost no public attention. This might be due to the fact, that since the prosecutor filed the indictment, it is almost impossible to find any information about the proceedings on the relevant webpages of the prosecutor's office or the court.
Prosecutors and Courts may fear that public discussions of ongoing trials could endanger witnesses or influence future testimonies. However, witness protection measures are available under German law in cases where the safety of a witness is a concern. In addition, the source of a witness' knowledge should be a central point of questioning during their testimony and may include questions about whether knowledge was obtained through press reports or other hearsay. Courts could also combat misinformation by providing regular updates about UJ trials The Netherlands and Finland show that this is indeed a practicable solution. In these countries, public prosecutors use social media and regular press statements in multiple languages to inform the public about ongoing trials and even engage with them by requesting their help as possible witnesses of international crimes.
Taking Necessary Steps
The Koblenz trial and other current UJ trials exposed the German judiciary's growing pains in dealing with international cases. These policies include insufficient communication with affected victim groups, insufficient space to provide access for larger audiences, as well as inadequate technical capacities to grant access to interpretation. The court in Koblenz has made valiant attempts to compensate for these general shortcomings by setting up a new courtroom and providing consecutive interpretation, at least for the announcement of the verdict in the trial against Eyad Al-Gharib. Nonetheless, it became apparent that relevant courts do not have enough financial resources and overall guidance to address the needs of victims of international crimes, particularly as UJ trials are spread throughout the country.
Germany should therefore provide necessary financial resources and guidance in a timely manner to courts that are trying cases under UJ. These financial resources are needed to equip courtrooms with technical devices so that the audience can access interpretation. They might also consider providing audio of court hearings to an overflow room. Courts and relevant authorities like the office of the Federal Public Prosecutor should further receive capacity building on communication and outreach to affected communities.
Justice and accountability for crimes under international law are not achieved by merely prosecuting alleged perpetrators. While investigations and prosecution are indispensable prerequisites of a trial, the trial itself is equally important for the victims and survivors of these crimes. In order to move on from their traumatic experiences, survivors of international crimes need to see the perpetrators actually being held accountable. Announcements to start investigations and pending arrest warrants are interim successes. Holding and completing a fair and inclusive trial is the final step to achieve justice for the victims and survivors of these grave crimes.
This is even more important as the Koblenz trial and the Taha Al J. trial in Frankfurt are only the first UJ trials of many more to follow in Germany. With Alaa M, a Syrian doctor accused of committing crimes against humanity in the context of the Syrian conflict, another UJ trial is about to commence. Germany must therefore establish a central task force, equipped with financial resources and knowledge of transitional justice aspects, to support courts in conducting transparent and inclusive UJ trials. Transparency is not only crucial for the legitimacy of such trials, but particularly for the affected societies whose peaceful future is intrinsically linked to the visibility of these trials. Leaving it up to foreign media to inform people about the start of the trial and only translate the outcome in form of the verdict is not sufficient, and effectively blackboxes justice.
For more information or to provide feedback, please contact SJAC at [email protected] and follow us on Facebook and Twitter.