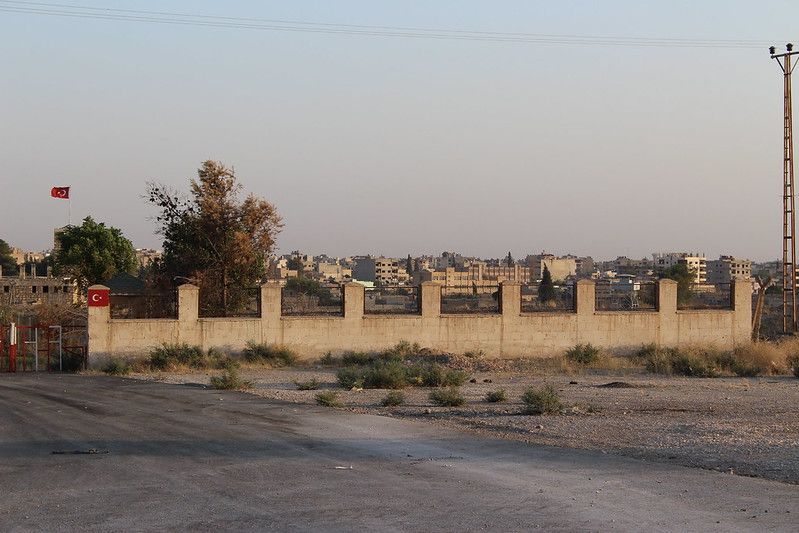 How to minimize harm after the U.S. withdrawal
SJAC reviews the troubling violations that have been committed this past week, and what developments mean for the pursuit of justice in Syria.
After eight years of bloodshed and around half a million deaths, there will be no winners in the Syrian conflict. Even so, the developments in the past week have been a stinging defeat for the war's victims and the pursuit of reform and justice in the near term. With an apparent 'green light' from the Trump administration, Turkey began a long-forestalled operation into northern Syria, setting off an immediate humanitarian crisis. As of Tuesday, 160,000 people have been displaced and dozens of civilians have been killed on both sides of the border.
The Turkish offensive was spearheaded by the broken remnants of the Free Syrian Army, now renamed the 'Syrian National Army'. Some fighters still see the SNA as the last front of the Syrian opposition, but the Turkish-supported militia is now composed in part of extremist factions, and many fighters appear driven by sectarian hatred, power and profit. Troubling videos published online have documented war crimes carried out with brazenness. In one, SNA fighters appear to summarily execute three disarmed and bound captives that they claim to be SDF fighters. Other videos posted by Ahrar al-Sharqia, one of the Turkish-backed factions, purports to show the killing of Havreen Khalaf, a leader in the Future Syria Party, who the SDF states was killed during a roadside ambush by a Turkish-backed group. The Turkish military proper, also appears to have directly committed violations. In scenes all too familiar throughout the Syrian war, civilian convoys and critical civilian infrastructure have once again been targeted by airstrikes.
In a desperate move to halt the Turkish advance, the Syrian Democratic Forces (SDF) announced on Monday it had entered into an agreement with Damascus permitting Assad's military to re-enter areas under SDF control. In one swift move, nearly 1/3 of the country is expected to fall back under Syrian government and Russian control, unresisted, and in some areas apparently facilitated by the U.S. military. While many Kurdish residents in the northeast were relieved by what they perceived as a reprieve from an inevitable massacre, Arab residents and other government dissidents in cities like Raqqa and Deir Ezzor were blindsided by the agreement. Some residents have already begun protesting the impending return of government forces on Wednesday. Meanwhile, local sources and partners, including civilians who had been working under U.S. government funded projects, have told SJAC they are fearful of retribution for their work and are now considering whether to flee. Their fears were substantiated in a new report published this Wednesday highlighting how widespread arbitrary arrests, forced recruitments and extortions plague Syrians in 'reconciled' areas.
For Syrians that have witnessed and suffered from eight years of war, chemical attacks, systematic executions, and relentless, indiscriminate airstrikes, the incursion of Turkish forces and the return of the Syrian government to northeast Syria illustrates the complete failure of the international peace process. With its withdrawal, the U.S. has given up valuable leverage to push for democratic reforms and the protection of minority groups in Syria. Now, the peace process will be further dominated by the Syrian government and the Astana guarantors—Russia, Iran, and Turkey.
But there remain important steps that the U.S. can, and should, immediately take to minimize the suffering. Now may be the last, best opportunity for the U.S. and international community to move beyond empty condemnations and give Syrians a resolution with some dignity and justice. The U.S. government, U.S. Congress, and the U.S. delegation currently visiting Turkey should prioritize the following:
Protect Syrian USG contractors: Thousands of Syrians who worked directly with the U.S. government or for U.S. funded projects in northeast Syria are at immediate risk of reprisal from the Syrian government. The U.S. government has a responsibility to facilitate the evacuation of these Syrians and their families, and to help them seek asylum abroad. The U.S. Congress should expand the Special Immigrant Visa program to include Syrians who worked directly with the U.S. military and the Department of State should expedite the processing of these visas.
Maintain Security at Prisons holding ISIS detainees: The breakout or release of ISIS detainees poses a grave threat to both Syria and the international community. It could also foreclose many Syrian families' hope for meaningful justice. All parties should prioritize maintaining security at prisons currently holding ISIS detainees at Al Hol and elsewhere until they can be transferred to a prosecutorial mechanism. European states should help by fulfilling their responsibility to repatriate and prosecute ISIS members from their countries.
Designate SNA factions which have committed war crimes as terrorist organizations: Not all SNA factions have committed war crimes, but those that have should be designated as Foreign Terrorist Organizations (FTOs). This would include Ahrar al-Sharqia, the group responsible for Kahalaf's execution. The use of this designation would pressure Turkey to rely on more disciplined troops, and deter other factions from repeating such violations.
Prevent the repatriation of refugees: President Erdogan's stated intentions to deport up to one million Syrians into a safe-zone in northeast Syria will be a serious violation of international law and the principle of non-refoulement. Many Syrians in Turkey are not from the area under the proposed safe zone, will have no source of livelihoods there, and no protection or freedom of movement from on-going hostilities. The U.S. and Europe should make clear that the deportation of refugees is unacceptable, and work with Turkey to ensure international aid for Syrian communities inside Turkey while also accepting a greater number of refugees in their own countries.
Continue stabilization efforts where possible: Until the withdrawal, the U.S. government, along with its coalition allies, had been supporting a variety of humanitarian and good governance projects, some of which were directly working to mitigate damage done during the U.S. bombardment against ISIS. Rather than ceasing funds for Syria altogether, the U.S. should consider shifting funds to areas under Turkish control, contingent on local leaders meeting basic human rights standards.
Work with Iraq to Ensure an Open Border for Refugees: The U.S. government should work closely with the Iraqi KRG to ensure that the border is open and that Syrians who feel threatened by either the Turkish or Syrian government incursion will be able to seek refuge in Iraq. Since the Turkish incursion, around 1000 refugees have crossed the border, but humanitarian organizations are anticipating much larger numbers in the coming months. The U.S. should shift funds that were being spent in northeast Syria to provide necessary humanitarian relief to those seeking refuge.
For more information or to provide feedback, please contact SJAC at [email protected] and follow us on Facebook and Twitter.