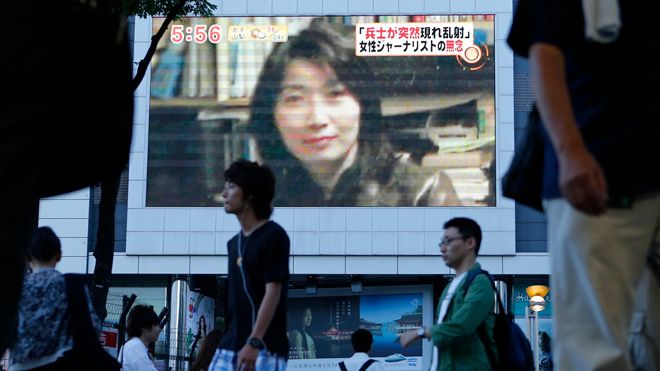 Detaining journalists, stifling accountability
An image of Japanese journalist Mika Yamamoto is shown on a large monitor screen in Tokyo Tuesday, Aug. 21, 2012 during a TV news broadcast reporting her death in Syria. Source: Flickr
Syria was the most dangerous place in the world for journalists last year, according to the Committee to Protect Journalists, an NGO advocating for press freedoms worldwide. The organization said 36 journalists have been killed in Syria since 2011. Foreign and domestic journalists alike face considerable dangers reporting in Syria, but their brave efforts put a much needed spotlight on rapidly unfolding events. Their media coverage is a critical first step in documentation that must not be thwarted.
Just days ago four kidnapped Italian journalists were released after being held for nine days by Islamist rebels in Northern turkey. But their deliverance appears to be the exception, not the norm. At least 15 journalists were arrested and 21 abducted last year alone in Syria. In  January, Belgian Yves DeBay and Al Jazeera's Mohamed Al-Massalma became the first journalists killed in Syria this year. And as if conditions weren't dangerous enough already, Syrian businessman Fahim Saqr recently announced on Syrian state television that he would pay a $140,000 reward for the capture of any journalists from the Al Arabiya or Al Jazeera networks, who are typically critical of the Assad regime.
Since journalists often draw attention to acts of violence and their perpetrators, it's a blurry line between journalism and activism. That blurriness heightens the danger journalists face. The Syrian Center for Media and Freedom of Expression, which began documenting the deaths and detentions of journalists after the start of the uprising , was targeted last February by a Syrian government raid. Four of the Center's journalists were detained. One of those arrested, Center contributor Ayham Mostafa Ghazoul, was released, but was arrested again in November. After four days of detainment he died under torture, reported Reporters Without Borders. The anti-regime Doha Center for Media Freedom reported last May that 110 "reporters and citizen journalists" had already been killed at that point. But it's not just Syrians critical of the regime in danger, a rebel car bomb killed three state television journalists in Aleppo last week, according to Syria's state news agency.
Journalists are playing an active role in the conflict in more ways than one. Far from mere observers, journalists also have responsibilities to those involved in the events they cover. A thoughtful piece by Dan Saxon from the Committee to Protect Journalists explains how reporters need to be aware of the rights of detainees and other prisoners. Interviewing captured combatants could violate their rights accorded by international agreements, particularly if they are pressured, or if the interview occurs while they are under duress. Relatedly, journalists must also be wary about allowing warring parties to exploit media for propaganda purposes. In both instances ambiguities will arise, but it nonetheless remains journalists' duty to conduct their work in a deliberately just manner.
Violations against journalists have repercussions far beyond the individuals involved. When a journalist is detained or killed she can longer shine light on important events. Unfortunately, a bombing or an attack does not automatically become news. It takes a step of mediation—often by a journalist or active citizen— to bring the event to light. Those who threaten, detain, and kill journalists inhibit a critical component of documentation.
Journalism is literally the front line of documentation efforts. With much of today's documentation efforts in Syria aimed at producing media, it is exactly those kinds of journalistic endeavors that must be protected. The result will be not only greater information about ongoing events, but a more comprehensive record of events for posterity. Such evidence, now collected daily by journalists facing considerable risks, will crucially underpin the accountability efforts that will help secure justice in Syria's future.
Signup to receive the SJAC's Weekly Updates here.
Follow us on Twitter at SJAC_info.